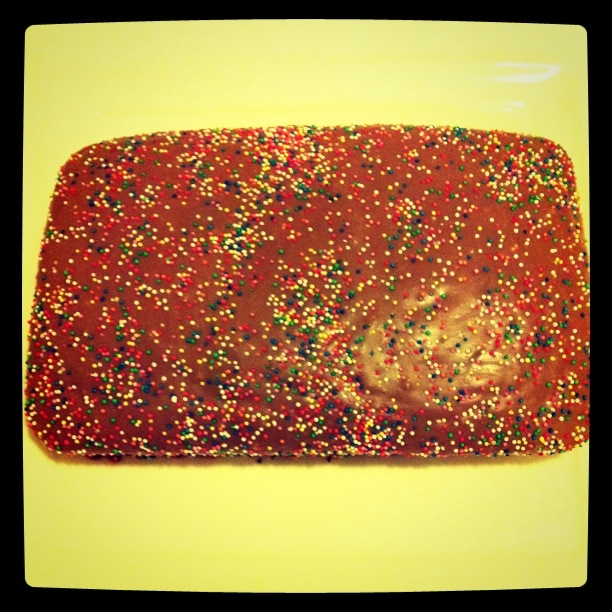 Serves 12
This cake is super easy – great for a special occasion, like David's 40th Birthday! Super easy and uber delicious!
Ingredients
200g milk chocolate , broken into chunks
200g unsalted butter, chopped
1 cup (220g) brown sugar
100ml hot water
2 eggs,  lightly beaten
1 1/2 cups (200g) self-raising flour
1/4 cup (25g) cocoa powder
1/3 cup (80g) sour cream
hundreds and thousands , to decorate
FOR THE ICING
100g milk chocolate, roughly chopped
1/2 x 395g can condensed milk
100g  unsalted butter
How to
Heat oven to 160C/140C fan-forced. Line a 22 x 22cm square cake pan.
Place chocolate, butter and sugar into a large saucepan. Stir in hot water. Cook, stirring, for 3-4 minutes, until melted and combined. Remove from heat and cool slightly.
Stir in eggs one at a time, until combined. Sift flour and cocoa over mixture. Add sour cream and stir until combined. Spoon into prepared pan, smoothing surface. Bake for 40-45 mins until a skewer inserted comes out clean. Cool in pan for 5 minutes, then turn out on a wire rack to cool completely.
To make the icing, put all the icing ingredients in a heatproof bowl set over a saucepan of simmering water, enusring the base of the bowl doesn't touch the water. Heat stirring. for 4-5 minutes, until melted and smooth. Remove bowl from heat. Cool slightly, stirring, until thickened.
Spread icing over cooled cake. Scatter over hundreds and thousands.
Other info
Prep time: 20 minutes plus cooling  Cooking time: 1 hour
Reference: Australian BBC Good Food Magazine, July 2011