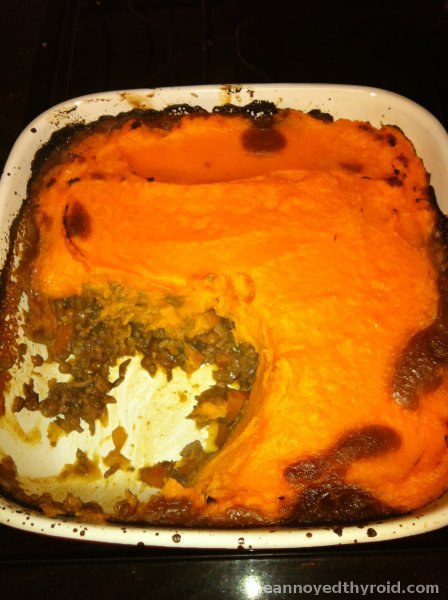 Serves 4
Great comfort food that won't weigh you down! Get a big boost of betacarotene and 4 1/2 of your 5 a day with this freezer-friendly dinner dish.
Ingredients
2 teaspoons olive oil
250g lean lamb mince
2 onions , chopped
3 carrots , diced
2 celery sticks , diced
2 garlic cloves, crushed
200ml salt-reduced beef stock
1 tablespoon Worcestershire sauce
1 teaspoon  Marmite or Vegemite
1 x 400g tin brown lentils , drained
1 kg kumara, peeled and chopped
2 tablespoons light sour cream
How to
Heat a non-stick pan and dry fry the mince until browned. Add the onions, carrots, celery and garlic and fry for 5 minutes. Stir in the stock, Worcester sauce, Marmite/Vegemite, lentils and some seasoning. Simmer for 10 minutes or until saucy. Meanwhile boil or steam the sweet potato until tender. Drain then mash with the sour cream.
Heat the oven to 200C/fan oven 180C/gas 6. Transfer the mince to an ovenproof dish. Top with the mashed kumara. Cook for 30 minutes until bubbling. Serve.
Other info
Prep time: 25 minutes   Cooking time: 50 minutes
Reference: Australian BBC Good Food Magazine August 2012