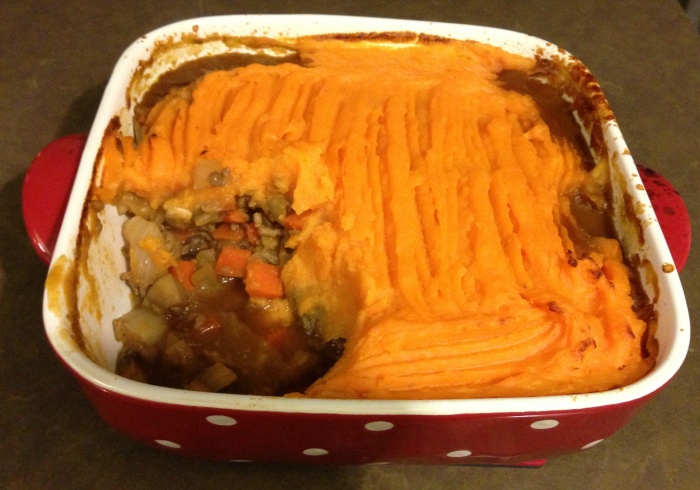 Serves 4
This is the ultimate comfort food that won't weigh you down! Get a big boost of betacarotene and 4 1/2 of your 5 a day with this freezer-friendly dinner dish. Swap regular spuds for some low GI kumara and use half lamb and half lentils for some healthy protein. Totally nom!
Ingredients
250g lean lamb mince
2 onions , chopped
5 carrots , diced
2 garlic cloves, crushed
200ml salt-reduced beef stock
1 tablespoon Worcestershire sauce
1 teaspoon  Marmite or Vegemite
1 x 400g tin brown lentils , drained
150g mushrooms, chopped
1 kg kumara (sweet potato), peeled and chopped
2 tablespoons light sour cream
How to
Heat a non-stick pan and dry fry the mince until browned. Add the onions, carrots and garlic and fry for 5 minutes. Stir in the stock, Worcester sauce, Marmite/Vegemite, lentils, mushrooms and some seasoning. Simmer for 10 minutes or until saucy. I like to make the mash in the Thermomix, but alternatively,  boil or steam the sweet potato until tender. Drain then mash with the sour cream. 
Heat the oven to 200C/fan oven 180C.  Transfer the mince to an ovenproof dish. Top with the mashed kumara. Cook for 30 minutes until bubbling. Serve.
Other info
Prep time: 25 minutes   Cooking time: 50 minutes
Reference: Australian BBC Good Food Magazine August 2012