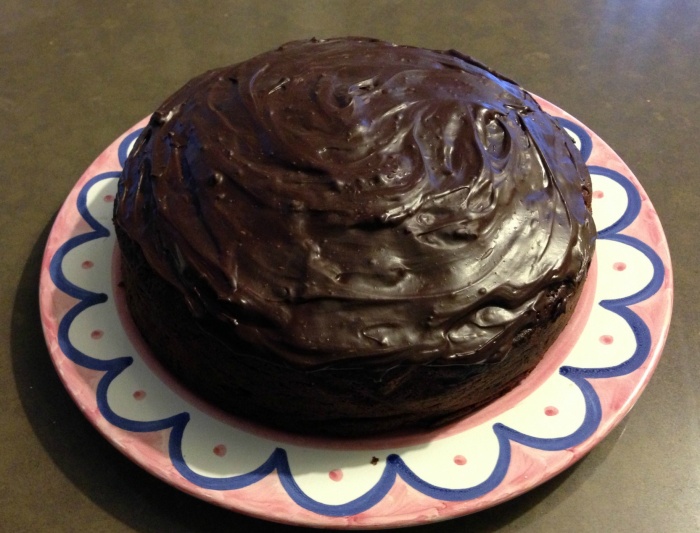 Serves  10
Who would have thought chocolate and zucchini would  be good together? It sounds so wrong but tastes so right! This cake is lovely and moist, and is delicious with or without the gananche. I served it up for Eve's birthday and it went down a birthday treat. Serve with a cuppa, coffee or warm with some cream on the side for a delicious dessert!
Ingredients
2 ½   cups (350g) self-raising  flour
½ cup (50g) cocoa
1 teaspoon mixed spice
1 teaspoon salt
500g zucchini (courgette), grated
¾ cup (180ml) canola oil
1 2/3 cups (370g) caster sugar
3 eggs
2 teaspoons vanilla extract
1 cup (150g) toasted walnuts, chopped
FOR THE GANACHE
200g dark chocolate, chopped
100ml thickened cream
How to
Preheat oven to 180 C (160 C fan-forced.)  Line base and sides of a 23cm cake pan with baking paper.
Sift together, combine the flour, cocoa powder, mixed spice and salt in a large bowl. Add zucchini and toss to coat. In another bowl, combine the  oil, sugar, eggs and vanilla essence. Add the wet ingredients  and stir until just combined. Fold in the toasted walnuts.
Spoon batter into the prepared pan. Bake for 50 – 55 minutes, until a cake tester inserted into centre comes out clean. Cool in pan for 10 minutes, then turn out onto a wire rack to cool completely.
Meanwhile, to make the ganache, place the chocolate in a bowl.  Heat cream in a small saucepan on low, until just simmering.  Pour  hot cream over chocolate and stir until melted and smooth.   Stand ganache for 15 minutes, until thickened slightly.  Spread over top of cake. Cut into wedges and serve.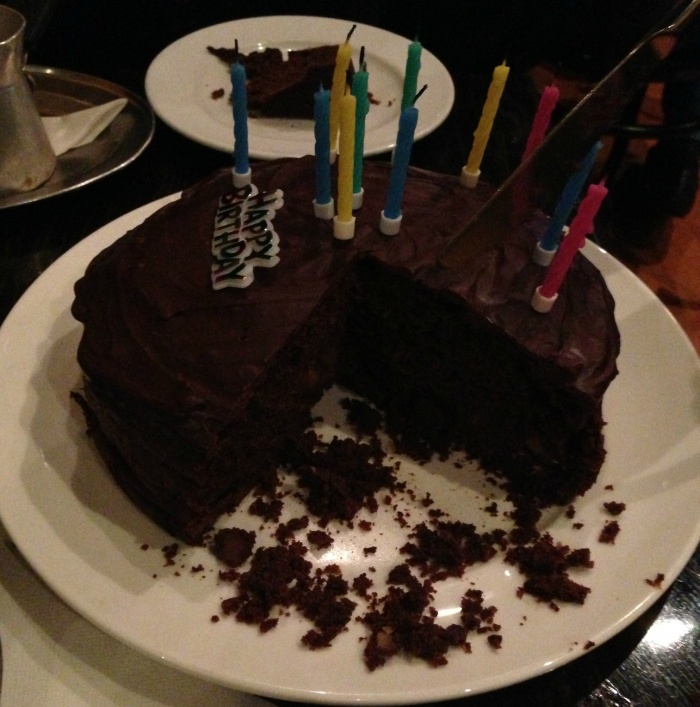 Other info
Preparation time:  10 minutes  plus standing   Cooking time: 50-55 minutes
TIPS!  Zucchini can hold a lot of water, which may affect the finished texture of the cake. If the grated zucchini seems watery, squeeze out some of the liquid, then add the zucchini to the cake mixture. I grated the zucchini in the food processor so it didn't get too soggy. The water content of the zucchini can also affect the baking time of the cake, so return it to the oven for another 10 minutes if it needs it  – simply test with a skewer that comes out clean.
Adapted from: BBC Australian Good Food Magazine October 2012