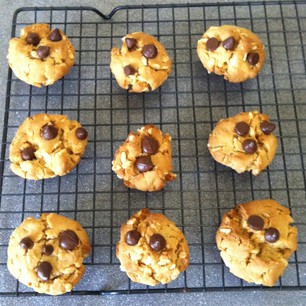 Makes 12 (but easily doubled)
I love reader recipes, and this one is no exception!  Pamela has been spreading cookie contentment for 40 years with these little babies, and it's easy to taste why!  The Rice Puffs give these cookies a cracking crunch!
Ingredients
100g (4 ounces) butter
100g (4oz) firmly packed light brown sugar
2 tablespoons golden syrup
175g (6oz)  self-raising flour
25g (1oz) puffed rice cereal, like Rice Krispies
Dark chocolate chips for decoration
How to
Heat oven to 160C/140C fan/gas 3. In a large bowl, beat together the butter, sugar and golden syrup until smooth.
Sift in the flour and mix together, then fold through the cereal. Roll into walnut-sized balls and place, well spaced, on a baking sheet lined with baking paper. Decorate each ball with a few chocolate chips.
Bake for 15-20 minutes until golden. Leave on the baking sheet for 1 minute before removing to a wire rack to cool.
.Other info
Prep time: 10 minutes   Cooking time: 20 minutes
TIP! The unbaked cookies can be frozen.
Reference: BBC Good Food Magazine July 2012