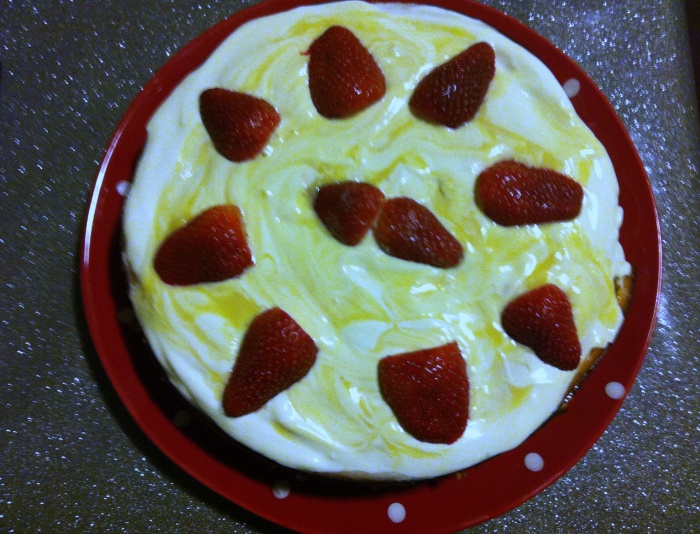 Serves 10
This cheesecake is oh-so-simple and lovely and lemony. It works just as well with low fat cheese which makes it equally delicious but not quite as deadly!
Ingredients
225g digestive biscuits
100g butter , melted
250g tub mascarpone
600g soft cheese
2 eggs, plus 2 yolks
zest 3 lemons , juice of 1
4 tablespoons plain flour
175g caster sugar
FOR THE TOPPING
½ a 284ml pot soured cream
3 tablespoons lemon curd
handful raspberries , to serve (optional)
How to
Heat oven to 180C/fan 160C/gas 4. Line the bottom of a 23cm springform tin with greaseproof paper. Tip the biscuits and melted butter into a food processor, then blitz to make fine crumbs. Press into the tin and chill.
Whisk all the other ingredients in a large bowl until completely combined, pour into the tin, then bake for 35-40 minutes until the cheesecake has a uniform wobble.
Turn off the oven and leave the cake inside until cool. When it is completely cooled, remove from the tin and top with soured cream. Swirl lemon curd over the top and decorate with raspberries, if you like.
Other info
Prep time: 10 minutes  Cooking Time: 40 minutes plus chilling
TIP!
To turn this tasty dessert into an orange or lime-flavoured cake, simply swap the zest and juice of lemon to that of your chosen citrus fruit. If you don't have raspberries, you can use blueberries or strawberries instead. The cheesecake can be frozen baked but undecorated.
Reference: http://www.bbcgoodfood.com/recipes/9653/luscious-lemon-baked-cheesecake