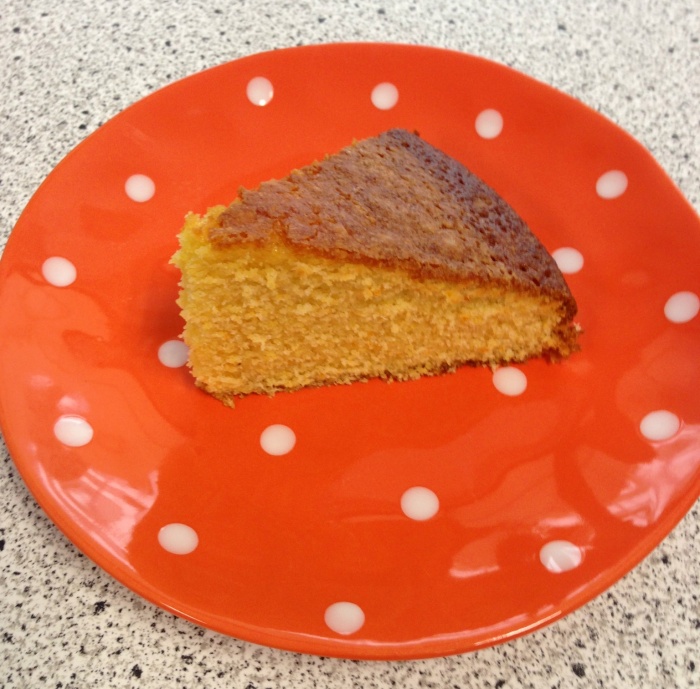 I love making cakes with polenta because it gives cakes such a wonderful texture. Citrus flavours go great with polenta and this orange cake is a real winner, perfect for dessert or a teatime treat. If you want to give this a whirl in your Thermomix,  you can find the recipe here.
 Serves 8-10
Ingredients
250g unsalted butter
250g golden caster sugar
4 large eggs
140g polenta
200g plain flour
2 teaspoons baking powder
zest and juice 2 large oranges(less 100ml juice for the glaze)
FOR THE ORANGE GLAZE
100ml orange juice
100g golden caster sugar
How to
Heat oven to 160C/140C fan/gas 3. Line the base and sides of a round 23cm cake tin with baking parchment. Cream the butter and sugar together until light and fluffy. Add the eggs one at a time and mix thoroughly. Once the mixture is combined, add all the dry ingredients and the zest and juice after you have measured off 100ml for the glaze.
Transfer the mixture to the tin, spread evenly, then cook for about 45 minutes to 1 hour or until a skewer inserted into the centre of the cake comes out clean. Remove from the oven and turn out onto a wire rack to cool.
To make the glaze, put the juice and sugar in a medium saucepan and bring to the boil. Let it simmer for 5 minutes, then remove from the heat and allow to cool. Drizzle the orange glaze over the top of the warm cake. Serve with ice cream or a citrus sorbet.
.
Other info
Prep time: 20 minutes   Cooking Time: 45 minutes – 1 hour
TIP! This cake is freezer friendly. Swap the citrus and substitute 4 lemons for the oranges for a lemon twist.
Reference:  http://www.bbcgoodfood.com/recipes/12341/orange-polenta-cake