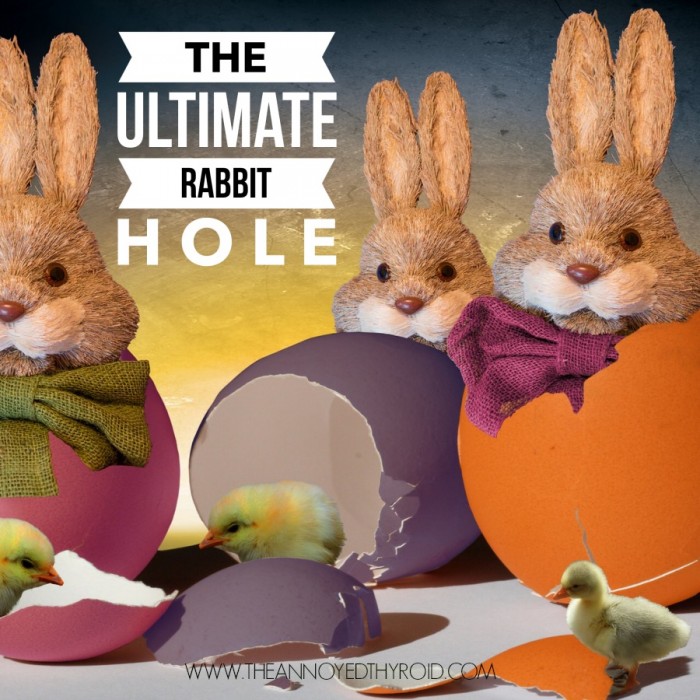 Hoppy Easter Friends! I hope you are having a lovely long weekend. Are you doing anything egg-citing?
I think I've found something for every bunny down the Rabbit Hole this week, so let's hop to it, shall we?
First things first, today is National Nougat Day! I've become quite addicted to nougat since I did a French bakery class with my French friend, Cathy. Here's what went down when she shared a few of her favourite recipes, and if you sign up for her newsletter, you'll get the recipe card for her French nougat. Oh la la! Believe me, you really want to have that recipe!
Did you catch the interview with Sarah from Little Flowers? She's so inspiring! I'm a big fan of Sarah and I'm a big fan of flowers. Personally, I don't think you need a reason to give flowers, "just because" will always do nicely, but if you like to have a reason to give your flowers, here are 50 of them! While we're on the subject of love and gratitude, here are 30 ways to show love and gratitude to your partner. Because we don't have to wait for Valentine's Day to feel the love. Am I right or am I right?!
Making friends is like losing weight, the older you are, the harder it gets. Here are some great tips on how to make friends in your 30's and 40's.
I know we're slap, bang in the middle of Easter weekend but it's not too late to get some buns in the oven of the Hot Cross variety! Choose from  Erin's no knead version, Lorraines's Soft Bakery Style or my ones with mini eggs. You'll be spoilt for choice!
If you ever come over to my house (you're always welcome) you can eat the cake, but whatever you do, do not look in my wardrobe. It's like Armageddon in there. It's in dire need of an extreme makeover, and I think these 53 seriously life-changing clothing organization tips are going to come in very handy.
While we're on the subject of tips and tricks,  I love this list of tech hacks that are kind to your mind (and there's some wine).
I'm not one for consulting  Dr Google for a diagnosis, but I did find this awesome infographic about Thyroid Cancer – What You Need To Know. I wish I'd found that five years ago when I was diagnosed. Better late than never and all that…
Before I go, let me wish every bunny a very Hoppy Easter!
Are you a fan of flowers too? What's your favourite way to show love? How's your wardrobe looking these days?Will you be baking some buns, eating some buns or leaving the buns this weekend? Whatever you're doing this weekend, hope you have an egg-stra special time!
Every Saturday morning, we will open up the rabbit hole link up for bloggers to add their link list posts or even just their favourite post (if you are not of the link list kind) for the week. Please link only one post. This makes it fair for everyone and allows more posts to be read. Talking of reading, do try and pop along to say howdee to some of  the other lovely linkers. Link up here, or  over at  My2Morrows.  Karin at  Calm to Conniption is out this week due to tech gremlins (boo!)   but will be back up and running next week! It doesn't matter where you add your link because it will appear on both blogs, as if by magic!  The link up will stay open until midnight the following Monday.
Loading InLinkz ...