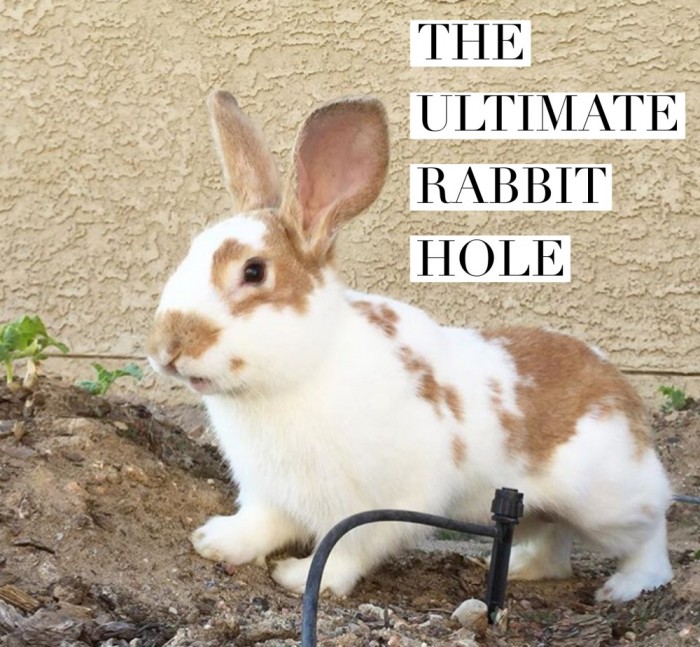 Hello Rabbit Holers! Welcome to the birthday edition of the Ultimate Rabbit Hole which comes with a slice of virtual cake because everyone knows that a link up party without cake is just a meeting!
Despite the fact that I've arrived at the halfway mark of my forties, celebrations are going to be a little sedate as we are running in the Sydney Harbour 10k tomorrow. Of course, once we cross the finish line, all bets are off and I will be in full party mode. Incidentally, not only is today my birthday, it is also National Sugar Cookie Day. If you want to get your weekend bake on, check out my recipe for Sugar and Spice Cookies or if you fancy baking outside the box, how about these Red Velvet Sugar Cookies? Or what about Cinnamon Roll Sugar Cookies? Now you're talking!
The older I get, the less I care about presents, but I do love these 10 best gift ideas for the woman who has everything. I should really add an Uberkate Your Script necklace to the list, and as if by magic I have one to giveaway! Have you entered yet?
I hope my birthday is going to involve donuts in some shape or form. I think these 30 Donut DIYS will have me covered! We already crossed the giant donut cake off the list for David's birthday, stay tuned for more details!
If like me, you love words, you'll love these 32  most beautiful words in the English language. Have you got any more to add to the list?
Now you know how I'm always banging on about how brown and dark my place is, (it's not called Brown Town for nothing, y'know) I think these 5 simple ways to brighten up my home are going to come in very handy. At least until I win the lottery and can start renovating! Still on the subject of home improvements without breaking the bank, I love these 24 products that add some greenery to city living. My home is also my office, although I use the term loosely, unless you count a dining room table as an office! Don't these 15 home office spaces inspire creativity? It just goes to show, when it comes to space, a little goes a long way!
There's no such thing as too much happy. Get your happy on with these 12 happiness tips. And talking of happy and a little bit exciting, David and I made the local paper (p. 10) with our running antics this week. We feel almost famous! Almost, but not quite!
Seeing as it's my birthday and all, I couldn't help but leave you with this post on how to find your perfect dog based on your zodiac sign. 
What's happening in your world this weekend? Have you got a favourite English word? What's your zodiac sign? Have you got a favourite happiness tip or a favourite breed of dog come to that?! Whatever you're doing this weekend, I hope it makes you happy!
Every Saturday morning, we will open up the rabbit hole link up for bloggers to add their link list posts or even just their favourite post (if you are not of the link list kind) for the week. Please link only one post. This makes it fair for everyone and allows more posts to be read. Talking of reading, do try and pop along to say howdee to some of  the other lovely linkers. Link up here, over at Calm to Conniption or The Geeky Shopaholic. It doesn't matter where you add your link because it will appear on all three blogs, as if by magic!  The link up will stay open until midnight the following Monday.
Loading InLinkz ...