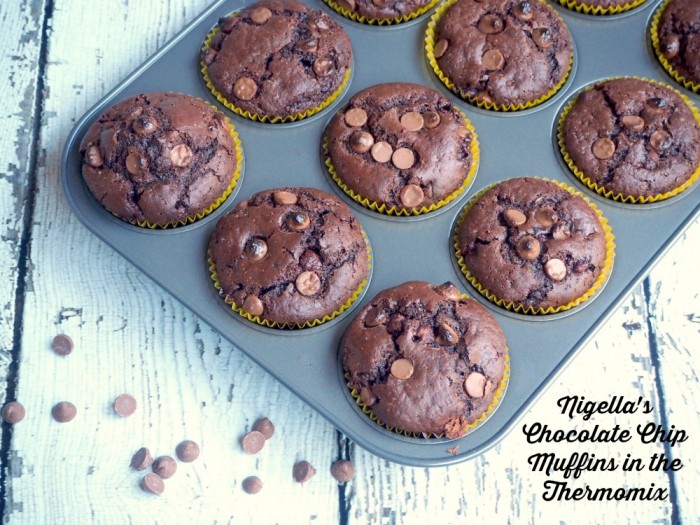 Makes 12
These are muffins in minutes! It actually takes me longer to walk to the shop than to make these little babies! Perfect results every time! If you haven't got a Thermomix, you can find the original recipe here.
Ingredients
175g raw sugar
250g plain flour
2 teaspoons baking powder
1/2 teaspoon bicarbonate of soda
2 tablespoons good quality cocoa powder
150g dark chocolate chips, plus a few extra for sprinkling
250g milk
90g vegetable oil
1 egg
1 teaspoon pure vanilla extract
How to
1. Preheat oven to 180C / 160C fan-forced.
2. Mill the sugar for 3 seconds  on speed 9. Set aside.
3. Pour all the liquid ingredients into the TM bowl. Mix for 10 seconds on speed 5.
4. Add the flour, baking powder, baking soda, cocoa, sugar, and the chocolate chips into TM bowl. Mix for 5 seconds  on speed 4, using the spatula to mix. Don't over mix! – remember a lumpy mixture makes the best muffins!
5. Use an ice cream scoop to spoon the mixture  into the prepared muffin cases. Sprinkle with some extra chocolate chips on top and then bake for 20 minutes or until the muffins are dark, risen and springy
Other info
Prep Time:  3 minutes    Cooking time: 20 minutes