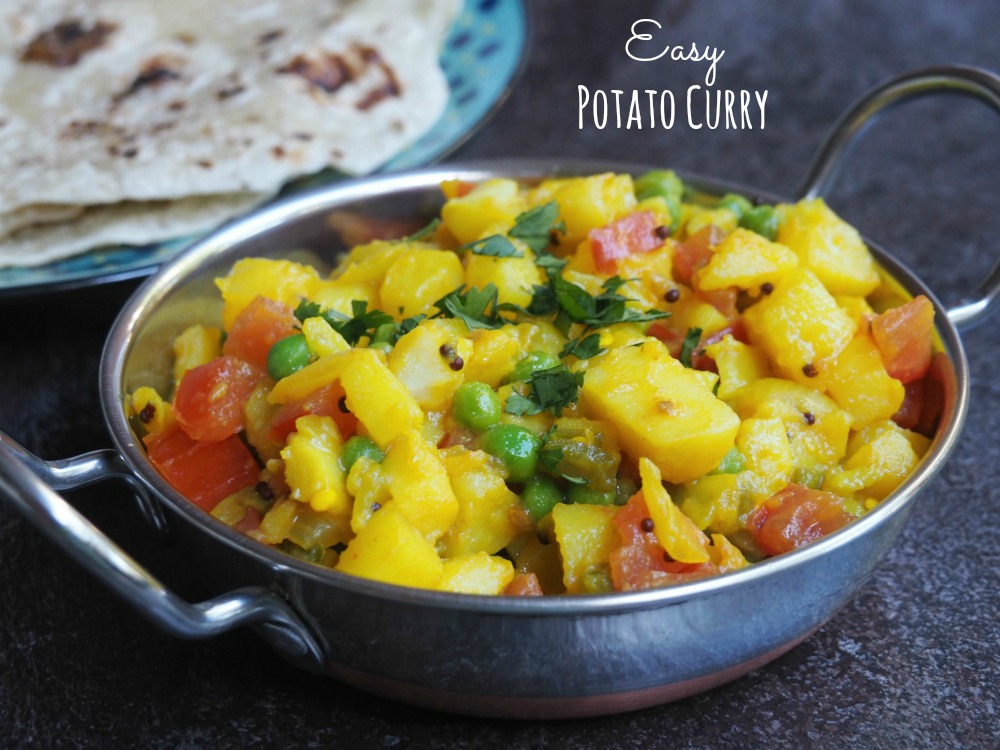 This quick and easy vegan potato curry is delicious as a main meal, a side or as samosa filling. It is super easy to make with or without a Thermomix.
So I'm back on board the reader recipe train and this month's recipe is an absolute cracker from my friend Dharish, the Queen of Curries. You might also know her from her famous Chicken Curry, Minced Lamb Curry or her delicious Brown Lentil Dhal. Seriously, Dharish's recipes are tried, tested and downright delicious.
I must confess Dharish gave me this recipe when we were in the car on the way to Heathrow airport about 2 years ago and I don't know why it took me so long to create this curry and then even longer to write it up but I can say that it's proof that all good things come to those who wait!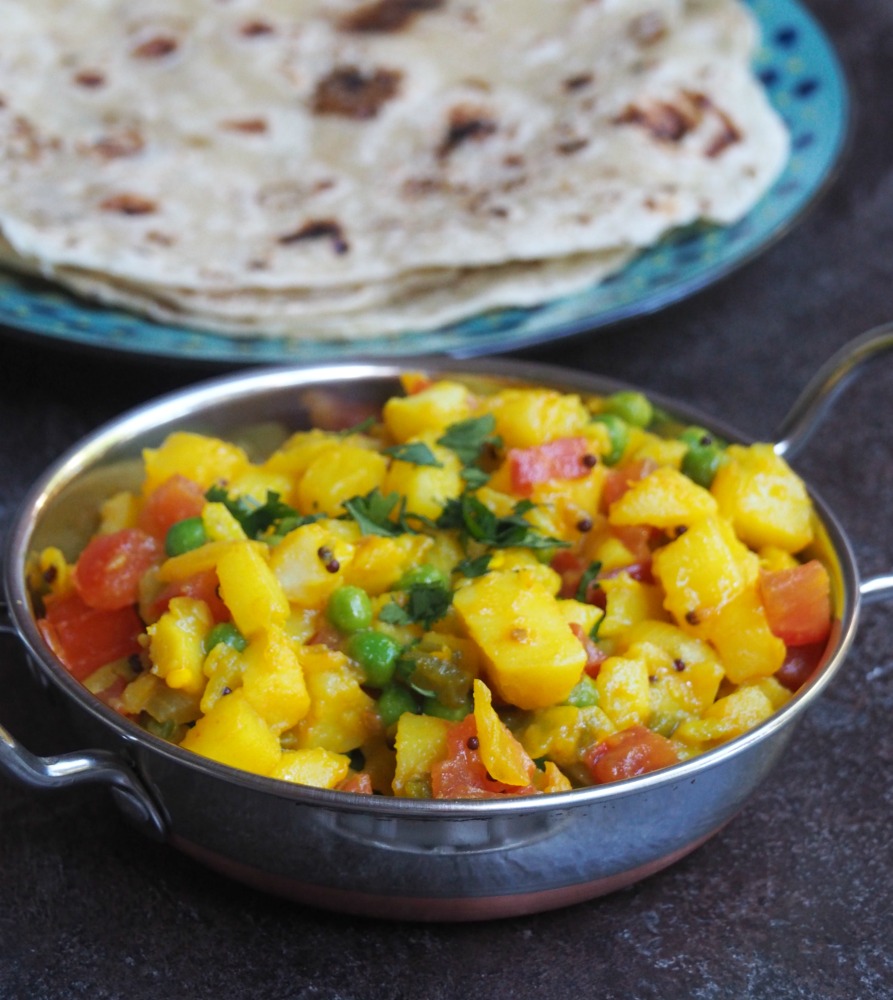 This Potato Curry recipe is totally legit and it's the one that Dharish's mum (and Dharish herself) use to fill vegetarian samosas. However since David and I once nearly got divorced arguing over how to fold samosas, we've tended to leave them off the menu.
That said we lifted the samosa embargo when I got the Aldi samosa maker which in case you're wondering is not that great at all. All the samosas I've ever made in it all look like a dog's breakfast but at least with this filling they taste authentic, even if they don't look it!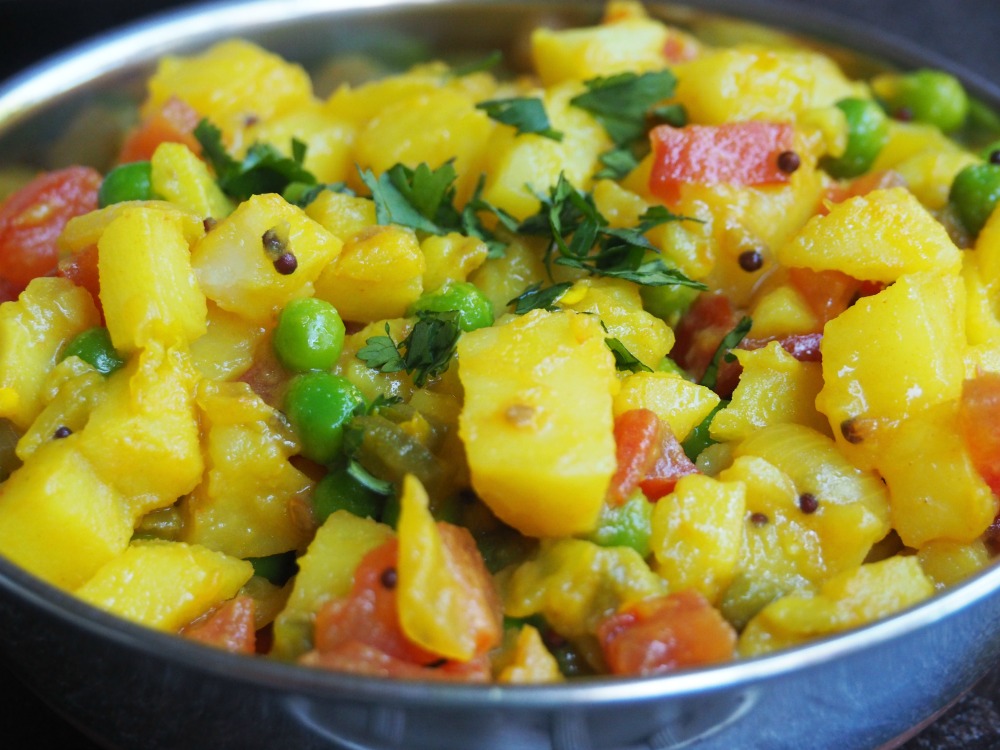 As it happens, I spent ages looking for one of those samosa makers and thought I'd struck gold when I found one in my local Aldi. My happiness was short lived however, because when I opened the machine to use it for the first time, it had already been used and was covered in oil and crumbs "insert vomit emoji."
All's well that ends well though because I returned the offending samosa maker and one of my FB community offered to sell me theirs as they had bought one too many! Happy days!
This curry will serves 4 as a side, 2 as a main and make a lorry load of samosas. I love that it's so cheap, so easy and so totally tasty. I've added a Thermomix conversion but to be honest, I mostly make it on the stove because it really is a one pan wonder.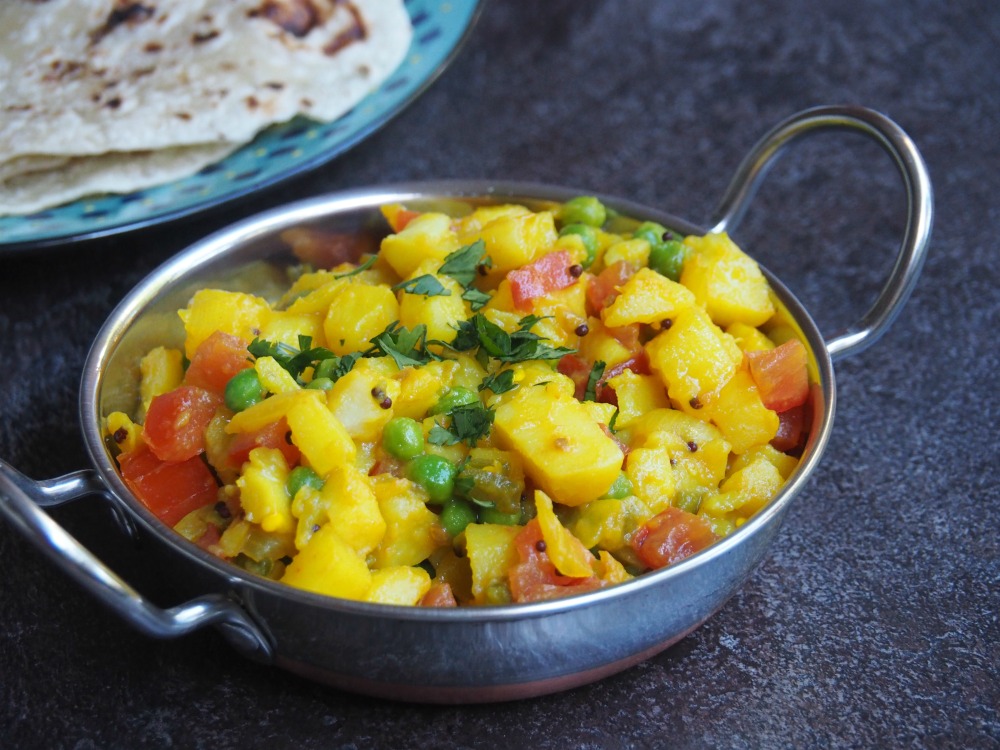 We like to serve it with one of Dharish's other curries or make potato wraps with some raita and a roti. (Because wrapping a roti is much easier than folding a samosa!) However you eat this easy potato curry, it's sure to hit the spot!
Have you ever bought something that turned out to be not so new? Have you ever folded your own samosas?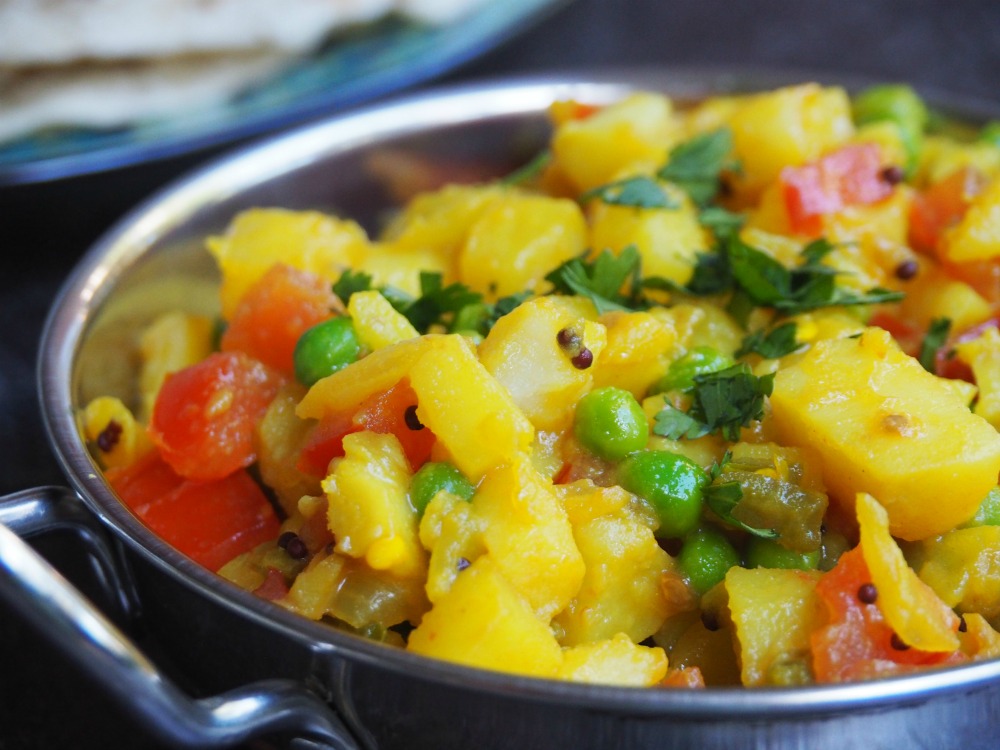 Serves 4 as side or 2 as a main
Ingredients
1 tablespoon oil
1/2 teaspoon mustard seeds
1 onion, finely chopped
1/2 teaspoon turmeric
1 or 2 green chillies, cut in half and sliced
400g potatoes, peeled and diced 2cm
1/2 cup water
1 fresh tomato, chopped
70g frozen peas
chopped coriander, to garnish (optional)
How to – Stove Top
In a medium pan, heat the oil, add the mustard seeds and when they pop, add the onion and cook gently until translucent, not brown.
Add the turmeric and chopped chilli, stir quickly and add the chopped potatoes. Stir until everything is covered in yellow.
Add a pinch of salt and water, put the lid on the pan and cook for about 15-20 minutes. Check the pan and stir the potatoes regularly. If necessary, add a little more water.
When the potatoes are almost cooked, add the tomatoes and cook until softened.
Rinse the peas in cold water (this helps them stay really green,) add to the pan and cook for a few minutes until heated through.
Serve with chopped coriander, if desired.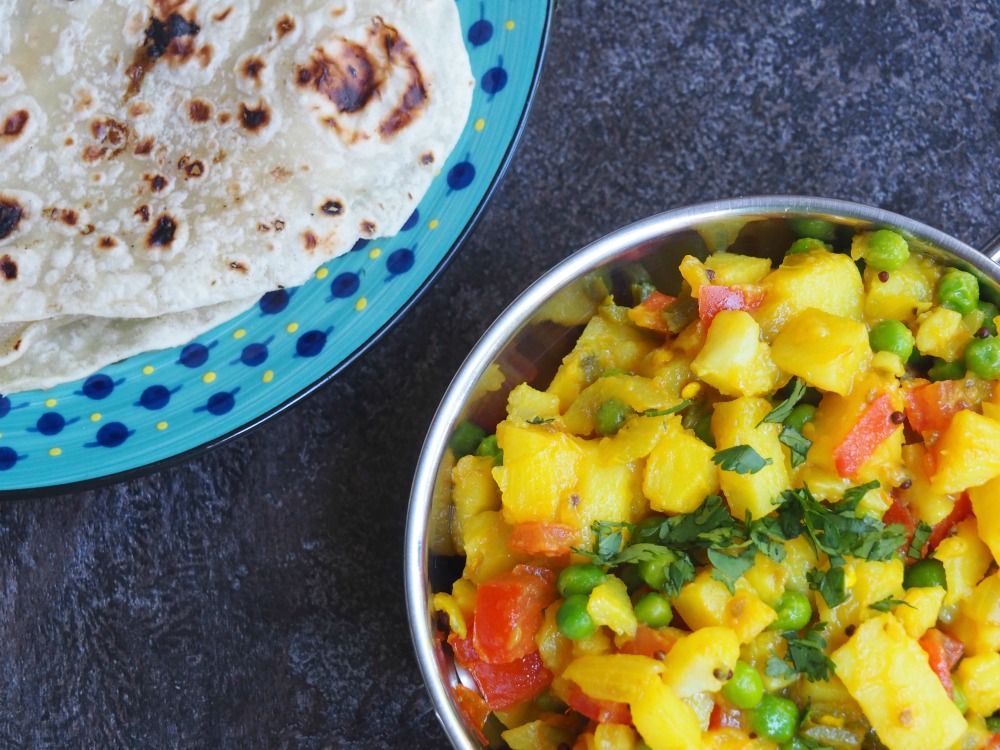 Ingredients – Thermomix
400g potatoes, peeled
1 onion, halved
2 green chillies, chopped in half
1 tablespoon oil
1/2 teaspoon mustard seeds
1/2 teaspoon turmeric
70g frozen peas
1 fresh tomato, chopped
chopped coriander, to garnish (optional)
How to – Thermomix
Cook the potatoes in the microwave or on the stove until just tender and dice finely. Set aside.
Add onion and chillies to TM bowl and chop for 5 seconds on speed 5.
Add oil and saute for 5 minutes on varoma temperature on speed 1.
Add mustard seeds, turmeric and a pinch of salt making sure that the spices don't go on the blades. Rinse the peas in cold water (this helps them stay green,) and add the peas and cook for 5 minutes at 100C on reverse speed 1 with the measuring cup OFF.
Add the tomato and cooked potato and cook for 2 minutes at 100C on reverse speed spoon with the measuring cup ON.
Check the potato and tomato is well mixed with the onion and spice mixture, if necessary stir through with the spatula and serve with coriander, if desired.