entrepupneur
(noun)
– someone who sets up a dog related business, takes on financial risk and works their butt off in the hope of profit.
So for this post, I made up a new word, 'entrepupneur' to give a name to the women I've met (both in real life and online) who for the love of dogs, have been inspired to start their own pup related business.
For some of these women their business is a side hustle while juggling full or pawt time work, others have left established careers to work on their woofing great ideas and others have teamed up with their girl squad to bring their pawsome ideas to life.
In fact, there are so many female entrepupneurs that I can't possibly feature them all in one post so I'll be introducing you to them over the coming months in more Paws on Business posts.
Whether or not you're into dogs, you can't not be inspired by these dog mums doing business and doing it so well. Here's to women supporting women!
I'm starting out with some of our favourite brands that we know, buy and love. So without further ado, let me introduce you to the inaugural entrepupneurs! I can't wait for you to meet them!
If you're an old timer around here, you may recognise Fiona from her interview in the She's So Inspiring series. I knew Fiona long before I got a dog when we met at the Bupa Blog Awards way back in 2017. I've loved watching her business and brand grow and Teddy Roosevelt heartily endorses her products. As you can see, he can't keep his paws off them!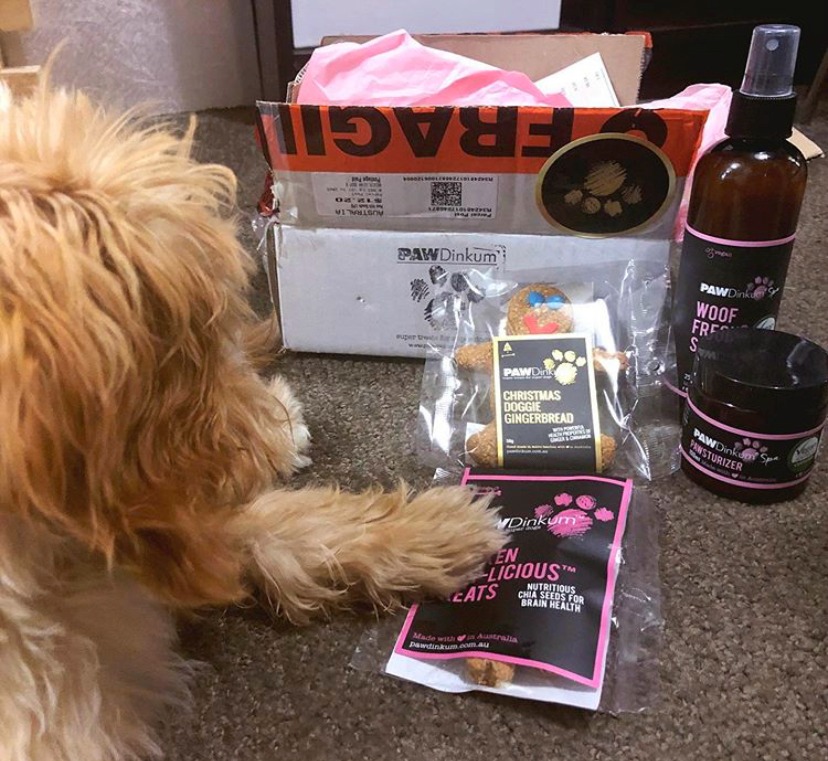 Tell us a bit about yourself.
Hi, I'm Fiona the creator and founder of the artisan brand PAWDinkum – handmade health biscuits and spa products for the discerning canine living their best life. Before turning my attention to the taste buds of the canine world in 2013, I was a food stylist and worked with many leading figures in the Australian food industry including Stephanie Alexander, Curtis Stone and Karen Martini.
I live on a rural property on Victoria's Mornington Peninsula with my husband and dog, where I work from my studio kitchen. Between recipe development and photo shoots, I'm continuing my extensive studies. I've recently become a Vinyassa yoga instructor in Goa, India and hold doga classes for humans and their dogs.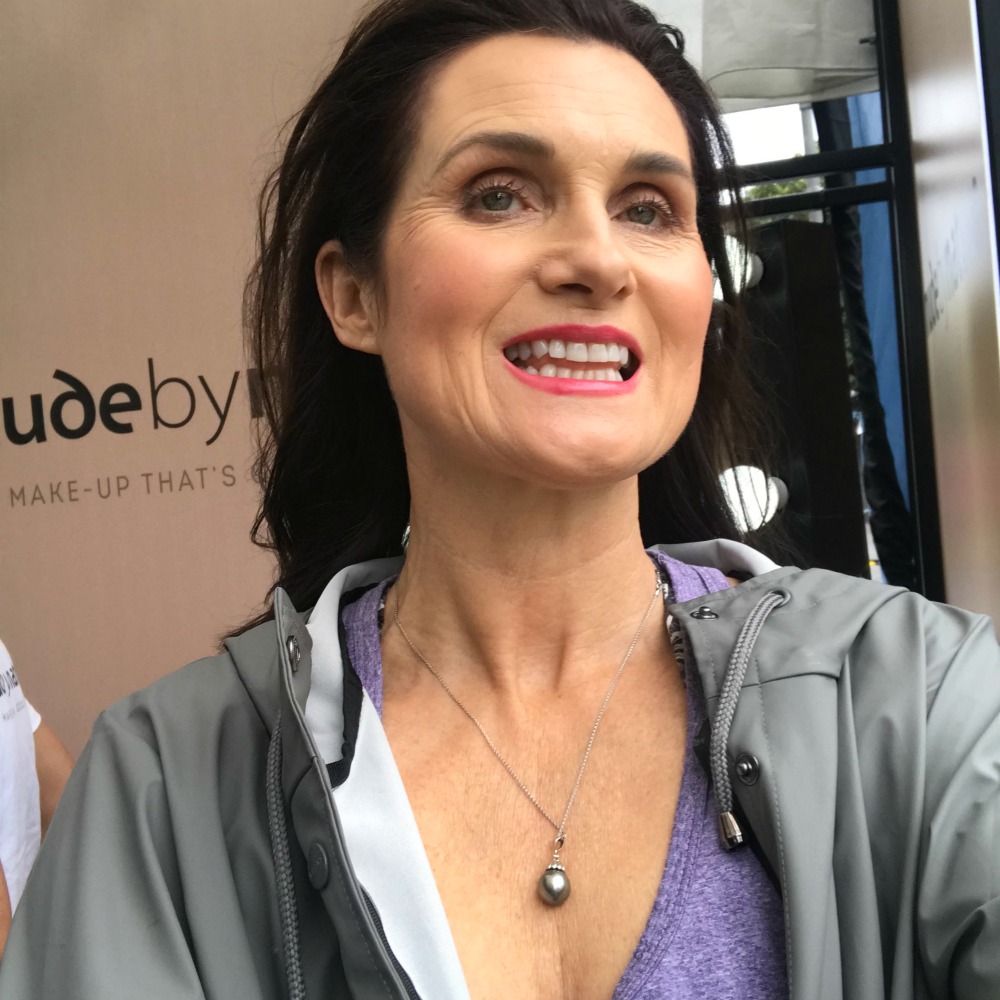 Tell us about your products…
All PAWDinkum products are made in small batches by hand with pure natural ingredients with no synthetic additives. In our oat biscuit range the ingredients are organic, high quality human grade with added benefit of natural supplements which give them their premium taste that dogs adore. All our natural spa treatments smell divine, are made with 100% pure essential oils, have beautiful healing qualities and are vegan certified.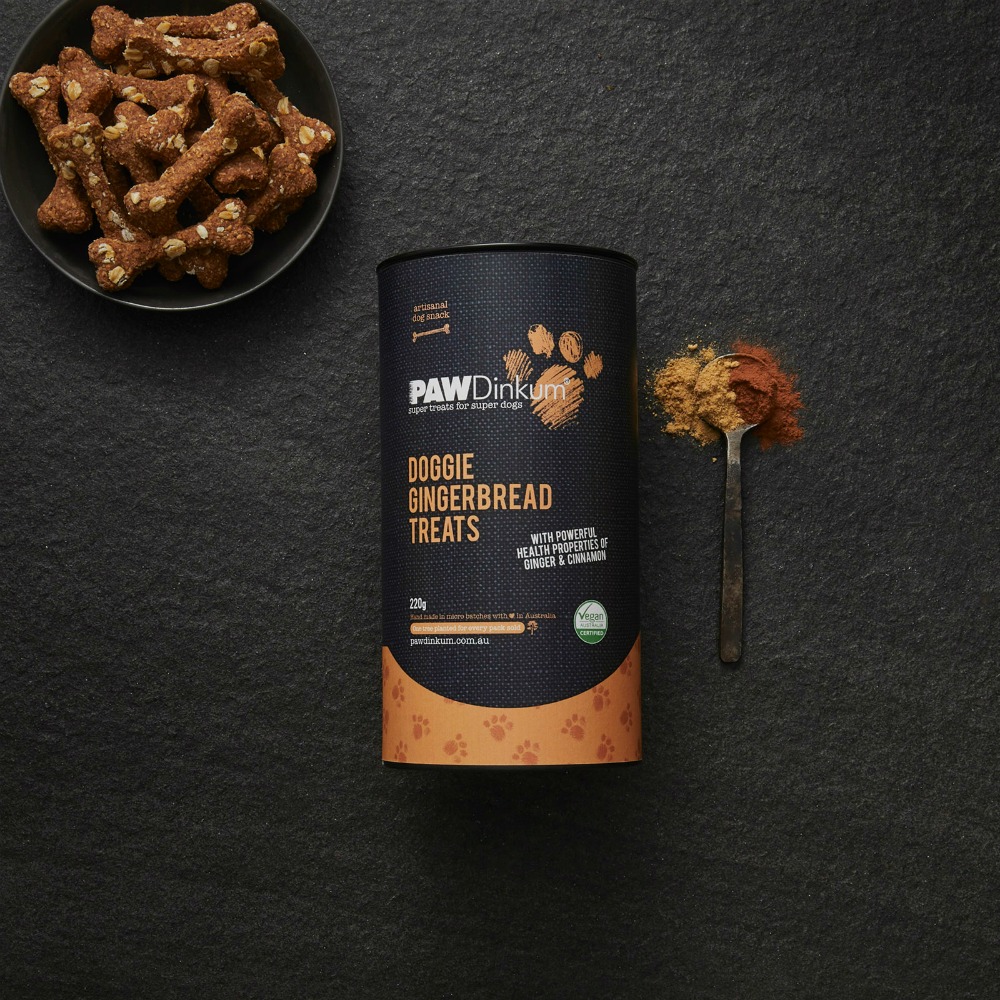 Introduce us to your dog. What makes her supaw special and how does she help you in the business?
Holly Long is my all paw little shadow. In a previous life she was to be a professional show dog, but alas, was deemed too long. She is now a professional taste tester in the PAWDinkum test kitchen, who takes her work very seriously!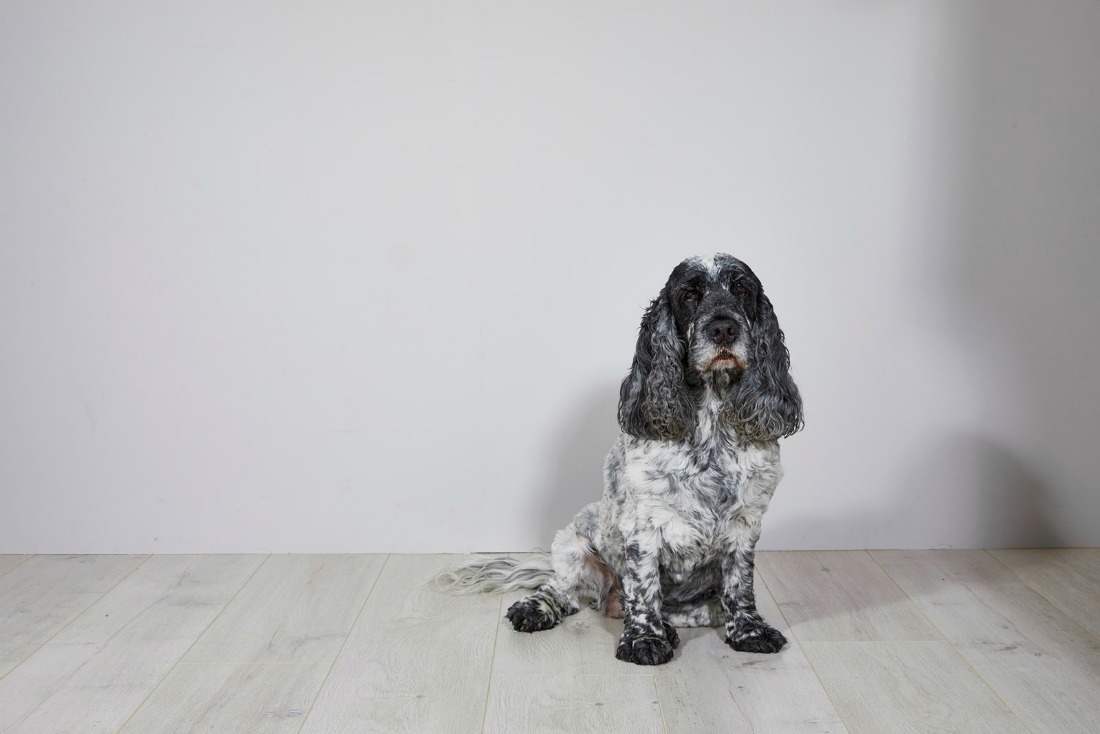 Was it a natural segue from making and styling human food to making real dog food? Who is easier to please?
My life is very organic and things have always presented at the right time, I loved food styling, though I knew I wanted something tangible like a brand to create. Whoever said: "never work with dogs and…!" was mad, they are much easier to please than humans!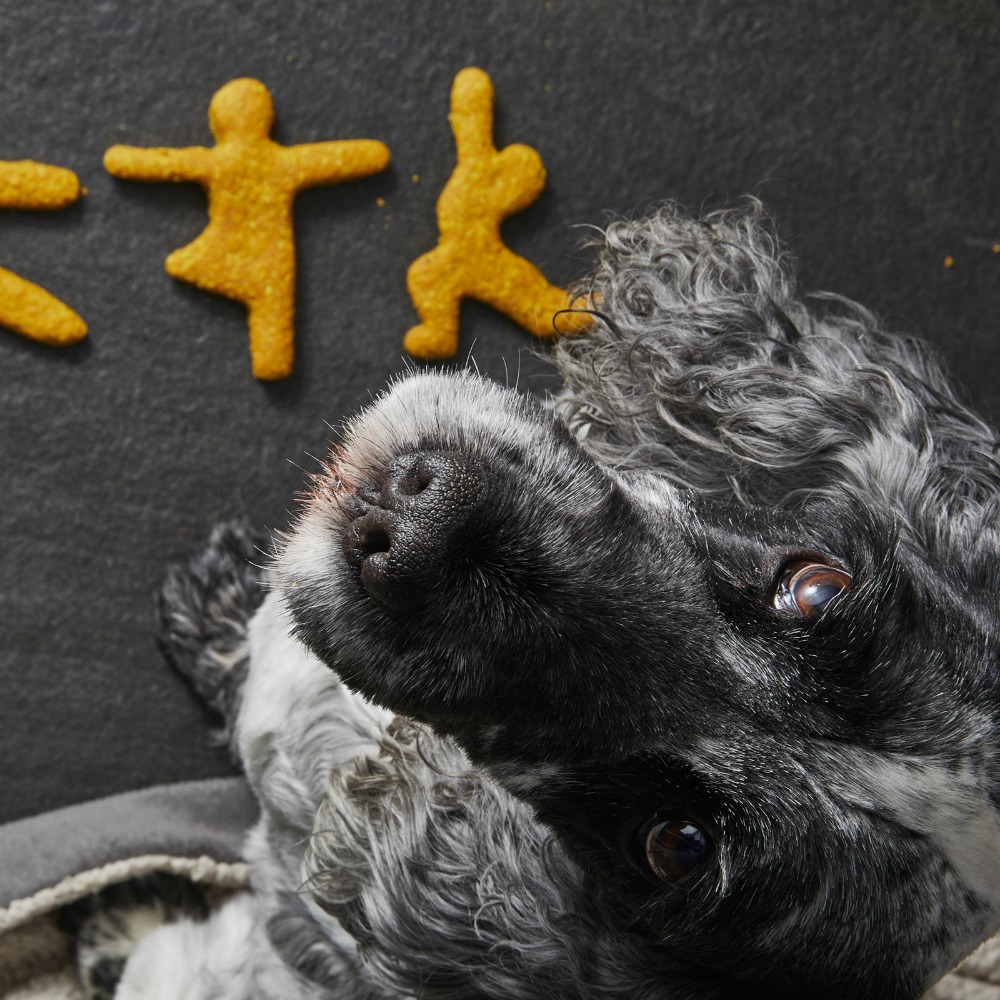 What do you love most about being a business owner?
For me, I love the creative process of how my brand has grown over the years, I have just launched my new canisters, they are made out of 100% recycled materials and with every canister sold we are planting a tree.
Also, I just love meeting amazing people, that adore their beautiful dogs.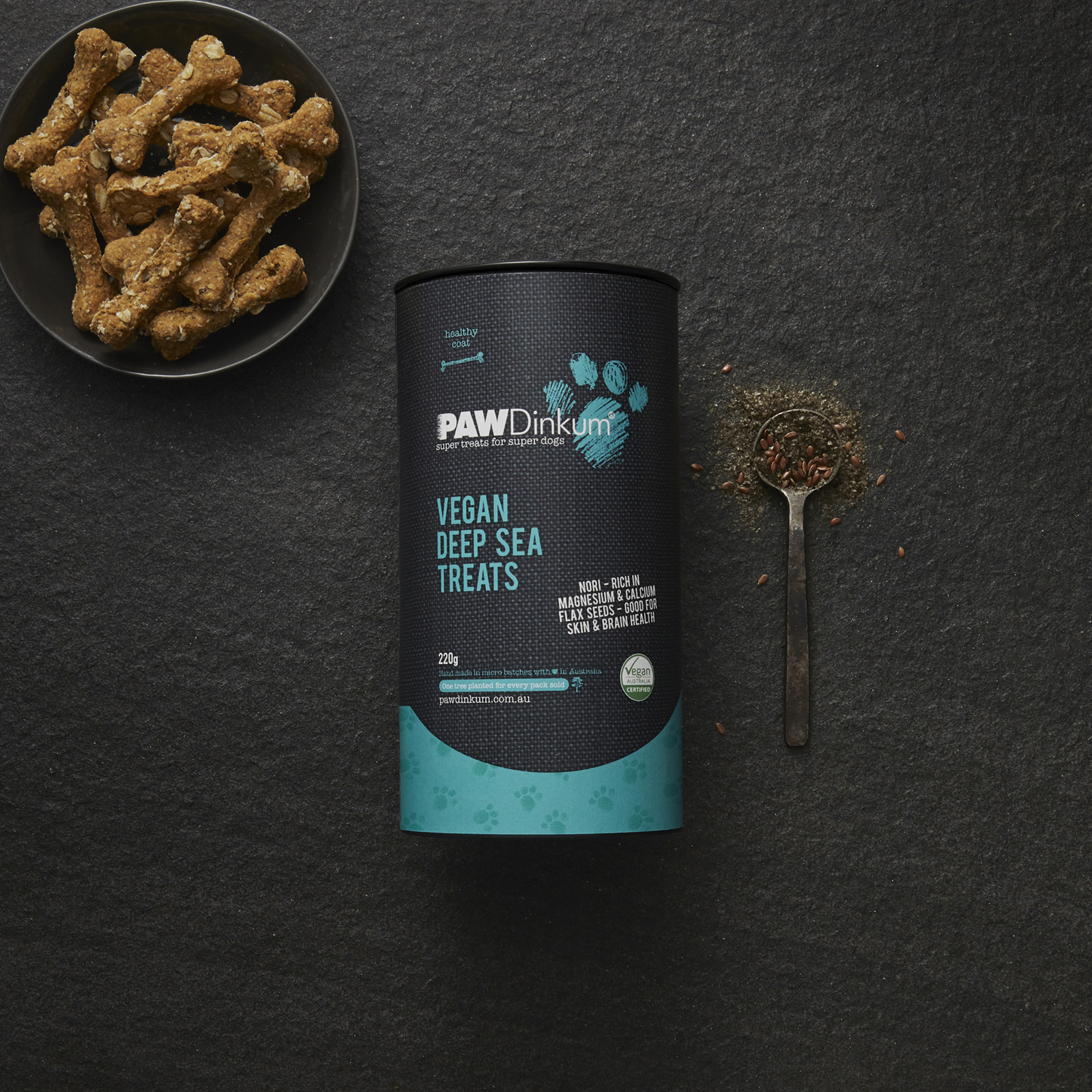 What's next?
Well, I've just sent my manuscript off for my doggie cookbook – MY DOG EATS BETTER THAN ME! – it will be released in July 2021 in Australia, the UK and the USA.
I'm also very excited to be studying again, this time I'm doing a Diploma of Canine Nutrition and loving every minute.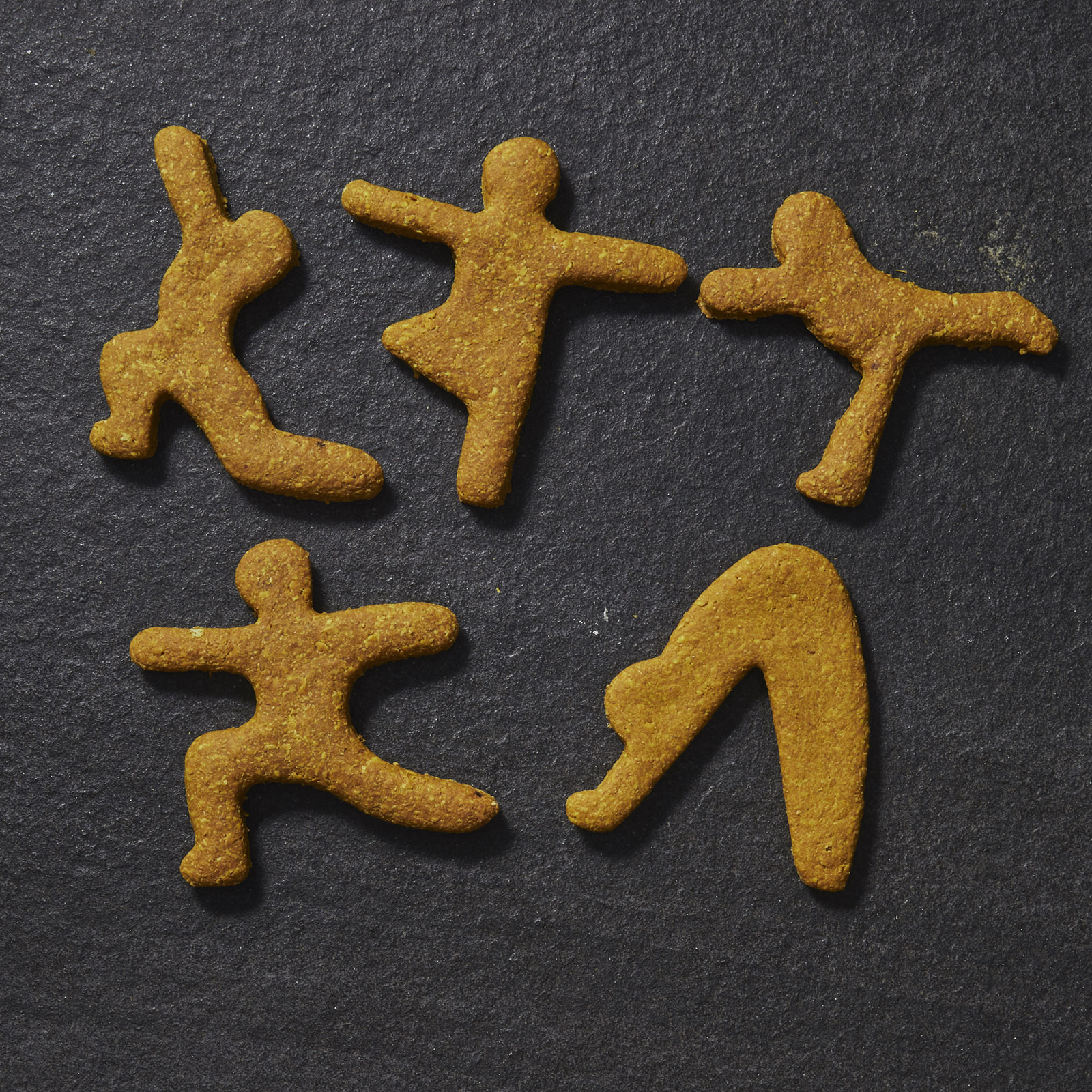 I don't know how Ash finds the time to produce such gorgeous, handmade products but I'm pleased she does! We have quite a few Hound & Hair items in Teddy's furdrobe, most notably his personalised denim jacket which attracts a lot of pawsitive attention wherever he goes!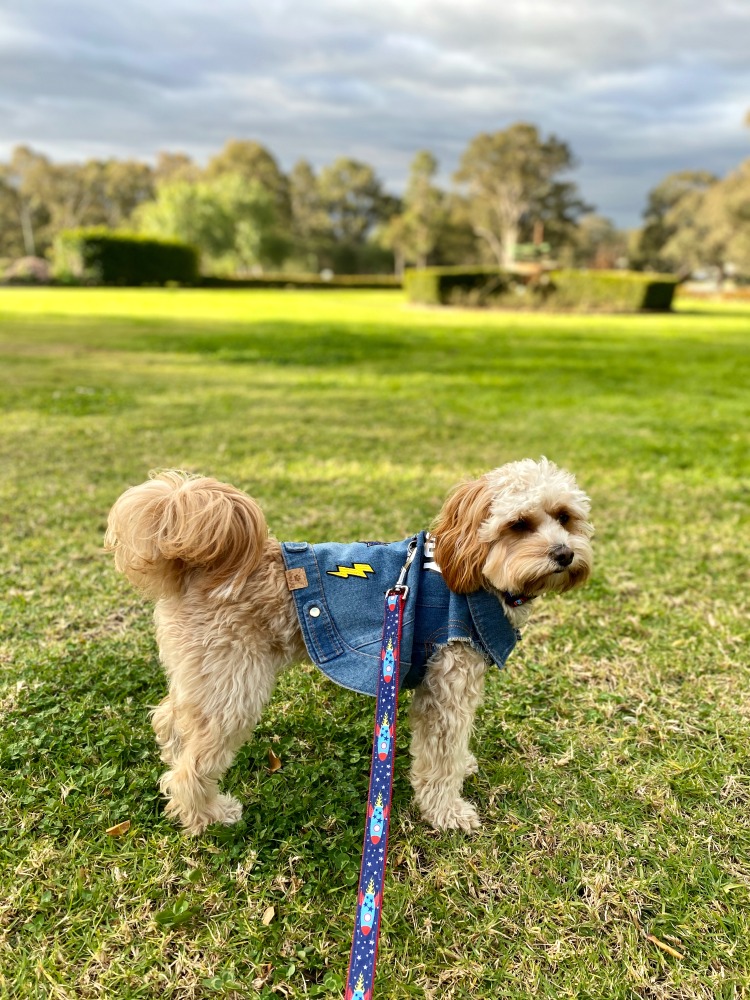 Tell us a bit about yourself
I'm Ash, 27 years old, from Brisbane. I started Hound & Hair out of necessity after being unable to find good quality, unique and fun bandanas and accessories for my (then) puppy, Fred.
I combined this with my hobby for sewing and started out with a few bandana designs and scrunchies (hence the 'Hair' in the name). I've since expanded the range to include bow ties, winter scarves, upcycled denim bandanas (made from old recycled jeans) and recently, denim dog jackets.
I run this business in between working as a full time nurse doing shift work, and co-owning another small business with my fiance, so I'm kept pretty busy!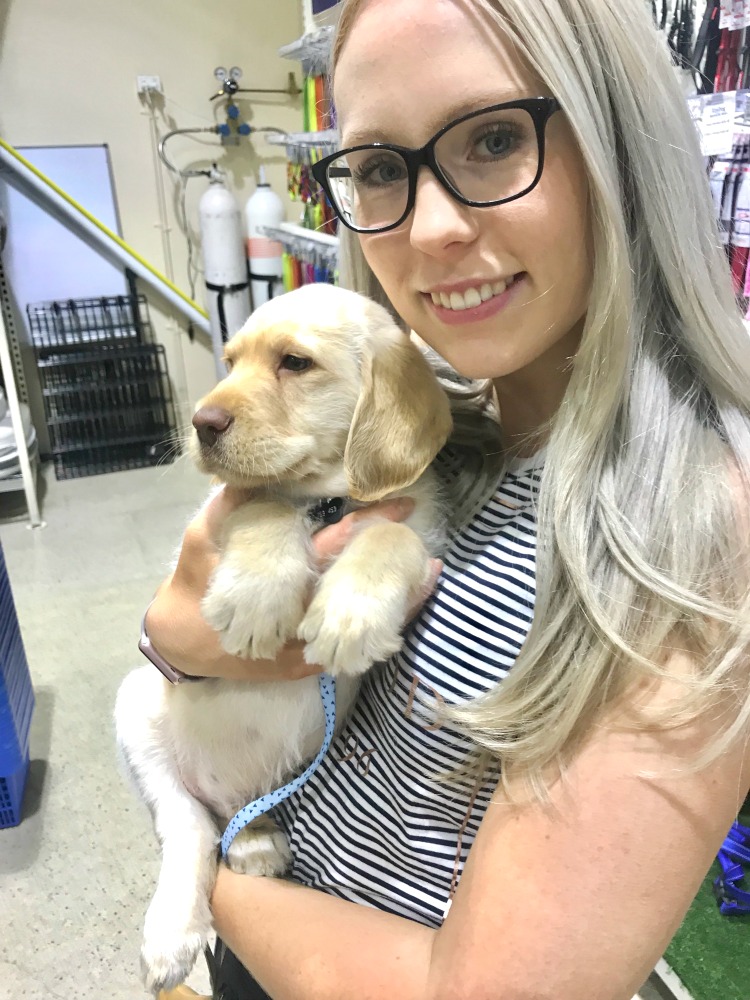 Tell us about your products…
I stock two styles of reversible bandanas (over the collar and snap on), along with matching scrunchies and bow ties. I also have an Upcycled bandana range I make using old recycled jeans. I also have seasonal products such as winter dog jackets and scarves and Christmas limited editions etc.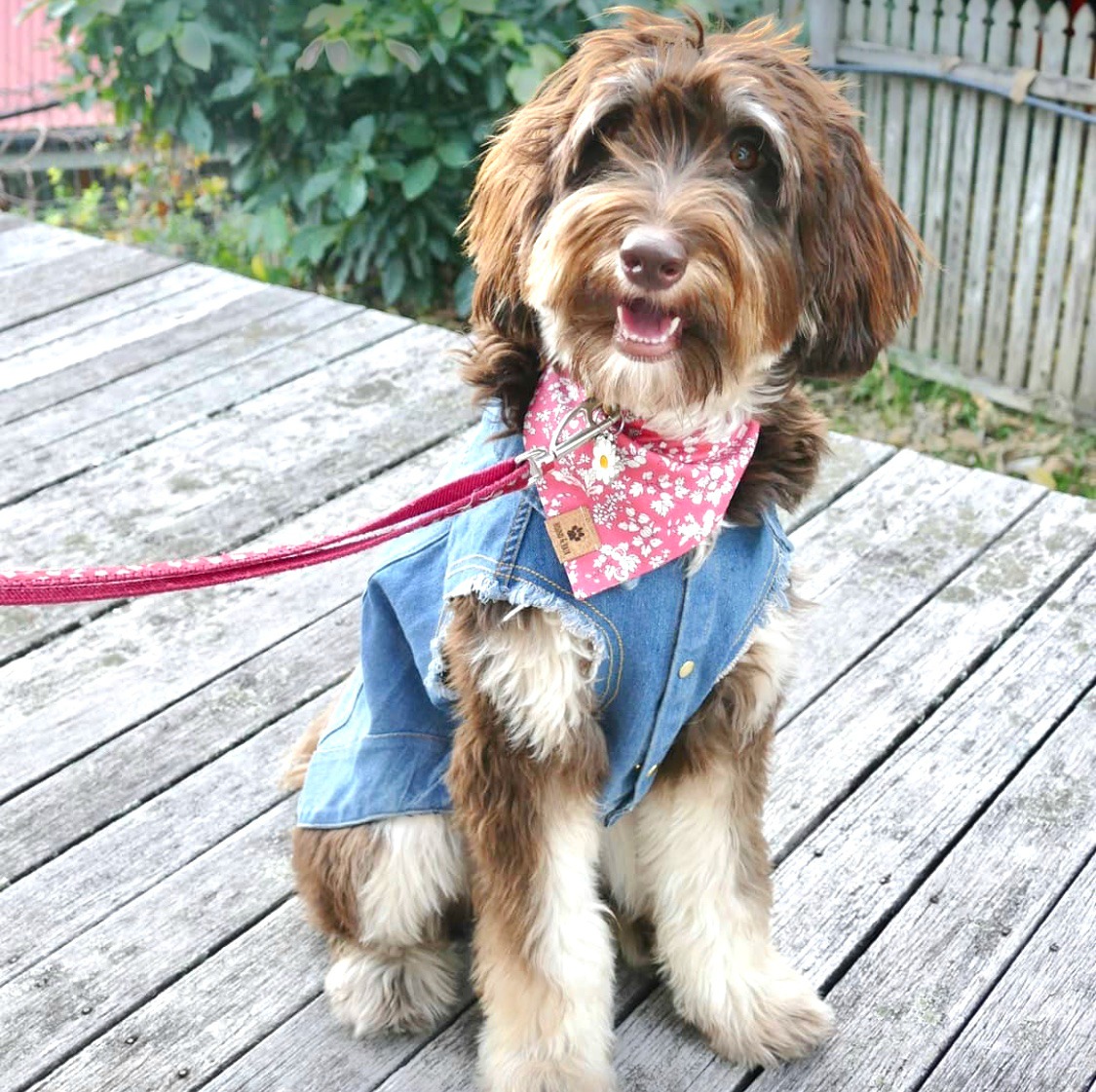 Introduce us to your dog. What makes him supaw special and what are his favourite products?
Fred is a 2 year old labradoodle and he is crazy when he wants to be! But he's so in tune with our needs and emotions and he's really well trained and eager to learn. I love teaching him new tricks! He rocks his personalised denim jacket, he gets so excited when I bring it out!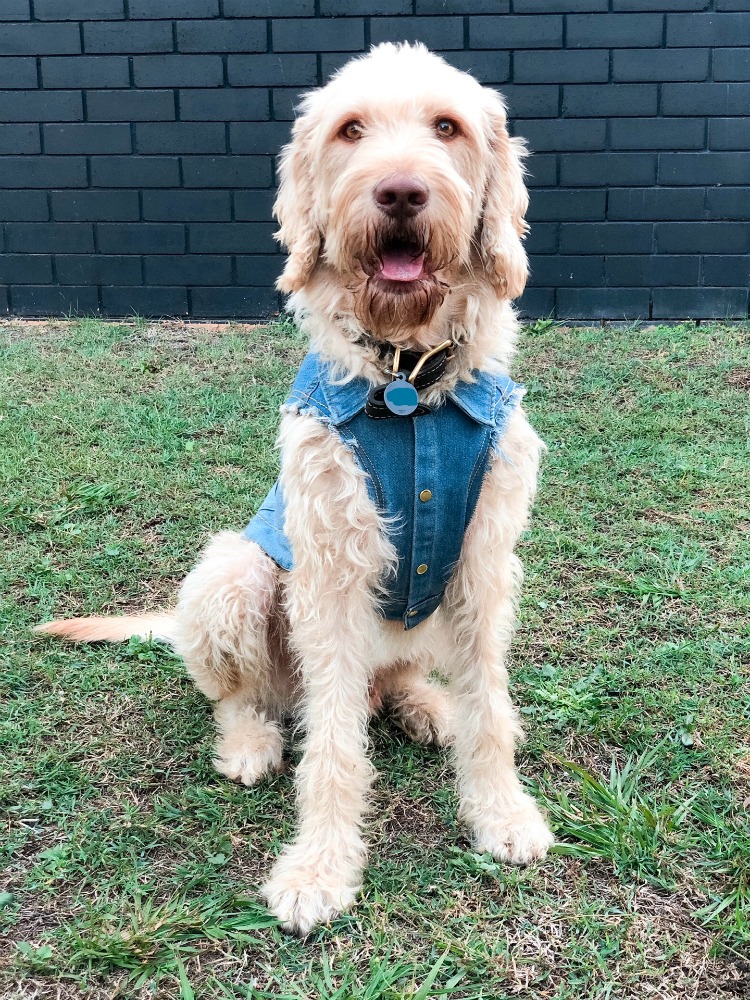 You're a full time nurse, co-own a business with your partner and manage Hound and Hair? How do you juggle so many balls?
Good question! I love a good list/weekly planner because I've always got so many things on my mind, it's good to get it written down and allocate time for different things. I would say I'm a "head down, get the job done" sort of person so I just get into what needs doing!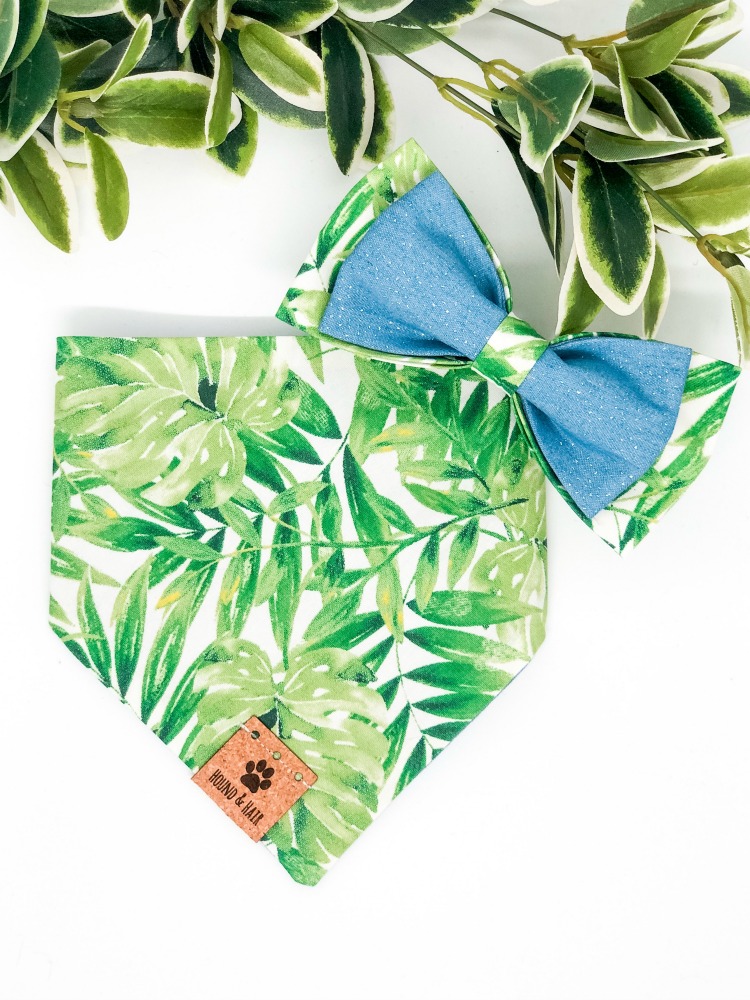 What do you love most about having your own business?
I love the satisfaction from my customers. I often get lovely reviews and emails saying how much people love my products and how they get compliments when their dog wears their Hound & Hair products out. I love the production/design process for new products too cause I get so excited to show my followers new and exciting things.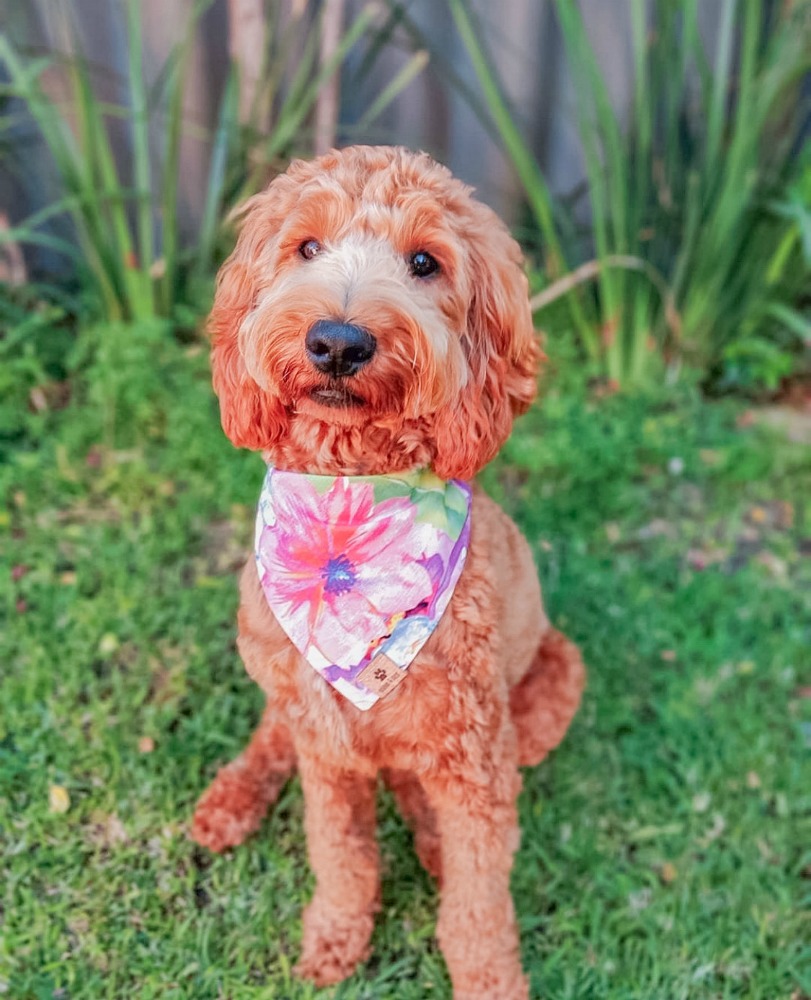 What's next for Hound and Hair?
I'm not too sure to be honest. I can see myself adding small little variations to my already released products but if I were to branch out bigger to harnesses/leads etc it would be a very lengthy testing and design process. Not out of the question though. I'm looking forward to bringing out a great Christmas range. That's next on the list!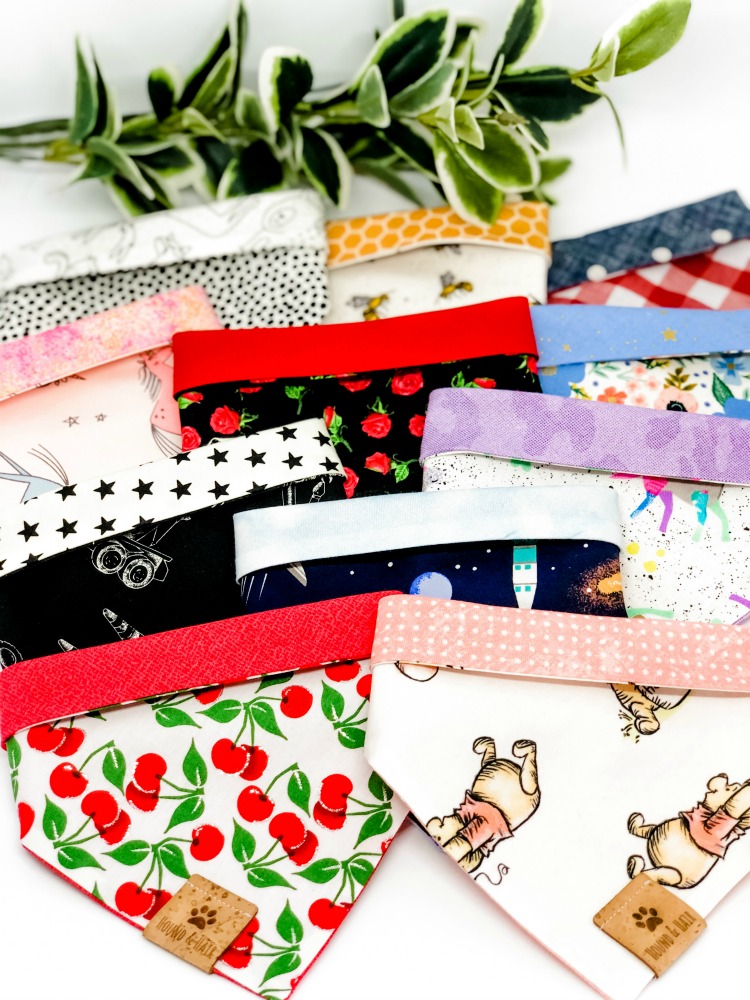 Handmade for Hounds is the relative new kid on the block but Teddy and I are obsessed with their beautifully made products and at the rate I'm going, I should have shares in the company. Forget mom and pop businesses, mom and daughter businesses are where it's at!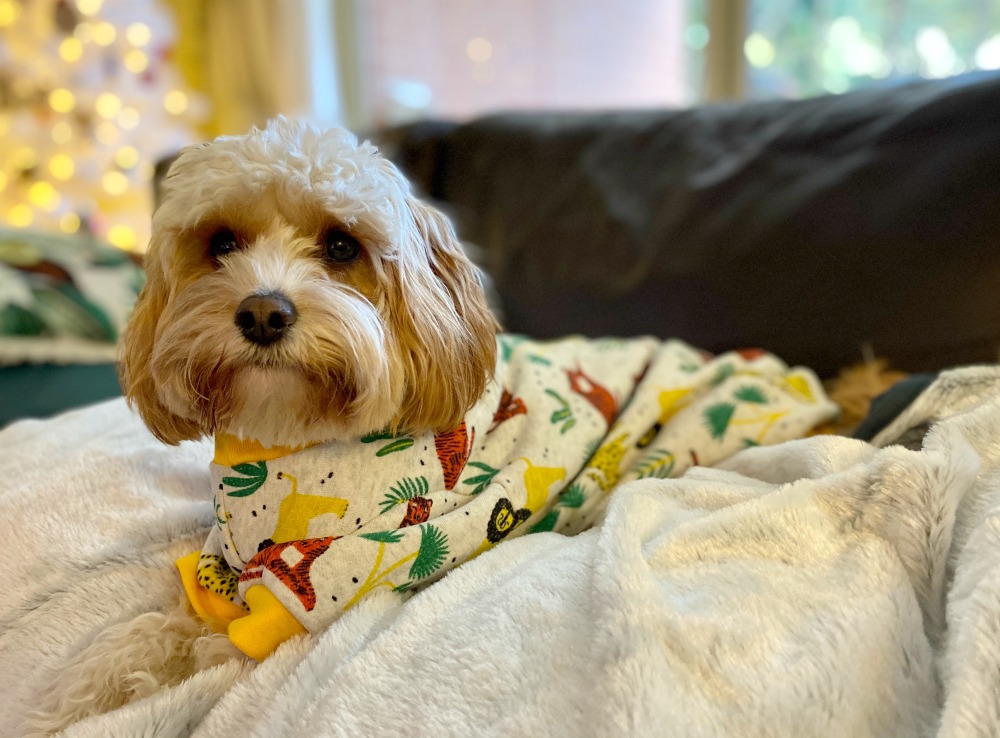 Tell us about yourselves
Hey! We are Tracey and Greta, the Mother-daughter duo called Handmade for Hounds.
Our vision for Handmade for Hounds, started in early 2020- The year of the pyjamas (Thanks to COVID-19)!
After struggling for years to find a comfortable yet stylish pair of Pj's for our dog Lenny, we decided we needed to look into making them ourselves. Luckily, Tracey was a dressmaker from way back, and our little dream was able to become a reality. It didn't take long for the word to get out amongst friends, and it was now apparent that we needed to share our products with the rest of the dog lovers out there.
In late June, after months of sleepless nights we welcomed 'Handmade for Hounds', an apparel and accessory range designed for our furry best friends. All our products are designed and entirely handmade in Melbourne, and this will always be the case.
Our little business is now a full time job, for Greta and Tracey. Tracey draws the patterns, and sews all the beautiful garments, while Greta runs the operational side of things. Lenny the cavoodle, is now also a full time model- much to his disgust.
We've made lots of future plans in relation to our future product lines, however our pyjamas will always be our main focus.
We love what we have created with Handmade for Hounds, nothing brings a smile to our faces more than seeing all the gorgeous hounds out there, wearing our label.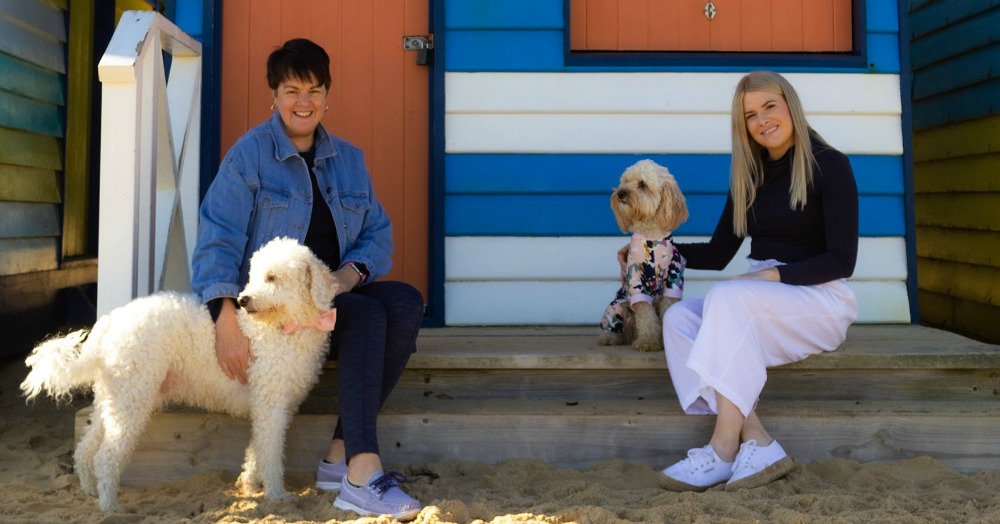 Tell us about your products
Doggie Pj's- Our most popular product is our onesies. They are designed to fit over all 4 legs, and sit comfortably in place. They are guaranteed to keep your hound warm and stylish. They come in a range of different styles to suit different climates, and doggo warmth needs.
Sweaters– We've also designed a sweater version of our pj's, which is perfect for hounds that prefer their back legs to not be covered. Our sweaters are also perfect for walks, and plays at the doggo park.
Quilts– Our deluxe doggo quilts are perfectly designed to bring style to the home, while keeping the pooch cosy. We've designed our quilts to be the perfect size to be thrown over the couch, bed or even in the car. While adding protection to surfaces around the house, they will also ensure your hound is warm and cosy.
Bow ties– Our bow ties are designed to slip over your hounds collar and sit comfortably in place. Perfect for adding style and class for any occasion.
Eye Masks– Our eye masks have been a massive hit, as styling the perfect shot is very important in 2020. Obviously our eye masks are not designed for actual use, but damn they look adorable in photos.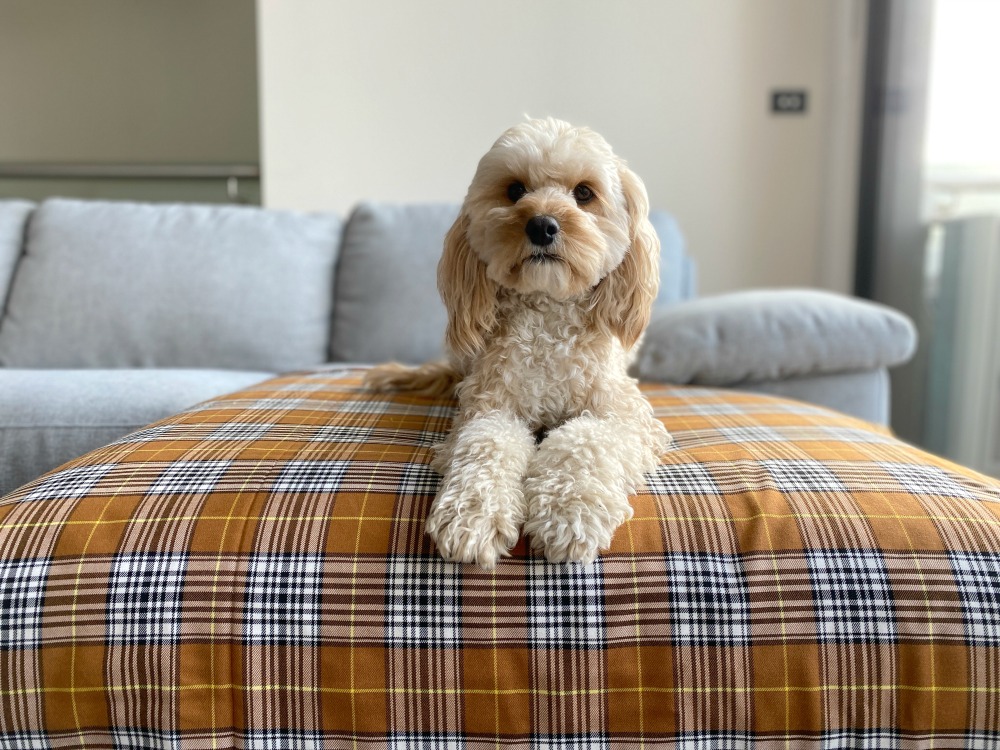 Apart from being a supaw model does Lenny have any special skills and what are his favourite products?
Lenny's special skills, would definitely be identifying animals on the television, even if he is fast asleep! He definitely must be able to see through his eyelids because he doesn't miss a fly on the screen. When our family dogs are all together, he barks at the T.V and the others run to the door, they haven't got a clue what's going on.
Lenny's favourite products are our warm onesies! He is always freezing, and wakes up throughout the night if he isn't wearing his warm jarmies! He loves his 'Thomastown Onesie' and his 'Elwood Onesie' the best.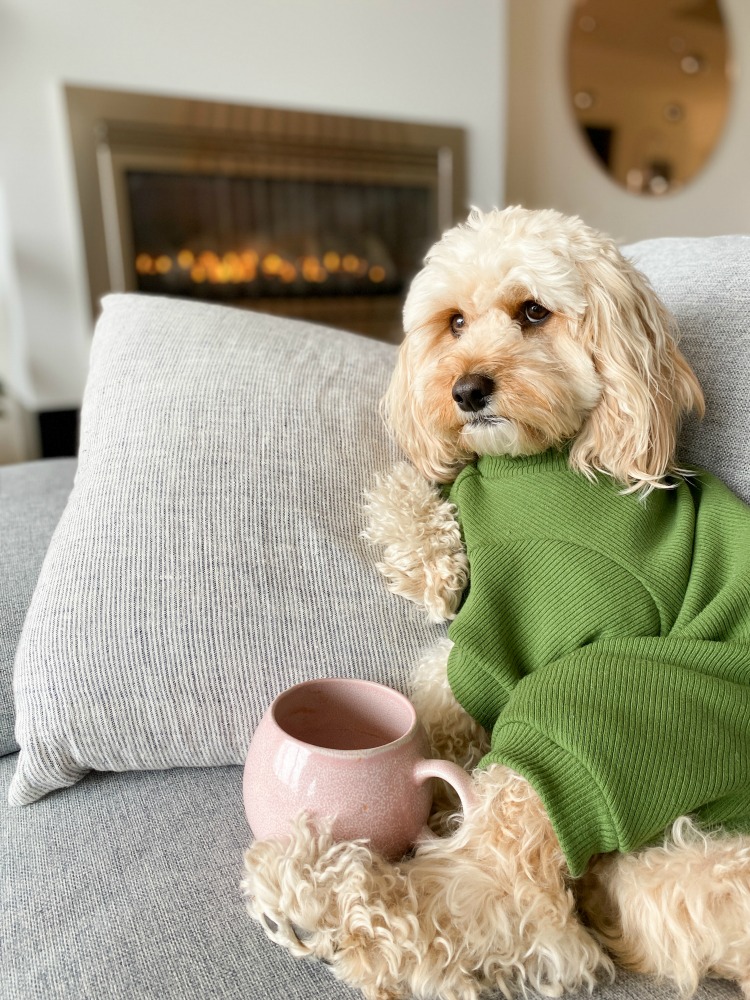 What's the best thing about working together as a mother and daughter duo?
The best thing about working in a mother-daughter duo is spending the quality time together. We've always been very close, but obviously because of other work commitments, we didn't see each other as much. Now Handmade for Hounds is our sole job, so we spend everyday with each other, and we both love it.
We love our shopping for material days the best. Being shopaholics, we've now got the best excuse for shopping, and we love envisioning the new products before they've been created!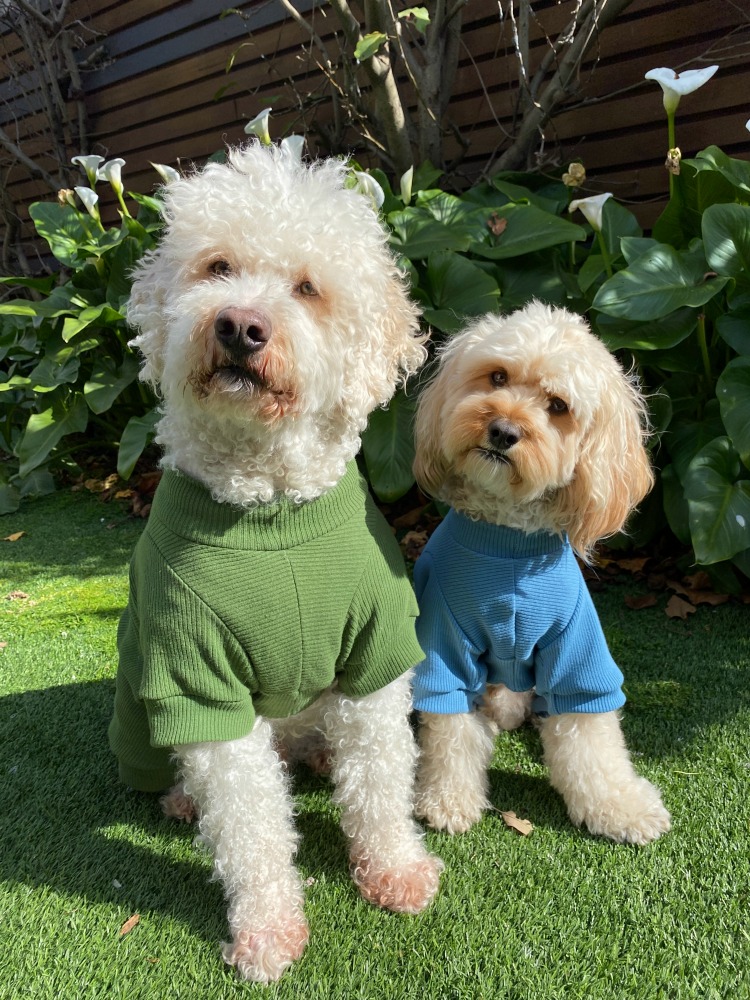 What's next for Handmade for Hounds?
Handmade for Hounds will always hopefully be about our doggie jarmies (as they are our favourite product and the reason for our business idea in the first place), however we've got some exciting products planned for the summer! We are hoping to branch into doggie products for the home, as we think this is an area we're style is sometimes lacking. We believe, our dogs can be warm, and our homes can be stylish at the same time! Stay tuned!
I hope you enjoyed meeting these pawsome entrepupneurs! Aren't they fabulous? If you started your own business, what would it be?
Linking up with Denyse for Life This Week