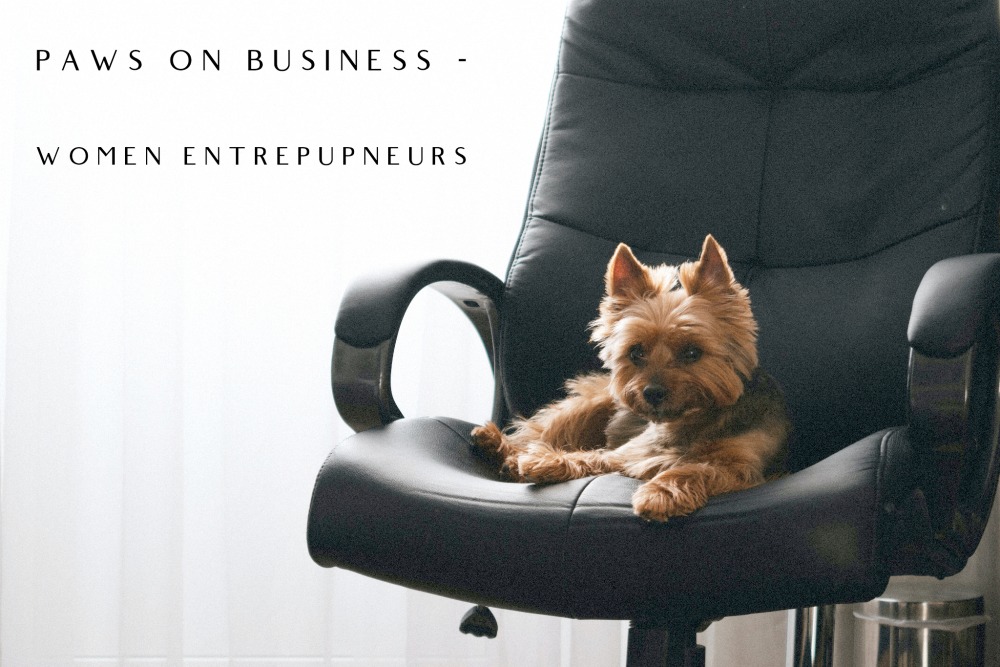 entrepupneur
(noun)
– someone who sets up a dog related business, takes on financial risk and works their butt off in the hope of profit.
Well, Paws on Business was on pause for a while (or should I say paws!) but we're back with the most delicious duo.
Teddy Roosevelt had long drooled over his friends enjoying Dapper Doggy Dining's culinary creations on Instagram. Let's face it, even I'd been drooling over their food and with good reason because it's all human grade and looks restaurant quality.
I first met Audrey and Yeeyan on the puppy pawty circuit because their catering skills are very sought after.
It was a Mexican fiesta party and dare I say, the Dapper Doggy Dining food looked even better than the hoomans'. It wasn't surprising then when one of the guests ate one of the doggy tacos – well, I wasn't joking when I said the food was human grade!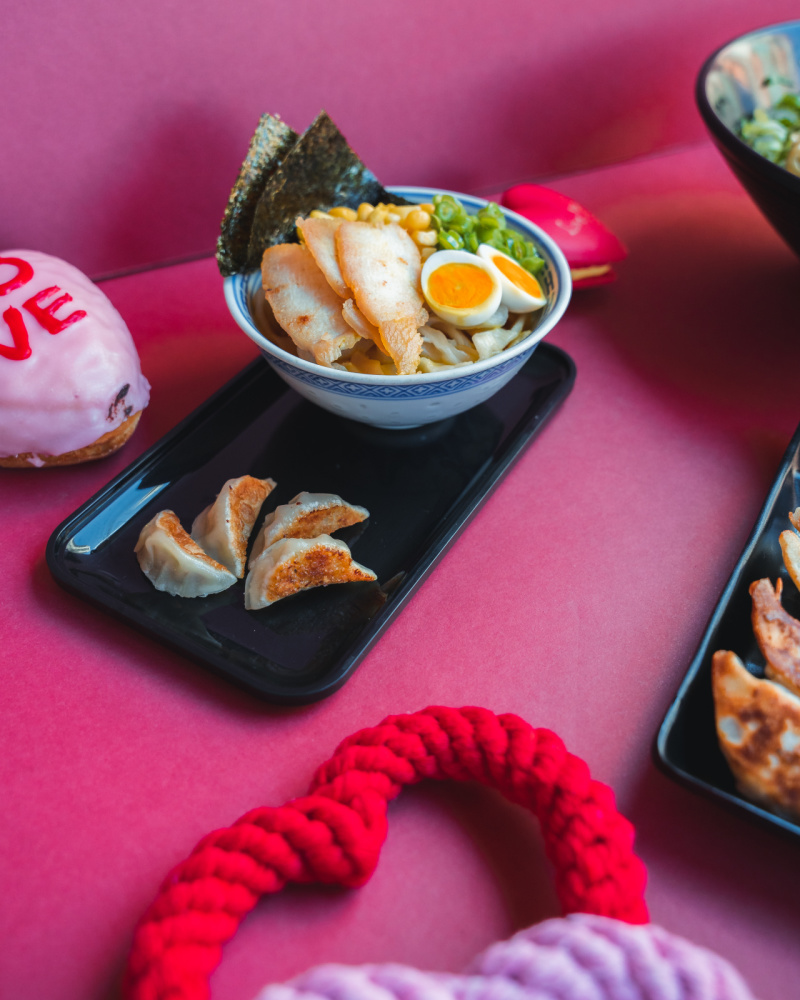 Tell us about yourselves.
We are both foodies and love to share what we love with people. We have two little pugs, Jello & Mellow and they have the same eating gene as us!
Thats how DDD came to be, as we wanted to create human, restaurant quality recipes for dogs. The restaurants we went to for dinner always inspired us to work on some doggy recipes!
Yeeyan always sources the best and fresh dog friendly food ingredients, Audrey is always the one who turns the food into something really wonderful on the plate.
Of course our pugs are our supertasters, how they clean their bowls are after eating becomes the feedback! We have always wanted to open a dog restaurant to provide the finest food to our furiends in Sydney… One day!
What is Dapper Doggy Dining? Tell us about your products and what you do.
At Dapper Doggy Dining (DDD), our mission is to help pets live healthier and happier lives through providing the proper nutrition and care they deserve. Our nutritional food is made with 100% human grade ingredients and 101% love.
We receive unconditional love from our pets daily and for many of us, our pets become our family, comfort, friend, and even our emotional support.
We believe the popular phrase "we don't deserve dogs" is true. So our job now is to help pet owners return this favour by delivering you our beautifully and deliciously crafted quality pet foods to your door.
Believe us, your pets will thank you later.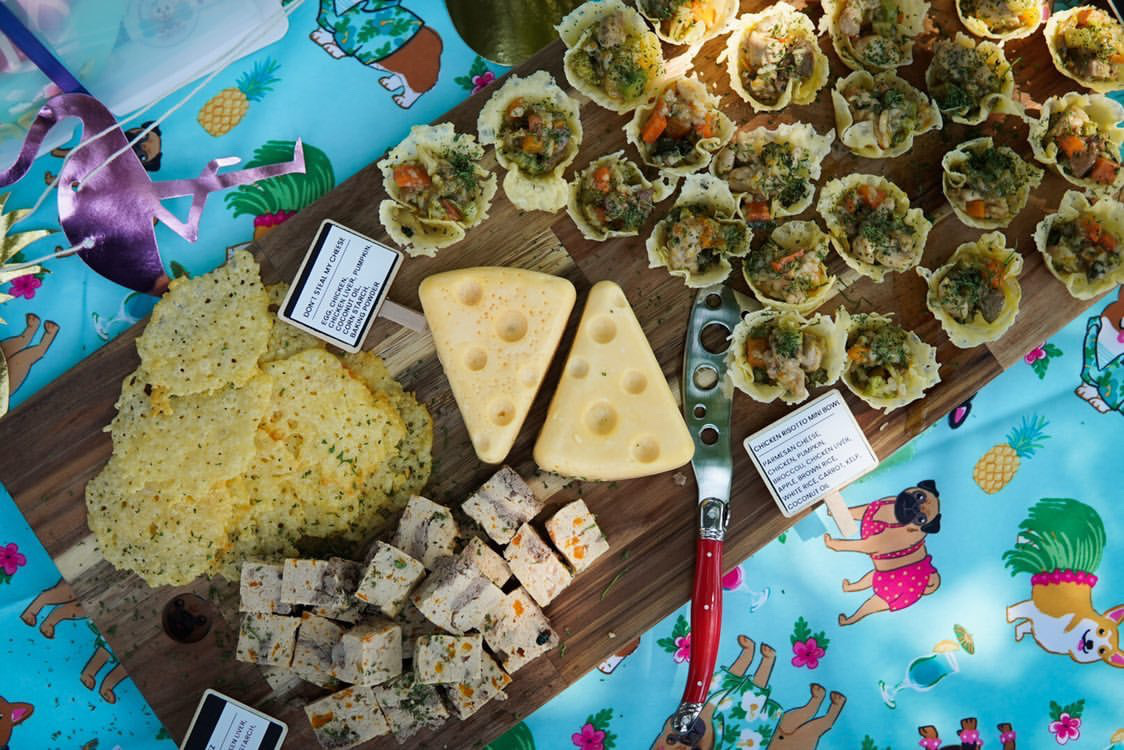 Is/was there a pet that inspired the business?
Good food always lifts the mood. As dog owners ourselves, we can confirm the favourite time of the day for our dogs is their mealtime.
Our business was inspired by all the pets we got to meet and interact with in the community. Our findings were that the vast majority of dogs stay on a dry food diet their whole lives.
We also found, despite owners wanting the best for their dogs, most were unable to provide fresh and nutritious diets for their pets due to time restraints.
Fortunately, this is where DDD steps in with the simple solution. We could never eat the same food for the rest of our lives, so why should we let our pets have the same dry foods everyday?
Our DDD favourite meals are made with the freshest ingredients and packed in individual vacuum seal packs for convenience. It is the perfect option for busy owners to ensure a healthy and balanced lifestyle for their beloved fur-riends.
Seeing our fur customers enjoy their first gourmet meal from DDD, is truly rewarding and unforgettable.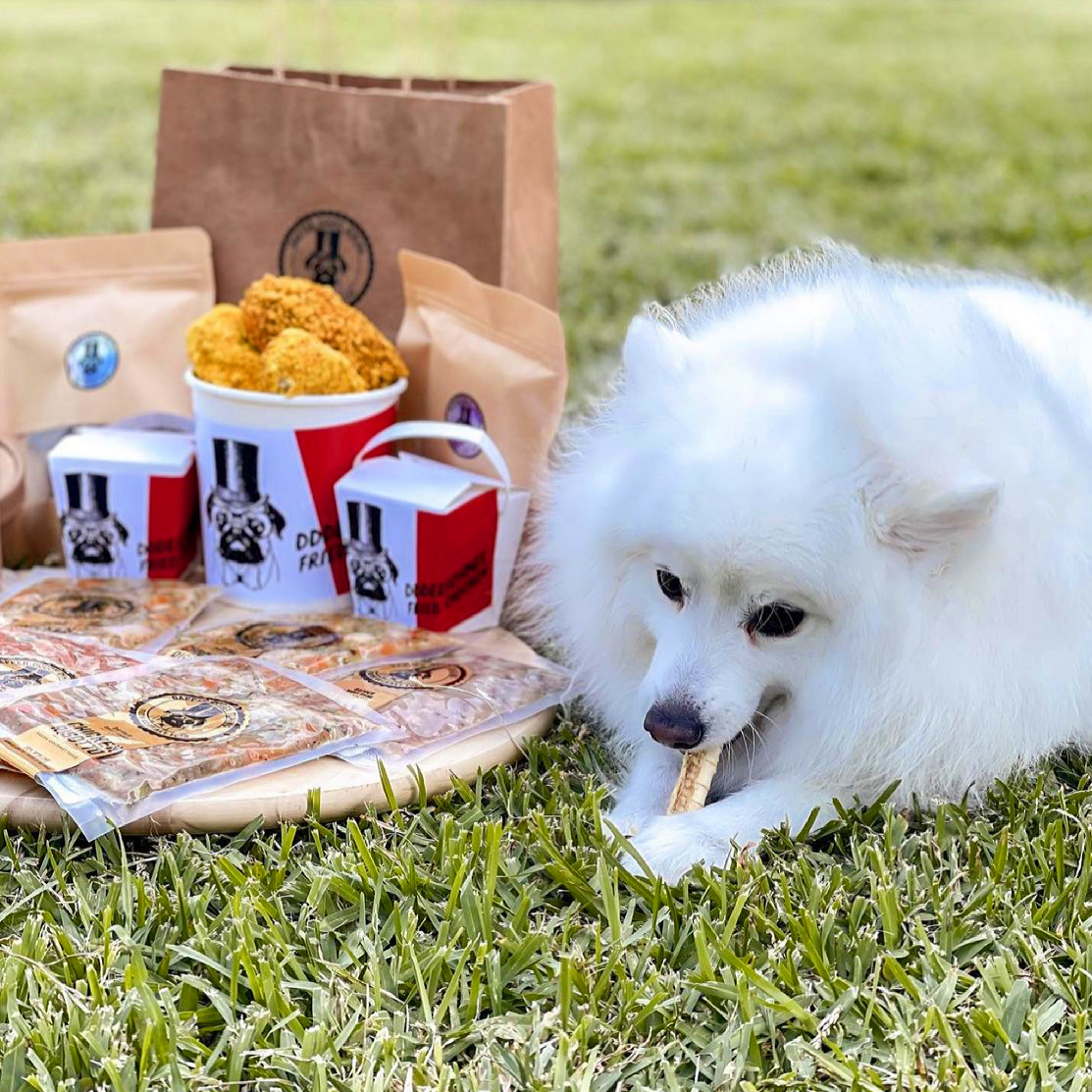 What do you love most about running your own business?
• Killing 99% of all of our free time (jokes).
• Creating new and fun recipes for our customers (dogs) without needing approval from the executive team. The approval is given by the dogs and their parents.
• Collaborating with other restaurants who are keen to provide a dog friendly environment for their customers.
You make some incredible custom dishes for special puppy events. What's been your favourite?
Personally Mini sliders! The beef patties look just as succulent as ones you find in your real burgers!
But we will never forget the first pawty canape that sparked popularity at the dog parties i.e. Chicken risotto cheese bowl.
We still cannot forget the moment when one of the dog owners actually picked up one of the cheese bowls and put it in his own mouth. He didn't realise it was for dogs even after tasting it! We seriously mean it when we say our foods are human grade!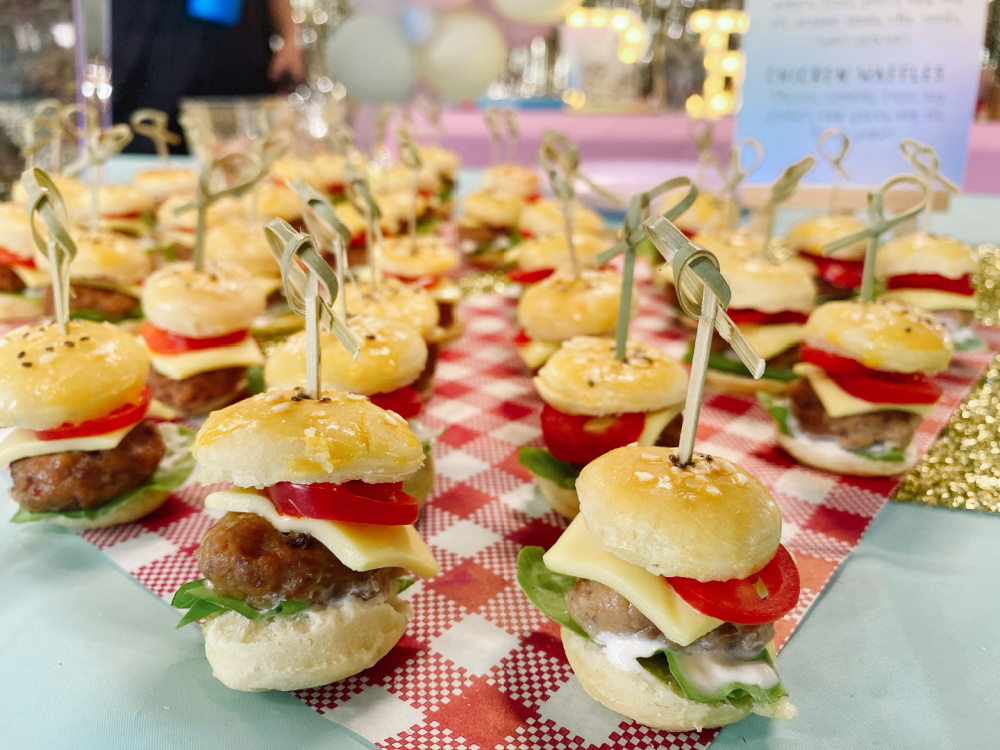 What's next for Dapper Doggy Dining?
• Making perishable goods has never been easy for us in terms of it's shelf life and logistics so we're working on that.
• Hoping to collaborate with more businesses/restaurants to make Sydney an even more beautiful and accommodating city for pet owners. We hope dog owners will be able to indulge in a vast range of dog friendly restaurants and venues without worrying about finding someone to pet sit.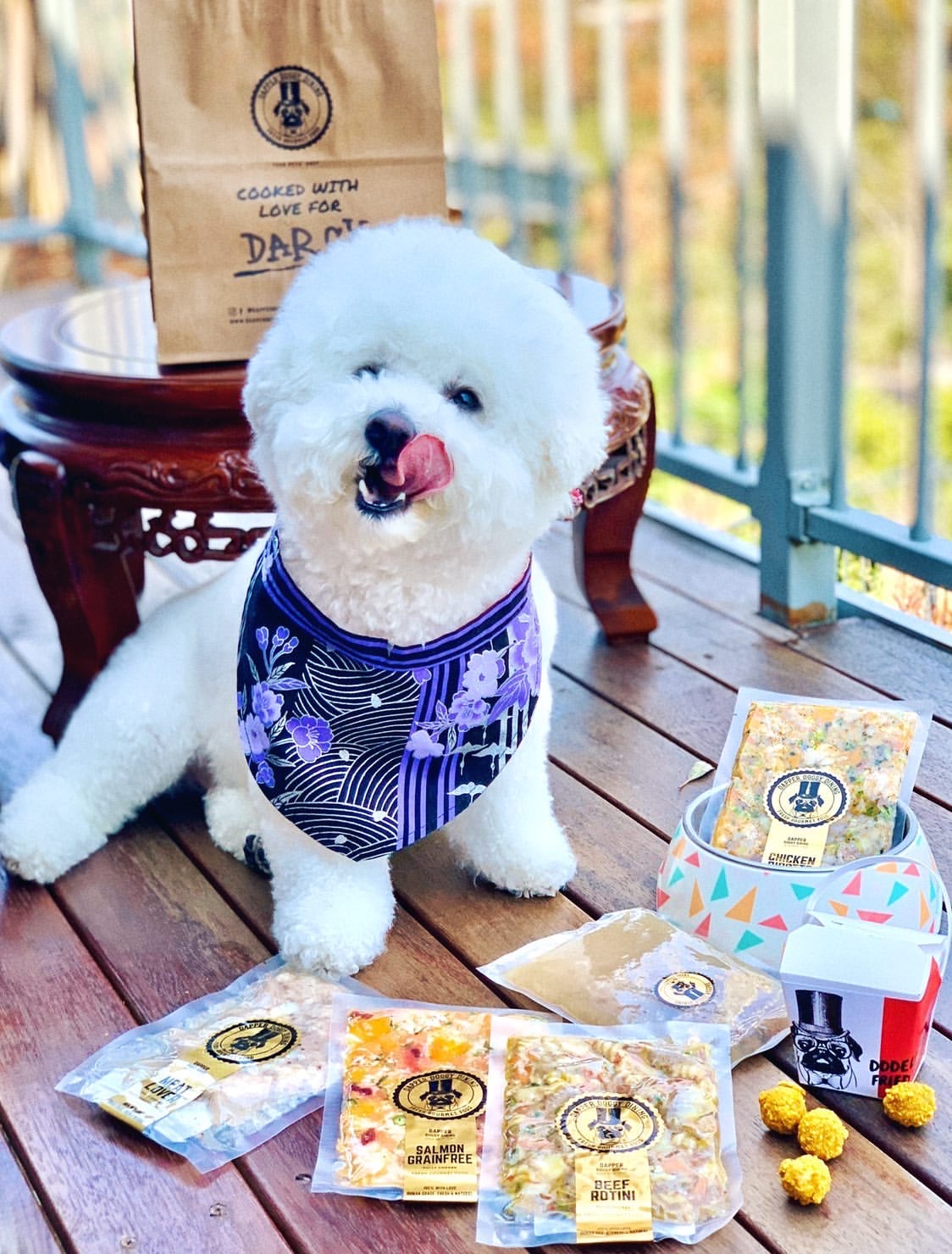 Find Dapper Doggy Dining on the web
Linking up with Denyse for Life This Week