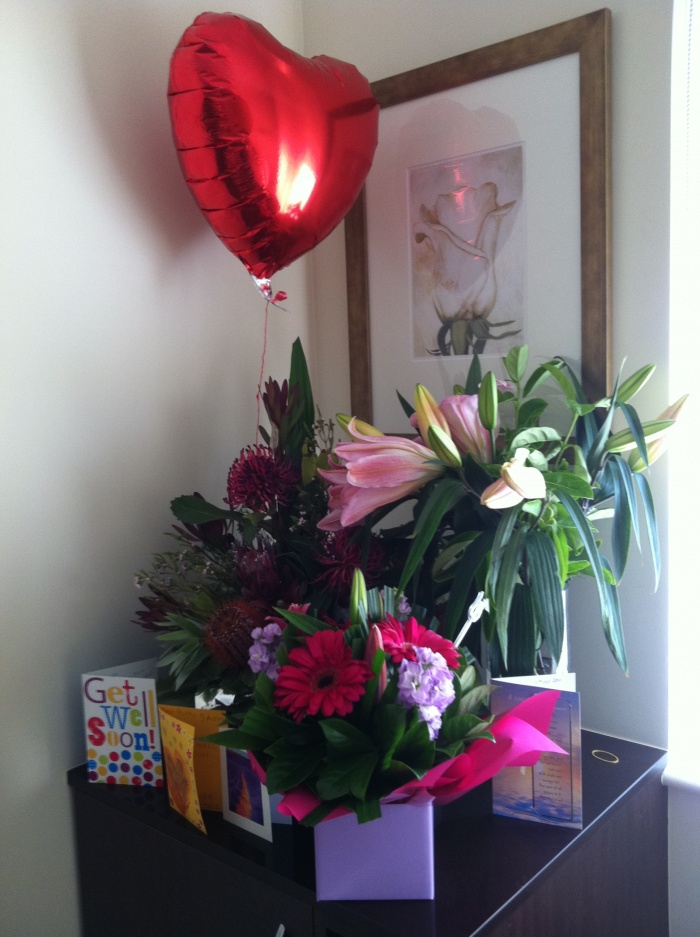 The prof is an early riser and he comes to give my neck the once over, say g'day and then he's off on his merry way. He's pretty happy with how things are looking and says my elephant-man style swelling is to be expected.
The lovely nurse removes that big needle from my hand and I'm able to get up have a shower, parade around in some different pyjamas and I'm feeling like a new person by the time Kari, my sister in law and my niece and nephew arrive, followed by David who is the bearer of more grapes!
Kari and the kids stay for a bit and David keeps me company until my gourmet lunch arrives and then heads home to do a quick bit of work from home. I take the rest period quite literally and pass out, and when I wake up, I find a new flower arrangement in my room. They're from my awesome personal trainer Kathy. She came by while I was sleeping, jeez, I must have been sparko. I might not be enjoying the stiff neck, but I'm loving these quality zzzs.
In the afternoon more fabulous friends come to visit. First, my friend Sue drops by with a book to read; The Secret History  by Donna Tartt. It looks pretty substantial, I think that will keep me meaningfully occupied for a while! Jane and Shannon are hot on Sue's heels and Jane brings with her some beautiful sweet pea flowers and a vat of uber healthy Jane's  Sweet Potato Soup. I actually feel healthier just looking at it, it looks like liquid healing in a box. I can't wait to taste it. But I do. Because it's frozen. Solid!