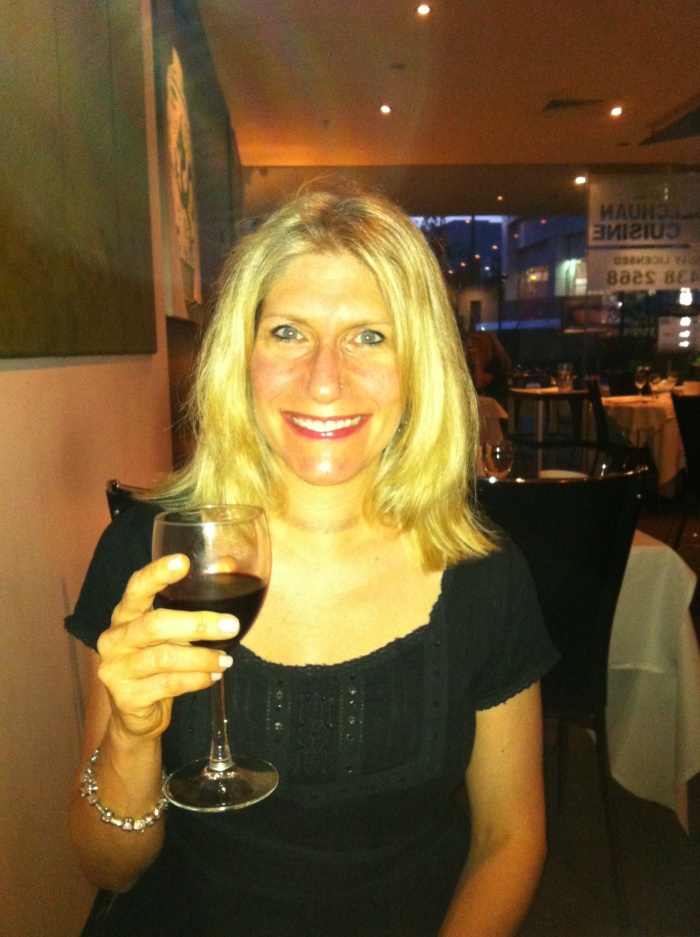 I feel like an enormous sense of relief.  The week of doctors appointments has been pretty exhausting but at the same time pretty liberating. It's true what they say, "knowledge is power" and now that we've met with every aspect of the medical team we're much better informed a) about the Cancer and b)how the next month or so is going to pan out. Now I have a better idea of what I'm dealing with, and a short term timescale, I can get my head round it all and just get on with it.
I'm just starting to feel  the fatigue and the effect of operating with no thyroxin. I guess, a good analogy is, my body feels  like a car that's running on oil and water but without any gas in the tank. And…  if you want to catch me at my best, see me in the morning!
Today we head to the city to meet Chris who's our mate Mark's son, who's travelling round Australia. It's the first time we've met and we grab some breakfast with some delicious baked goods at the Central Baking Depot. We don't get visitors from the mother country that often, and we're a bit gutted about the timing of Chris's visit. Under normal circumstances we would have him stay with us in a heartbeat , or at least, have him over for dinner and give him a good feed,  but right now our circumstances are anything but normal, and our routines are way out of kilter. On the other hand, if we had gone on holiday as planned, we wouldn't have been in Sydney anyway, and our paths would never have crossed… see… there's always a flip side! At least this way we finally got to meet each other. It's a beautiful day so we go for a walk around the city and then head for a midday beer at Sweeneys which is a pub that has probably the stickiest carpet in the world but a really nice roof terrace. Obviously we chose it for the latter! While we're talking, we compare notes on Melbourne, as Chris  was working there for a while and we had a lovely long weekend there in August. It turns out we went to the restaurant where he worked for lunch, on a day that he was working and by deduction, worked out that he probably served us too! We hadn't met then so we had no way of knowing but how weird is that?! It is indeed a small world after all! After a couple of (soft) drinks I'm fading fast and we make tracks home. My lack of staying power is a tad frustrating but I'm determined not to overdo it. I  know I'm going to have to use my energy resources wisely  if I'm to make it through the working week.
I manage to stay awake just long enough to book the B and B in Jervis Bay for the second weekend in December. That's the first free weekend we have after I'm radioactive, as I'm still hoping to take part in the Mud Run on the 3rd.  Fingers crossed!
After my nana nap, I feel  the need to bake and consult my trusty cookbook, "Another Generous Helping." I don't think there's much I haven't made in this book! Aha! I haven't made Chocolate Roughs . They look simple but delicious so that's today's bake of the day. There's nothing I love more than a bit of Saturday arvo baking!
With a sudden burst of energy, I look through my plethora of recipe books for delicious and healthy iodine free recipes. I'm going to use this experience as a positive, and think about not what I can't eat, but what I can eat and find lots of recipes that we wouldn't usually cook or eat, so we actually get to try something new and expand our cooking  and  eating repertoire. Like I said I love to plan, and I especially love nothing more than to plan menus! I always make a weekly menu – and sketch out what we'll eat for dinner each day, we work this around our schedule and it saves a whole lot of time and money. Today though, I take this one step further, and make an unprecedented two week iodine free plan, so that I can see that the menu is balanced, in terms of what we're eating, the work involved and who's cooking! If I say so myself, it's pretty good!
Later, we go out for dinner. My iodine free diet kicks in next Wednesday and I'm really conscious of getting my fair share of high iodine foods while I still can! As I'm the one who will be dietary deprived I get to choose where we'll go and I choose my favourite Chinese restaurant which is conveniently located round the corner. As a rule, I'm not a big fan of Chinese food, I find it can be a bit greasy and it's not so weight watchers friendly so it's probably the cuisine we eat the least. Having said all that, this restaurant specialises is Szechuan style food and the dishes are always super spicy and utterly delicious. The funny thing is that we've been about 4 or 5 times and we always  have the same thinsg. We always promise ourselves we're going to be adventurous and try something different and each time we choose the dumplings to start, super spicy chilli chicken in a wok for me, and crispy chilli beef for David. It's predictable, it's spicy, it's high in calories, it's loaded with iodine and… we love it! Above all, I'm immensely gratified by the fact that the flexibility in my neck has improved so much that I can drink wine without using a straw. Now that's what I call progress!