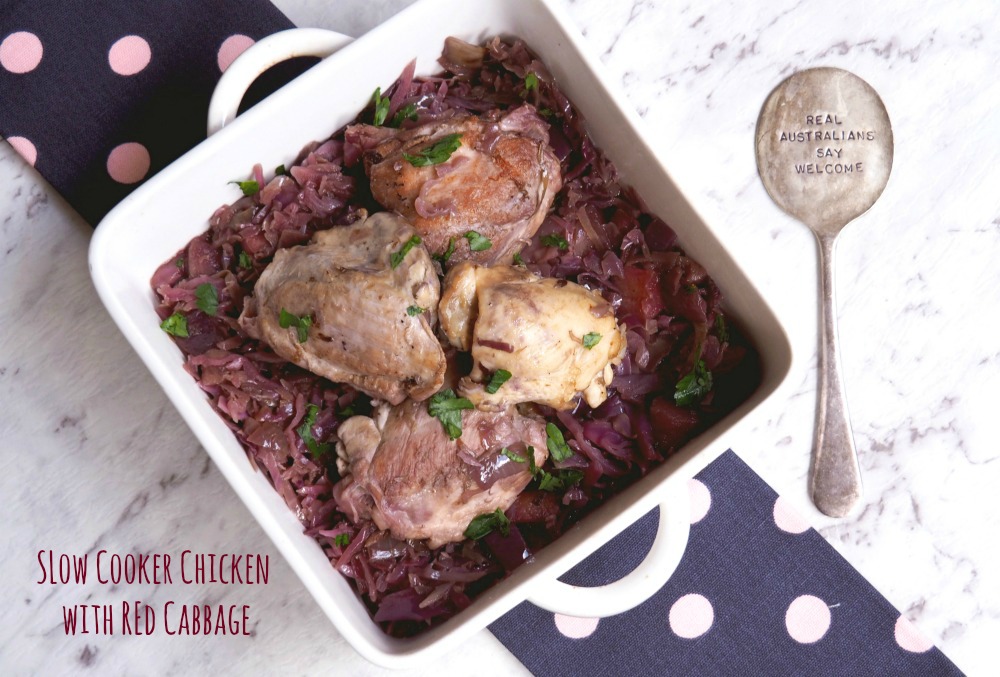 Serves 4 (low iodine)
This low iodine, low fat slow cooker dish is a winner, winner, chicken dinner! It's simple, satisfying and totally delicious.
This is one of my oldest and most loved slow cooker recipes and it never fails to disappoint. I will admit it's a bit fugly, but then again the most delicious dishes often are. I especially love the red cabbage which has such sweet but almost tangy flavour from the red wine, the apple and let's not forget the juniper berries. Talking of juniper berries, they're a little bit hard to track down but totally worth it for the zing they add to the dish.
Even David, he who doesn't like meat on the bone enjoys this. Sometimes he even asks for seconds! It's that good!
Have you got a favourite slow cooker dish? Do you think fugly food tastes the best?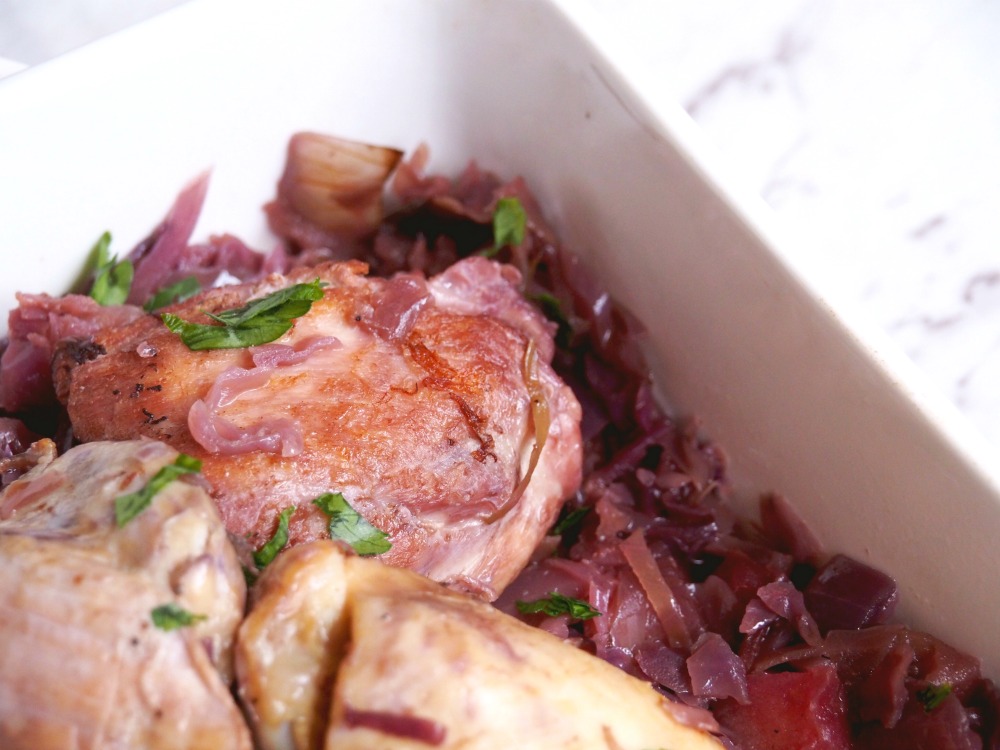 Ingredients
2 tablespoons olive oil
4 skinless chicken thighs and drumsticks (I use 4 marylands)
1 onion, roughly chopped
500g red cabbage, cored and shredded
2 apples, peeled and chopped
½ teaspoon juniper berries
125ml (1/2 cup) red wine
Fresh parsley, chopped to garnish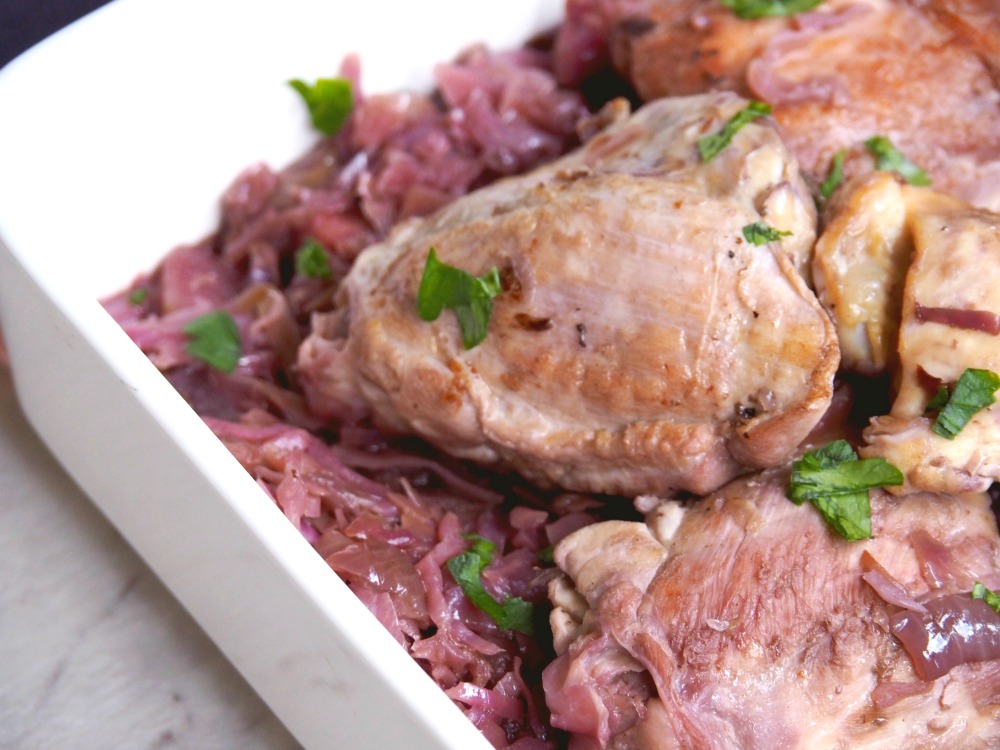 How to
Heat oil in a large, heavy based saucepan. Add the chicken and cook turning frequently, for about 5 minutes until golden on all sides. Using a slotted spoon and transfer to a plate lined with kitchen paper.
Add the onion to the saucepan and cook over a medium heat, stirring occasionally, until softened. Stir in the cabbage and apples and cook, stirring occasionally for five minutes. Add the wine and juniper berries and season to taste with salt (not if low iodine) and pepper. Bring to the boil.
Spoon half the cabbage mixture into the slow cooker, add the chicken pieces, then top with the remaining cabbage mixture. Cover and cook on low for five hours until the chicken is tender and cooked through. Serve immediately garnished with sprigs of parsley.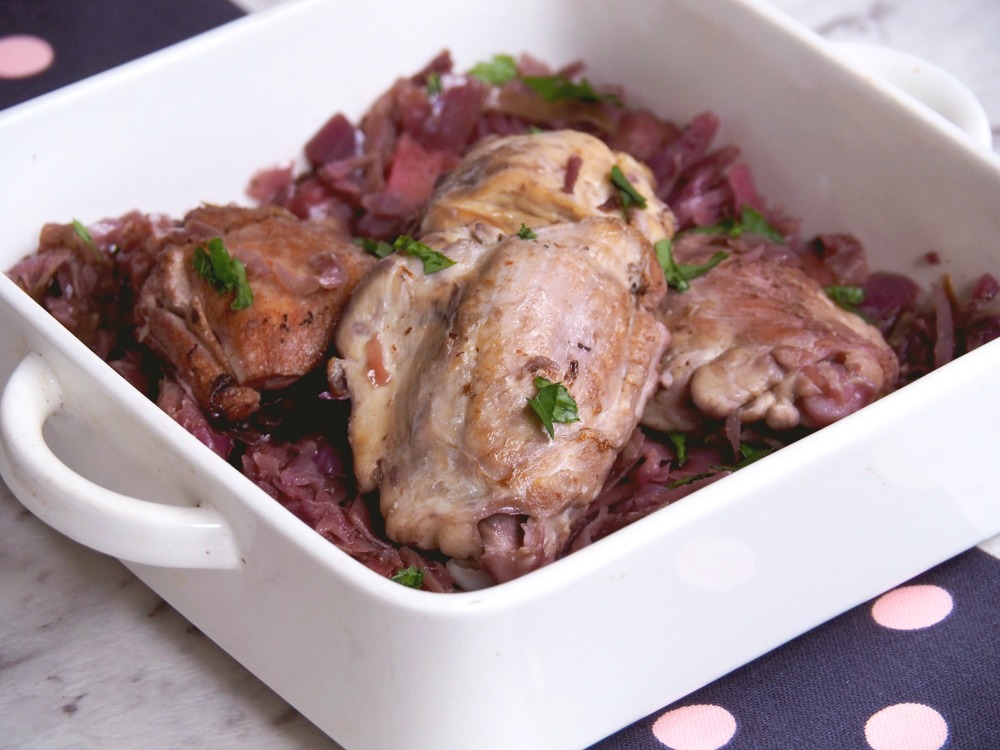 Other info
Prep time:  15 minutes plus 10 minutes pre-cooking
Cooking time:  5 hours
Tip!  If possible, stir the mixture about halfway through the cooking time to ensure that all the cabbage is cooked through.