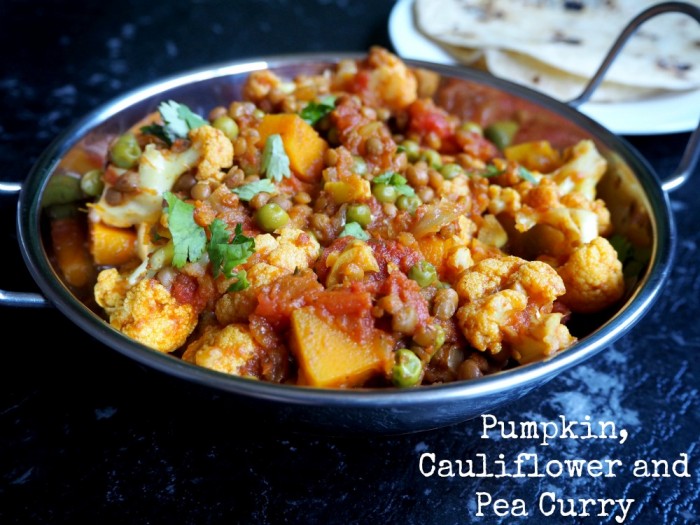 Serves 4
This is my dream dinner because all my favourite dishes come together in one dish. Throw in a tin of lentils and you have a dinner that's relatively quick, really easy and super nutritious. In the unlikely event that you have left overs, stash them in the freezer so that you can grab some curry in a hurry next time you're tight for time! 
Ingredients
1 tablespoon olive oil
1 large  brown onion, finely chopped
3 cloves garlic, sliced thinly
1 tablespoon finely grated ginger
1/3 cup (100g) korma curry paste
400g can chopped tomatoes
1 cup (250 ml) water
300g  pumpkin, cut into 1cm cubes
½ small (500g) cauliflower, cut into small florets
400g can lentils, rinsed and drained
1 cup (120g) frozen peas
rotis, for serving
1 tablespoon loosely packed coriander leaves, for serving
Natural yoghurt, for serving
How to
Heat oil in a large saucepan over medium heat, add onion and cook, stirring, until softened. Add garlic and ginger, and cook for a further 2 minutes or until fragrant.
Add curry paste and cook, stirring, for another 2 minutes, or until fragrant.
Stir in the tomatoes, water, pumpkin and cauliflower. Bring to the boil, then reduce heat, cover and simmer for 20 minutes or until vegetables are almost tender.
Add lentils and peas, return to the boil.
Meanwhile, heat rotis.
Sprinkle with coriander leaves and serve with rotis, with some yoghurt on the side.
Other info
Prep and Cooking time: 35 minutes
TIP!
This recipe is suitable to freeze.