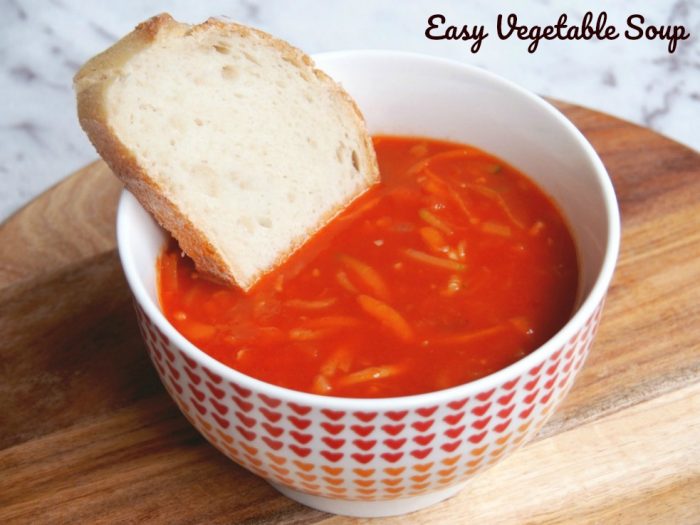 Serves 2 – 4
I don't know if it's because I've lived in two different hemispheres with (in my opinion) two entirely different weather systems but I'm one of those people who is happy to eat cold things in freezing weather (hello, ice cream) and hot things in the middle of a sizzling summer (I'm looking at you soup!)
If I'm not tucking into my lunchbox at lunchtime, you can bet your last bottom dollar I'm eating a bowl of soup instead. Funnily enough, this is one soup I don't make in the Thermomix because it's such a doddle to make on the stove. It's a great way of using up any leftover veggies, if you can grate it, you can add it! I like to add chilli because I think spicy is nicey but if you don't agree, skip the chilli and add some fresh herbs instead.
To make this soup vegan, use veggie stock and skip the cheese and to make it vegetarian, use veggie stock and swap the parmesan for some of your favourite cheese and grate it.
However you make this soup, one thing is for sure, it will be totally delicious!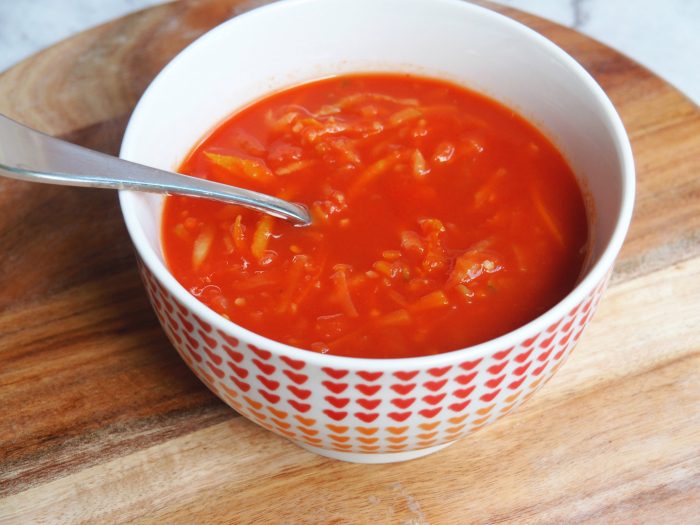 Ingredients
2 teaspoons olive oil
1 onion, finely chopped
2 cloves garlic, crushed
pinch chilli flakes (optional)
680g passata
2 cups (500 ml) chicken or vegetable stock
1 carrot, peeled and grated
1 zucchini, peeled and grated
1 parsnip, peeled and grated
Sea salt and cracked black pepper
Finely grated parmesan (or any vegetarian alternative,) to serve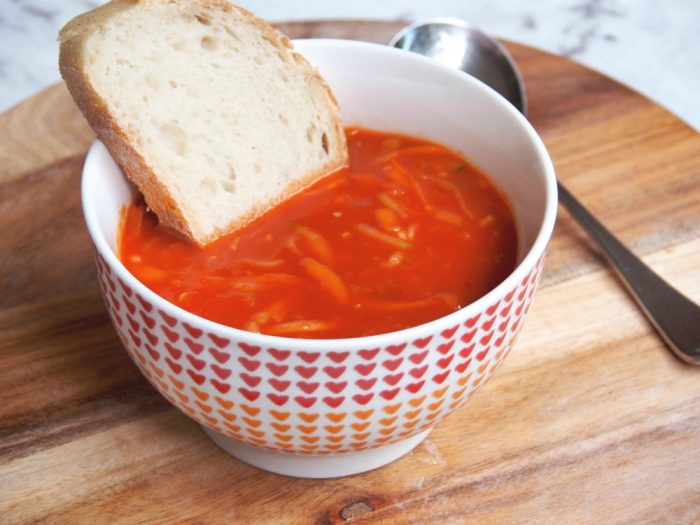 How to
Heat a saucepan over medium-high heat.
Add the oil, onion, garlic and thyme and cook for 3 minutes or until soft.
Add the passata, stock and grated veggies. Cover and bring to the boil.
Allow to simmer for 15 minutes or until the vegetables are tender. Season to taste with salt and pepper.
To serve ladle into bowls, and top with salt, pepper and parmesan/grated cheese.