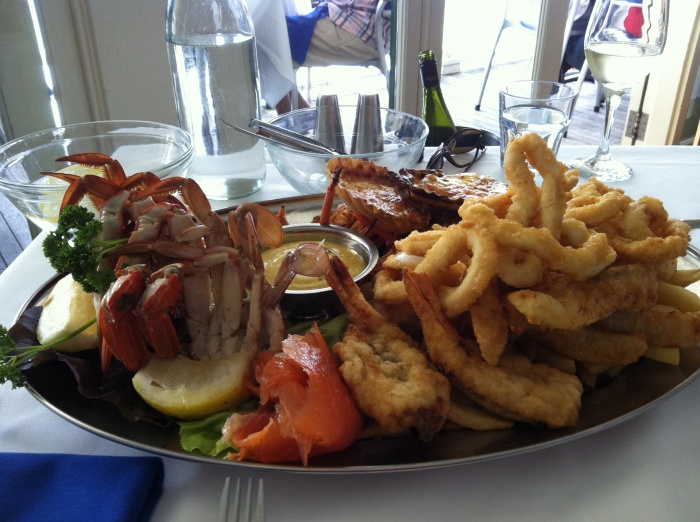 My body clock finally gets the Sunday vibe and I manage to sleep in until 9am. I had planned to go to Basic Training but I wake up feeling like the Tin Man out of the Wizard of Oz and am really feeling the effects of yesterday's pump class.  Reluctantly, I decide to give the gym a miss. I'd hate to get injured just as I'm getting  back into my fighting fit routine. To say that that would be counter productive, would be a massive understatement.
Today is the day I've been looking forward to for weeks. It's the Fish Fest! Ever since I went iodine free I've been in the grips of a major fish fetish. I just can't stop thinking about eating fish, looking at fish and have even been dreaming of fish, and  all because I had to stay off seafood for 3 weeks.
When I started the iodine free diet, David promised me that when I was done, he would take me to my favourite fish restaurant Doyles at Watsons Bay for a fishy feast! Watsons Bay is a beautiful  spot to the East of the city and the restaurant (which has been in business since 1885,)  is on the beach with  beautiful bay and stunning city views. So it's a winning combination of super scenery and sensational seafood. If you want to check out some of Alice Doyle's award winning recipes, just click here.
The last time we came was to celebrate David's birthday in July. There's been a lot of fish swimming under the bridge since then! Today there are so many things to celebrate, from the wonderful weather, the joy of eating iodine, the temporary lack  of doctors appointments , rising energy levels and my "reassuring" scan results. How's that for starters?
We jump on the ferry and the ride over to Watsons Bay is bumpy but beautiful. There's something magical about the harbour on a sunny day. Every time I look at the view, I feel totally enchanted, as if I'm seeing it for the first time. I'm so lucky to live here – this is living the dream!
At the restaurant, we land a table next to the window so we have panoramic views of  the beach and the city. This is a feast fit for a mer king – big fat juicy prawns, smoked salmon, crab, calamari, fish in batter, lobster mornay, scallops and a whole heap of chips,  which is all washed down with a bottle of the most perfect Pinot Gris. A whole platter of sea treats and every last bite full of iodine! Frankly, it is hard work eating it all but lately, we are good at rising to new challenges. We finished every last morsel (if you're wondering how I put on 4 kilos – now you know!) Miraculously, we still find room for a liqueur coffee which just about finishes us off. Fantastic – full of fish and happiness!