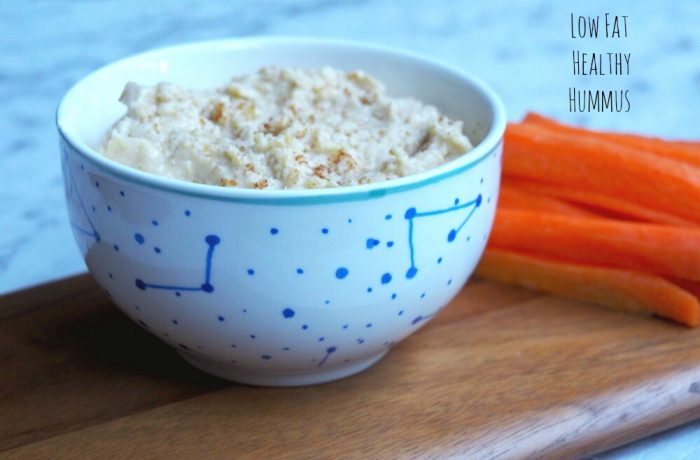 Serves 4
This 4 ingredient hummus is low-fat, super healthy and totally delicious!
I've been a lover of hummus for as long as I can remember. In the olden days I bought it but when I got my Thermomix I made it myself.
Hummus never lasts long in our house and when I began the battle of the bulge, I didn't want to miss out on my share of the hummus bowl, so I had to come up with a recipe that was both healthy and delicious.
This version has all the taste of regular hummus but much less fat, not that you'd know it because it's just so darn tasty. I actually swapped out our regular recipe for this healthy version and David didn't even notice because it tastes that good.
This hummus is lighter and not as rich as a tahini or oil based hummus making this dip the perfect choice for kids and weight watchers alike. And best of all, if you're on the Slimming World plan, this dip is syn free… But full of yum!
What's your favourite dip? Are you a hummus lover too?
Ingredients
1 clove garlic, crushed
1 x 425g can chickpeas, rinsed, drained
3 tablespoons low fat yoghurt
2 tablespoons lemon juice
pinch of cayenne pepper (optional)
How to – Traditional
Finely chop garlic.
Blend or process garlic with remaining ingredients until smooth. Season well.
Sprinkle with a pinch of cayenne pepper if desired.
How to – Thermomix
Place garlic clove in TM bowl and chop for 10 seconds on speed 8. Scrape down sides of bowl.
Add remaining ingredients and mix for 1 minute on speed 4. Season well and scrape down sides and base of bowl.
Mix for another 1 minute on speed 4 or until the desired consistency is achieved.
Sprinkle with a pinch of cayenne pepper if desired.
Other info
Prep Time and Cooking Time: 5 minutes