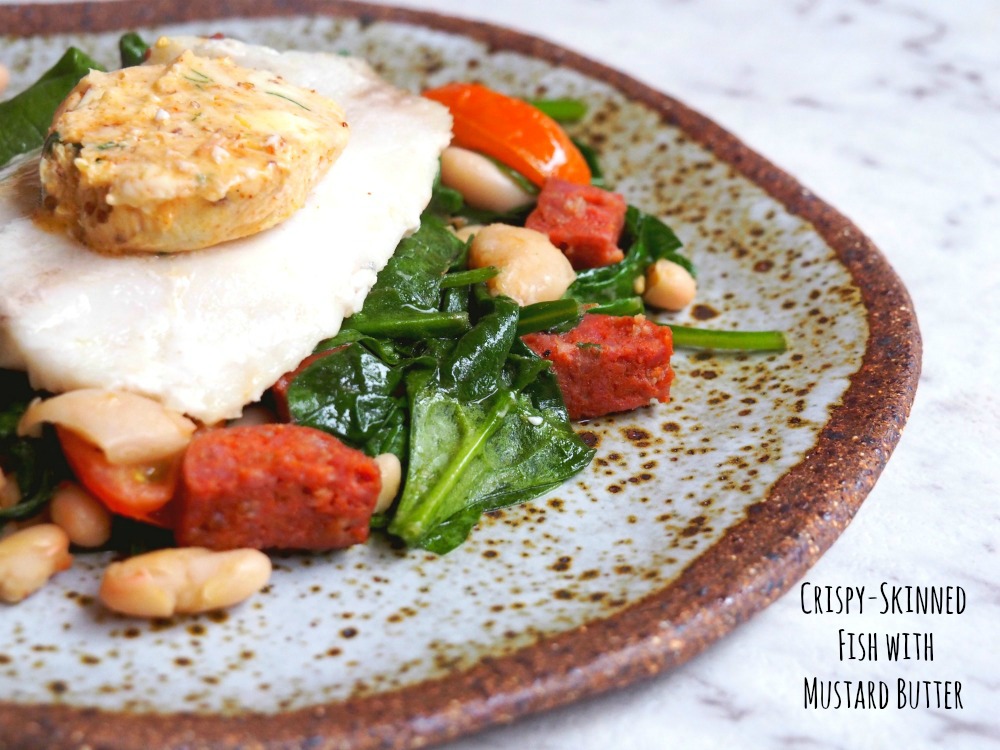 Crispy-skinned fish served atop chorizo and beans and dressed with a flavoursome mustard butter – this dish is as easy as it is delicious!
We've actually been having a bit of a fish revival at our place as I've been racing against time (and when I say time, I mean daylight savings,) to revamp all my fish recipes, of which there are many.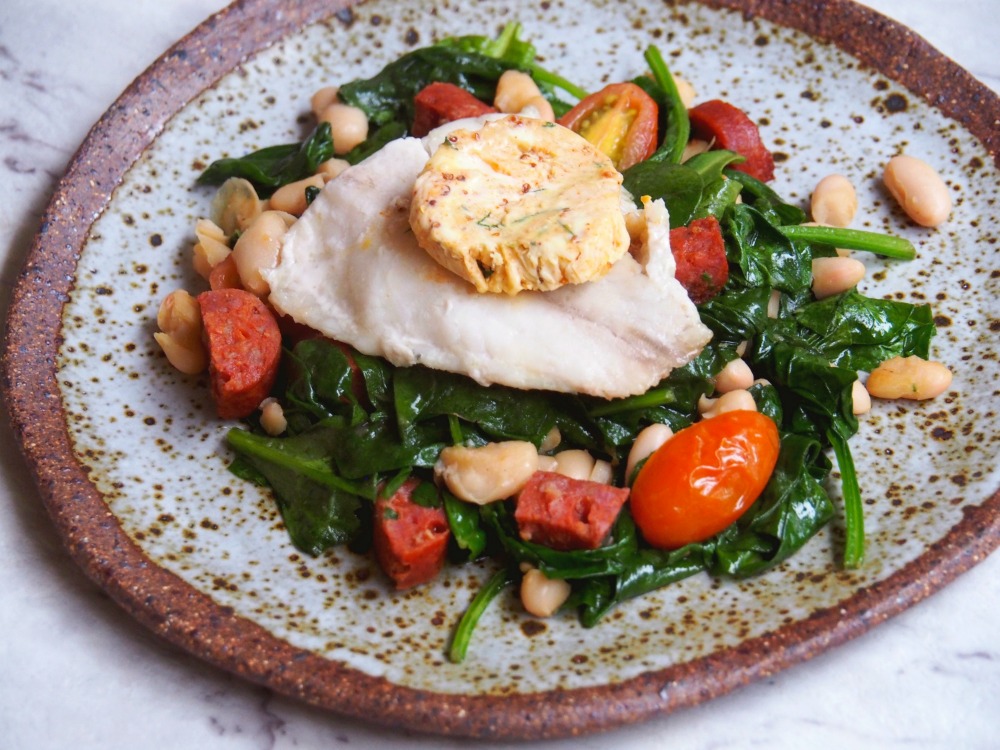 I much prefer cooking fish to meat and I prefer eating it too, it's healthier for a start. I don't know about where you are but fresh fish is pretty much gold plated in these parts so I find frozen fillets a budget friendly option.
This dish is so easy to throw together, it's fancy enough to serve to guests but yet simple enough for a weeknight dinner. The flavours just really pop!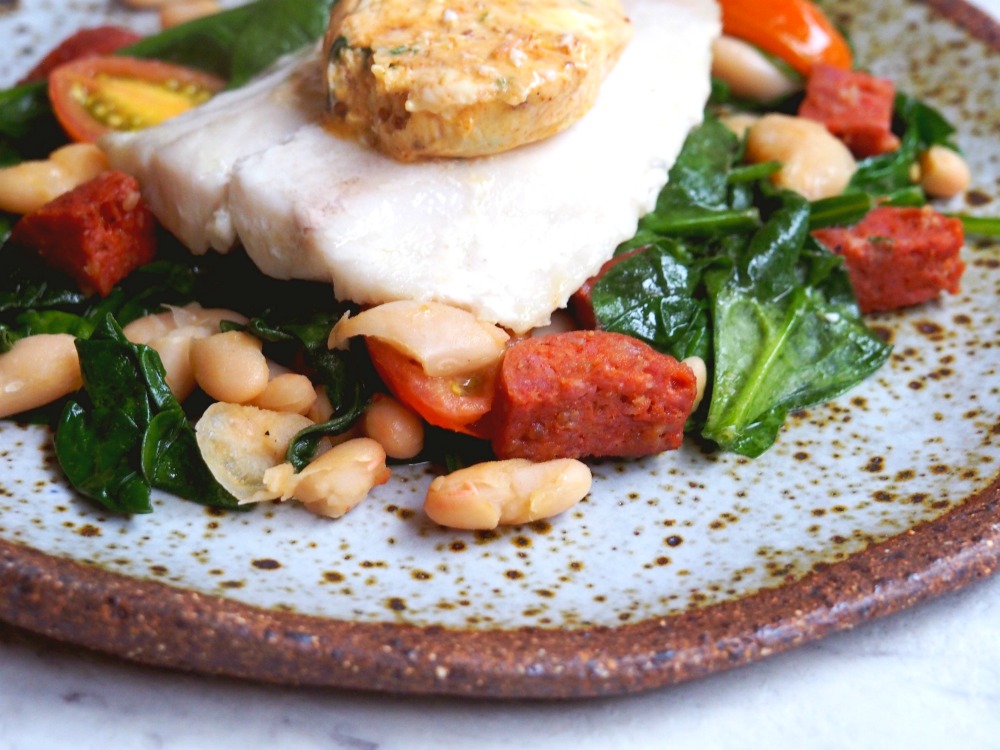 I am a total butter lover so my serve of mustard butter is very generous. Sadly in this pic, it's also a little bit frozen – side note, if you freeze the butter, remember to take it out and let it thaw before serving! – don't worry though yours will melt into a melty mustardy goodness. I promise.
Are you a fan of fish? What's your favourite foodie budget busting tip?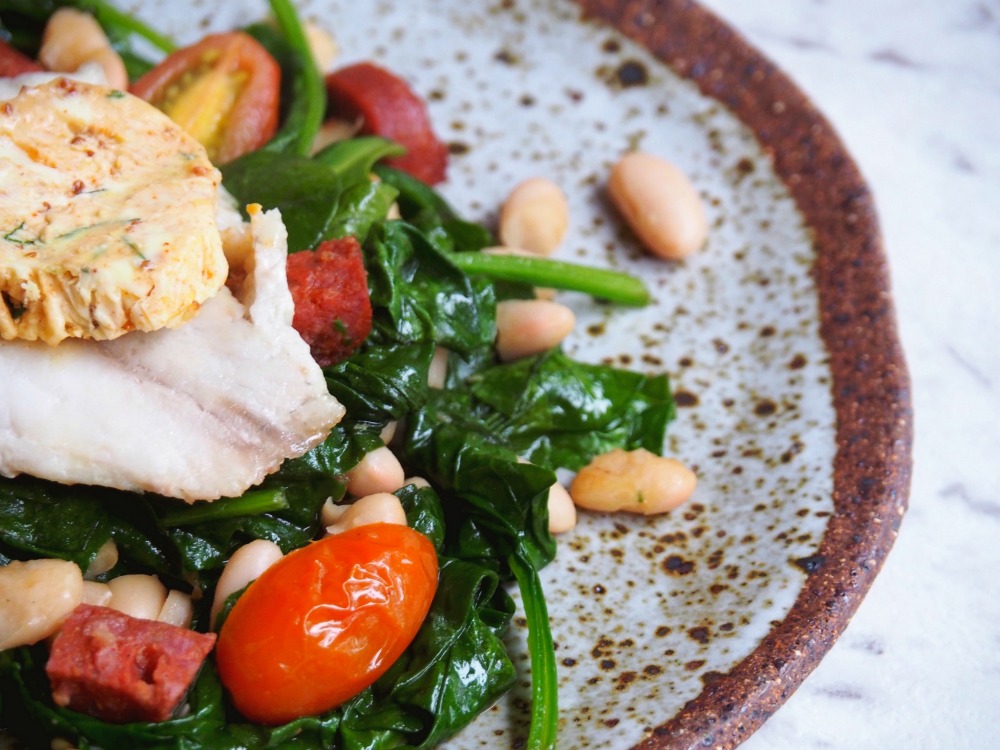 Serves 4
Ingredients
¼ cup(60ml) olive oil
4 x 200g white fish fillets, skin on
2 (340g) chorizo sausages, chopped coarsely
250g cherry tomatoes, halved
1 tin x 440g cannellini beans, rinsed, drained
200g baby spinach
MUSTARD BUTTER
125g butter, softened
2 teaspoons Dijon mustard
2 teaspoons wholegrain mustard
½ teaspoon sweet paprika
1 tablespoon finely grated lemon rind
1 tablespoon finely chopped fresh flat-leaf parsley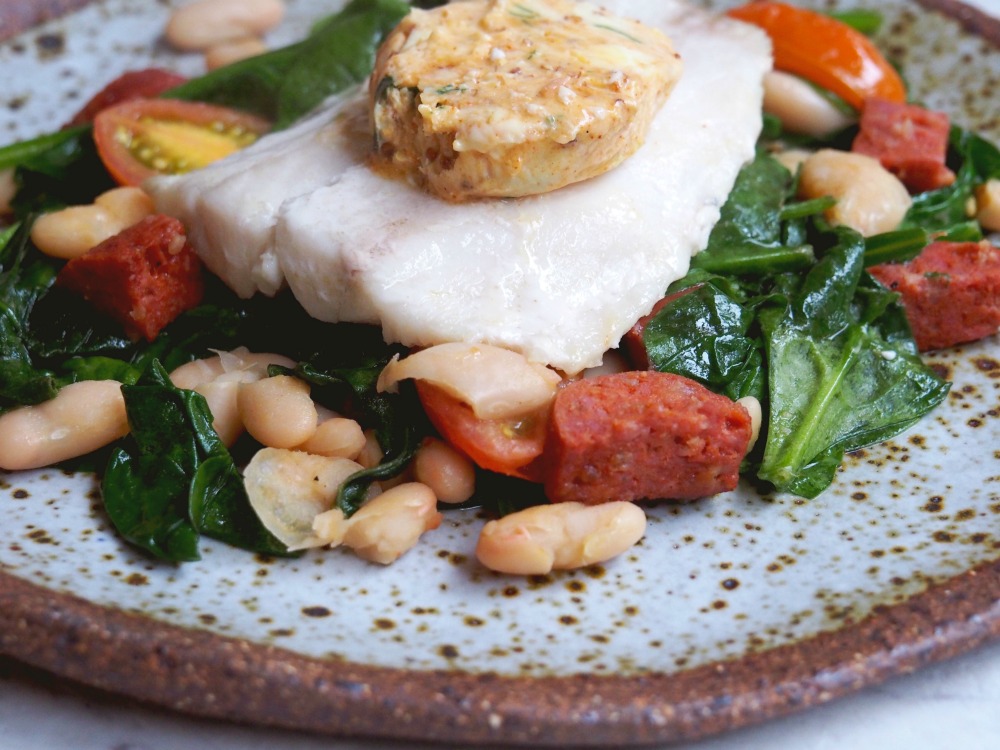 How to.
Preheat the oven to 200C.
First make the mustard butter. Beat the butter in a small bowl with electric mixer until soft or pop in the Thermomix for 10 seconds on speed 4. Beat in remaining ingredients (or mix on 10 seconds on reverse speed 3 in the thermie,) and season to taste. Form the mixture into a log, roll in plastic wrap and refrigerate or freeze until firm.
Heat 2 tablespoons of the oil in a large frying pan and cook the fish, skin-side down, in batches, until skin is crisp.
Transfer the fish, skin-side up, to a foil-lined oven tray and roast for 6 minutes or until fish is cooked as desired. Remove the fish from oven, cover loosely with foil and let stand for 5 minutes.
Meanwhile, heat the remaining oil in same cleaned large pan and cook the chorizo, stirring for 1 minute. Stir in the tomatoes and beans. Reduce heat and cook for a couple of minutes or until beans are heated through. Stir through the spinach until it starts to wilt and then season to taste.
Serve bean mixture topped with fish and a slice of mustard butter.
Other info
Prep and cooking time: 20 minutes (plus refrigeration time)
TIP! You can tell fish is cooked by checking to see if the flesh is flaking away from the skin. A 180g to 200g fish portion should take about 6 minutes to cook, plus 5 minutes resting when cooked in this style.