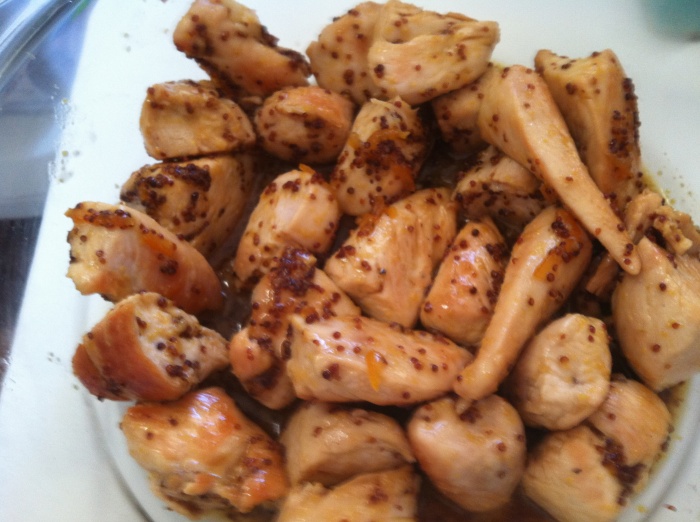 Serves  4
This is one of Julie Goodwin's recipes – the winner of the first ever series of Australian Masterchef. It's simple to make and tastes absolutely delicious.  A winner from a winner!
Ingredients
4 small (800g) chicken breast fillets
1 tablespoon olive oil
1 clove garlic, crushed
¼ cup (60ml) fresh orange juice
¼ cup (70g)  wholegrain mustard
¼ cup (85g) marmalade
1 cup (250ml) chicken stock
1 cup (200g) cous cous
50g butter, chopped
2 teaspoons grated orange rind
¼ cup (40g) sultanas
1-2 tablespoons brown sugar, optional
½ cup fresh flat-leaf parsley leaves
How to
Split chicken fillets in half horizontally, season with salt and pepper. Heat the oil over a medium-high heat in a large frying pan; cook chicken until browned on both sides and just cooked through. Remove from pan; cover to keep warm.
Add garlic to the same pan, cook stirring, until softened. Add the juice, mustard and marmalade; bring to the boil. Simmer, uncovered, for about 3 minutes or until the mixture thickens. Return chicken and any juices to the pan.
Meanwhile, in a clean saucepan,  bring the stock to the boil, add the couscous. Remove from the heat; stand for 5 minutes. Stir in butter and fluff with a fork. Stir in rind, sultanas, sugar, parsley and salt and pepper to taste, mix well.
Serve the chicken and the sauce with the couscous.
Other info
Prep and Cooking time: 25 minutes
TIP! When preparing the couscous, add the sugar to taste,  as the orange glaze with the chicken is quite sweet.
Reference: The Australian Women's Weekly Magazine