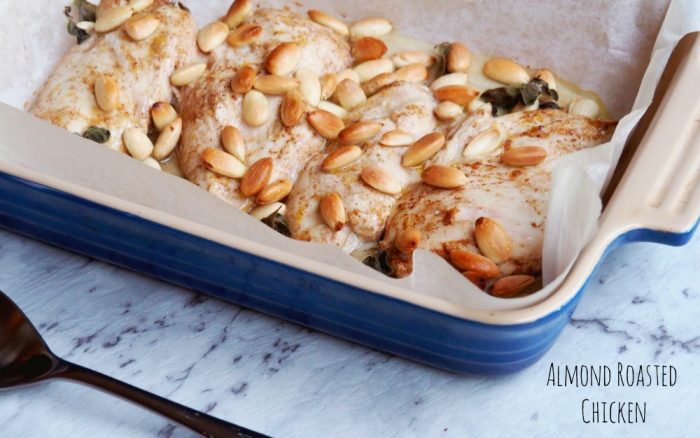 Serves 4
This is one of my oldest and well loved recipes. It's the ultimate winner, winner, chicken dinner because it's quick, it's easy and super delicious! It's simple enough to make for a midweek dinner but it's delicious enough to serve to guests, and it's always well received.
I make this so much more often now I've learned to blanch my own almonds! Blanched almonds always seem so extravagant because they're so exxy, but then I learned how to blanch them myself! You just pop the raw almonds into a small pan of boiling water for exactly 1 minute, drain them into a sieve, rinse with some cold water and then you pop the almonds out of their skins using your thumb and forefinger. It's so easy and the popping part, is actually quite therapeutic! It's my new favourite kitchen hack!
What's your favourite kitchen hack? What's your favourite kitchen extravagance?
Ingredients
½  teaspoon ground cumin
½ teaspoon ground cinnamon
1 tablespoon shredded lemon zest
1 tablespoon lemon juice
1 tablespoon olive oil
Sea salt and cracked black pepper
4  x 200g chicken breast fillets
½ cup (80g) blanched whole almonds
A few sprigs of oregano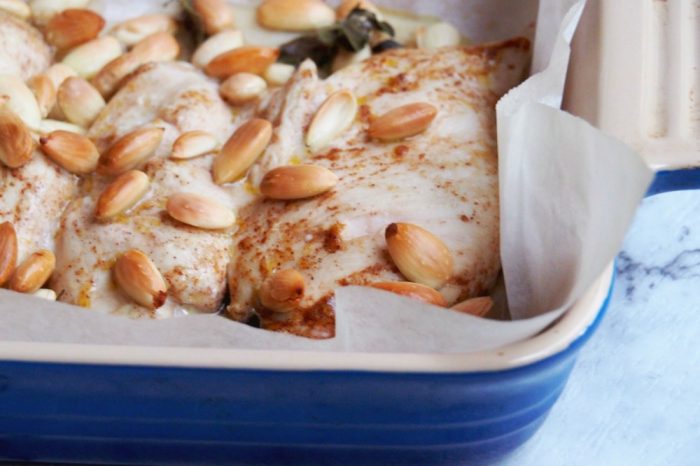 How  to
Preheat oven to 200C/180C fan-forced. Place the cumin, lemon zest and juice, oil, cinnamon, salt and pepper in large bowl and mix to combine. Add the chicken and toss to coat.
Place the chicken in a baking dish lined with non-stick baking paper. Sprinkle the almonds and oregano over the chicken. Roast for 14 – 18 minutes or until chicken is tender and just cooked through.
Serve the chicken with a simple salad.