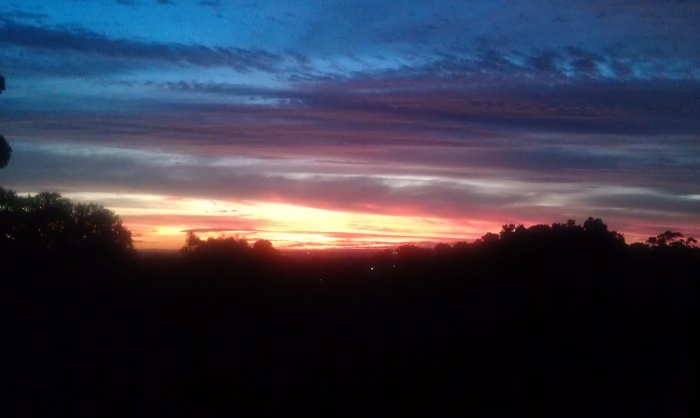 I've been to gym every day this year (I know it's only 10 days in, but it sounds good hey?!) and I want to keep the momentum going. For that reason, I'm ready and raring to go at Kristy's 6.15 morning pump class. Her classes really rock and she has a whole heap of inspirational mottos and wonderful words of wisdom. Today, she talks about how grateful we should be for being able to have the energy, strength and health to take the class, and for this reason, we should give everything we have, and then some more.
This morning's message has never been more apt, as today, I've reached the three month milestone! I can hardly believe that this time 3 months ago I was having surgery saying "see ya later" to my thryoid, and hopefully, all that crappy cancer with it. It seems like a lifetime ago! So much has happened since then, and when I look back, I can only think of good things. Amazing support from my family and friends, near and far for starters! Then there's all the parties, fun with friends, visitors, a weekend away in Jervis Bay, feeling fitter, being back at work, blogging, Christmas, a New Year, and of course all the kitchen chaos! It's certainly been an action packed three months… well,  it must be true what they say about time flying by when you're having fun!
Three months on… all our holidays are rebooked, (Perth, London and Venice, here we come!) my scar is almost invisible (even though it's still under wraps,) my energy levels are up and I'm back at the gym. Who could ask for more?
Of course, no medical milestone can be reached without a flurry of medical activity, so I'll be back on the medical merry-go-round before I know it! Will I ever have a better reason to get busy and bake?
Adam's mum, Jane sends me her recipe for her Chocolate and Coconut Fudge. She gave us a box after the barby on Sunday and we couldn't resist. It's all gone. It may not be healthy, but by gum, it's scrumptious!
My mum sends me an article on the world's coolest cookie cutters, check it out here. I'm a shocker, once I get a bee in my bonnet, it just buzzes and buzzes and buzzes. I am a woman on a mission after work. I soooo want some of those Ninja cookie cutters! Much to my disappointment, I don't find the nifty ninjas, but I do find some shoes and  some thongs that I've been after for ages. Forget hard drugs, natural therapies and conventional medicine and hail, retail therapy! It so works!
We don't want this "anniversary" to pass us by so decide to bask in the light of our own happiness with a paddle of beer and a pizza at one of our favourite pubs in the city. It's tight ass Tuesday, and I have one of those el cheapo vouchers from one of  the discount websites! So you can imagine my abject humiliation when I rock up to the bar, only to be told that I'm at the wrong pub! I'm in the Australian Hotel, in the city,  my voucher is for the Australian Brewery which is in the back butt of nowhere! Doh! Call it what you will, another "Minus Thyroid" moment or maybe a "Blonde "one, whatever way you look it, it's extremely embarrassing and utterly hilarious. The sun is shining, our bellies are empty, and  we're still high on happiness.
Undeterred, we head home, have a quick change and then head out to our favourite local curry house. Ironically, it's the place where we went to comisserate, the first  time I had cancer! We've come so far since then! The food is awesome as always. That butt breaking pump class this morning goes some way to easing my guilt vis a vis the excess calories I'm consuming! Tonight, I'm not going to worry, I'm just going to eat drink and be merry!
As we walk home, the sky puts on an amazing technicolour treat. The sun is setting and the sky looks stunning. It's absolutely breathtakingly beautiful. It's the perfect end to the perfect evening!