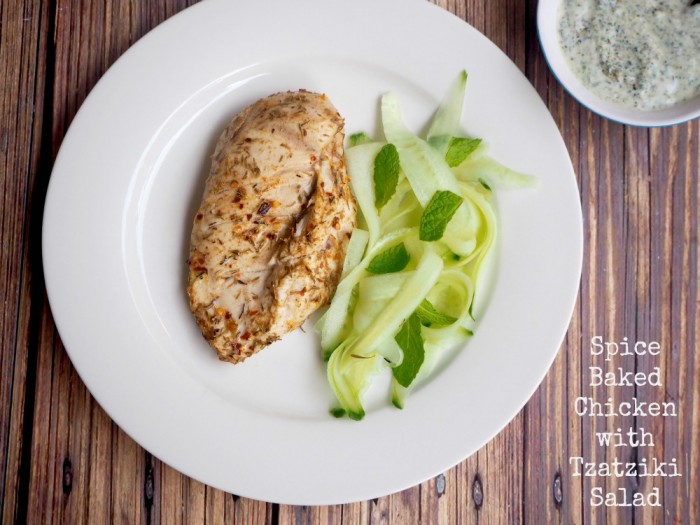 Serves 4
This is a quick, simple and healthy dinner full of flavour. You can make the Tzatziki easily by hand or in a few seconds in the Thermomix. The choice is yours!
Ingredients
1 teaspoon ground cumin
½ teaspoon dried chilli flakes
1 tablespoon thyme leaves
1 tablespoon shredded lemon zest
1 tablespoon olive oil
4  x 200g chicken breast fillets
Tzatziki salad
150g greek style yoghurt
2 tablespoons lemon juice
Sea salt
1 cup mint leaves
4 lebanese cucumbers,  sliced lengthways with a vegetable peeler
How to
Preheat oven to 200 C / 180C fan-forced.
Lay the chicken between 2 pieces of plastic wraps and flatten with a rolling pin.
Place the cumin,  chilli, thyme, lemon zest and oil in large bowl and mix to combine. Add the chicken and toss to coat evenly.
Place the chicken in a baking dish lined with baking paper and bake for  about 15 minutes or until  is just cooked through.
While the chicken is cooking, make the tzatziki salad.
By hand
Chop the mint. Place the yoghurt, lemon juice, mint and salt in a bowl and mix to combine.
With a Thermomix
Add the mint through the TM lid with the blades running on speed 7. Add the yoghurt and lemon juice. Mix for 15 seconds on speed 4
Divide the cucumber between plates and serve along side the chicken with some dressing on the side.