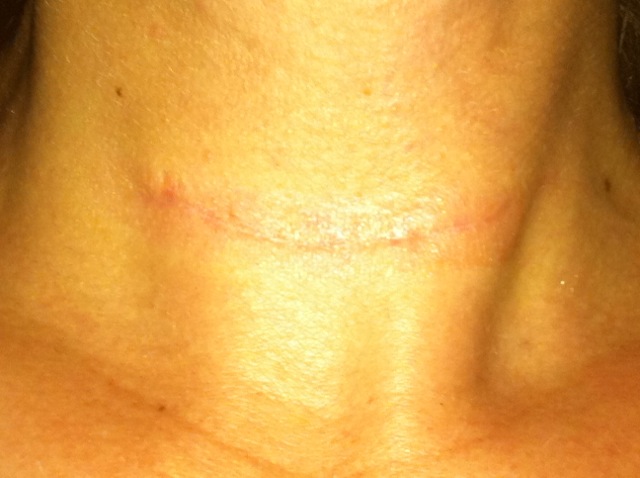 I get up bright and early and drag myself off for a run. It feels so good. It's real quality ME time. I'm just so happy when I run – it's like seeing everything in amazing technicolour. It always gives me a real sense of perspective. What a top way to start the day!
I'm on a roll and decide that today's the Great Unveiling of my scar. It's pretty impressive. The Prof is such a good cutter that it just looks like a long red wrinkle. He must have such a steady hand. I can't even cut paper that straight! I can't tell you how good it feels to have my neck untaped and my scar feeling free. Happy days!
After a quick stretch and a shower, me and Lindsey head into town to sightsee in Sydney. The sun is shining and this is Sydney at it's finest. First we head off to the Rocks, which is the oldest part of the city and while we're there we check out the amazing markets which sell wonderful crafts, quirky stuff and a plethora of Australiana. Amazingly, we manage to scour the myriad of stalls and only splash out on some mouth-watering licorice!
Later we meet David and take a walk around the harbour. Lindsey is a pleasure to take out, she is like a kid in a candy store and can't get enough of this stunning city. It makes me appreciate how lucky I am to be living here and have all this awesomeness on my doorstep. I still get a warm and fuzzy feeling every time I come down to Circular Quay and see that vista of the Opera House and the Bridge. I'm filled with awe. Every time I see it, I fall in love it with all over again. And today is no exception!
Then, we're off to get merry on the ferry and head out east to Watsons Bay. The sun is sizzling and it's wonderful out there on the water. It's the perfect day for some ferry fun. After our seaborne adventure, we arrive at Doyles on the Beach for a fantastic fish fest! It's another one of those seafood platters and it's a tastebud sensation! We're so stuffed full of fish we can hardly move! And I wonder why I can't lose weight! Doh!
We take a walk along the beach after our late lunch and enjoy the harbour views before taking a stroll up to the Gap, where we stand and look out to the ocean. It's a really popular lookout and also a top suicide spot but let's not get into that. We're just happy to enjoy the view!
We get the bus back to the city which takes us on a tour of the Eastern suburbs and along the world famous Bondi Beach. Before we know it, we're back in the city and have one more drink for the road in our favourite harbourside bar. It's the perfect end to a perfect afternoon.
Despite slapping on the suncream, we're all burnt to a crisp and have Batman tans. It's not a good look! It's been a hard but a happy day so we come home, collapse on the sofa and have fun with the day's photos!