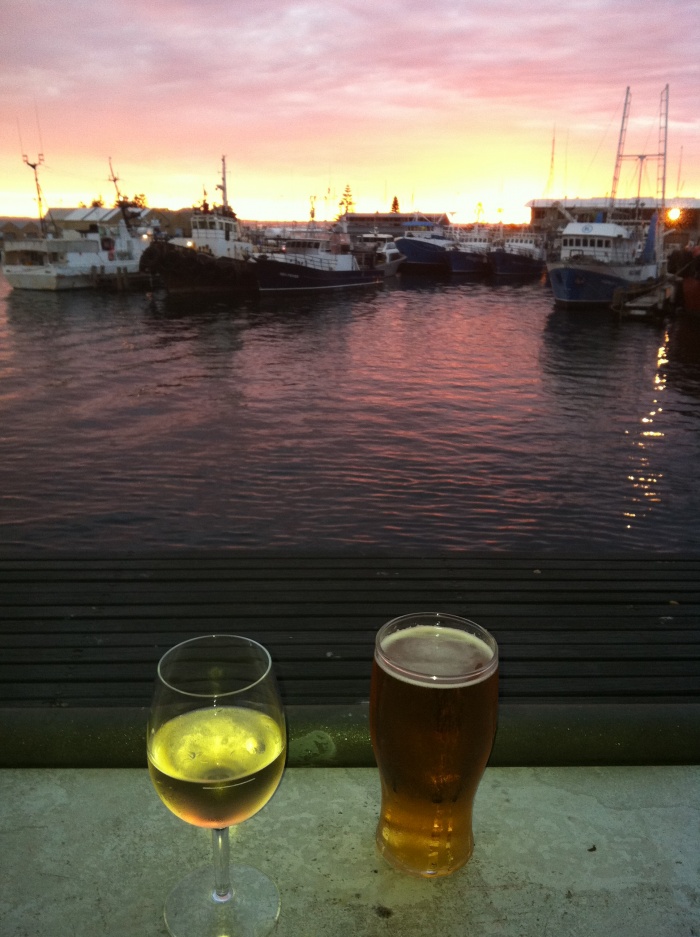 We wake up early today because we're off to the beach. Not any old beach, the dog beach! I'm so excited! I'm already totally smitten with Stace and Steve's divine dog, Jeff, a very handsome golden labrador, so I'm going to be in canine heaven at the beach. When we get there, there's every type of dog imaginable, big dogs, small dogs, fat dogs, skinny dogs, spotty dogs and scruffy dogs and every type of canine inbetween.
We have a ball on the beach. Jeff turns out to be a really good swimmer and rides the waves with finesse. He's such a cool canine! We all have glee in the sea too, the water is so warm. I don't usually venture into the ocean but the water is so lovely, it's hard to resist. I go in for splash and a dash. After our fun and frolics on the beach we head out for breakfast to Stace's favourite Freo cafe. We sit outside and soak up the sun, Jeff included!
After breakfast, we head home to enjoy the air con and peruse Stace and Steve's wedding photos which are all absolutely fabulous. To fully relive the wedding experience, we eat some of their delicious wedding cake which was made with love by Stacey's Auntie Joyce. Not only do Stace and I have husbands from Newcastle but we also have Aunties that are brilliant bakers!
We have a really restful and relaxing afternoon before we go out to beat the heat and party like it's 1999. We start off with some fabulous cocktails at Freo's newest small bar Your Mumma's House before hitting the deck (not literally,) at The Loft where we sit outside and watch the sunset over Fishing Boat Harbour. It is breathtakingly beautiful. We nip next door to Little Creatures Brewery where we enjoy more beer and cheer and a delicious dinner next to the harbour. We just have time to backtrack to Your Mumma's House for a nice nightcap before we decide to call it a night. And a very nice night it is too!