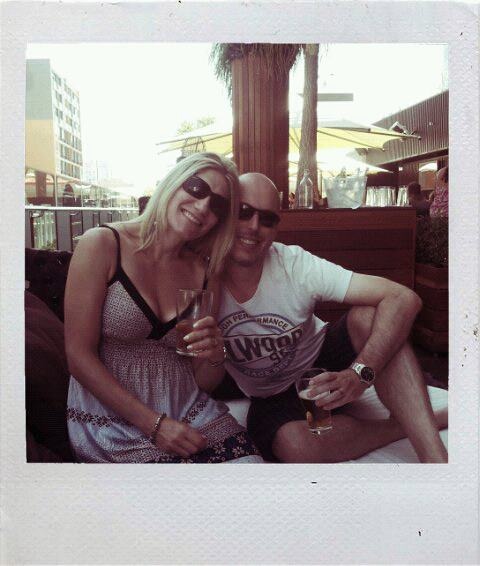 Maybe it's the heat, maybe it's the comfy bed or maybe it's the Perth effect; whatever the reason, I have another five star sleep and a lovely long lie in. I must try not to get used to this! It's going to be tough to swing back into my early morning call routine at home especially with the 3 hour time difference (Sydney is +3 hours!). However, there's no time to worry about early morning calls, there's still too much fun to be had. For now, I'll just be thankful for the extra zzzs and enjoy the benefits of running on batteries that are fully charged!
We start the day in my favourite way; going out for breakfast. Without a doubt, breakfast is my favourite dining out experience and I would go so far to say going out for breakfast is probably a national pastime down under. The only problem is that there are just too many places to choose from. Stace and Steve eliminate all the places we've already been, all the places that are closed and all the places that are too touristy to determine our destination. I think they should start work on "The Good Breakfast Guide" for Perth! We've enjoyed some of the best breakfasts in Western Australia this week, and today is no exception. We travel to a cool cafe a couple of suburbs away and have a King and Queen's breakfast. To be fair, by the time we get there, it's more brunch than breakfast, and the boys take advantage of the hour and order from the lunch menu. Yes, it's that late and we've been that lazy!
After our fantastic feed, we just have time to swing by the house, fetch our bags and pat Jeff goodbye. Man, am I going to miss that pooch! Stace and Steve take us into town via pretty suburbs and through the majestic King's Park – which is the biggest inner city park in the world and the most popular visitor destination in Western Australia.
Stace is this afternoon's Bar Guru and she takes us to a super cool roof top bar aptly named The Nest in The Aviary, where we each score a day bed and lie down with a cold beer enjoying the afternoon sunshine! The high life! We decide we have time for one more drink and one more bar and head off to find another wonderful watering hole. However, all our other top spots are closed, it being a Sunday arvo and all, so we head back to the hotel.
As it's our last night in Perth, we have splashed some cash and decided to live it large at the Hilton. When we check in, we find out we have scored an upgrade from a Queen Room to a King Suite! How cool is that! We plan to have a drink downstairs but going into the bar is like going back in time to 1991. That, and the fact that it's also pretty empty is a bit unnerving so we decide to have a drink upstairs.
Our suite is quite simply massive. I reckon it's bigger than our whole apartment! A huge bedroom, a massive lounge/dining room, an enormous bathroom, and a walk-in wardrobe! Impressive! The manager also sends up a tray of fresh fruit, chocolates and a little bottle of red wine – this is what you call five star treatment! Once we're settled, it's time to bid a fond farewell to Steve and Stace. Saying goodbye always sucks but we're hoping that it won't be too long before we're reunited and that they'll come to Sydney soon.
Life has a funny way of working things out, doesn't it? If we hadn't missed the wedding, we would never have planned this awesome trip. If we had gone to the wedding, we wouldn't have had nearly as much quality time with Stacey,Steve and Jeff or with Kim and Terry. It's true, every cloud does have a silver lining! It's another one of those times when in a strange way, I feel having cancer has worked to my advantage!
It's 30 something degrees today and after the heatwave this week it feels positively fresh. David and I chill out in the air conditioning and I pop down for a few laps in the outdoor pool. It's beautiful out there. We enjoy a lovely lazy afternoon. In the evening, we head out to Northbridge for a terrific Thai dinner. What a lovely last evening in Perth. A most excellent end to a very happy holiday.