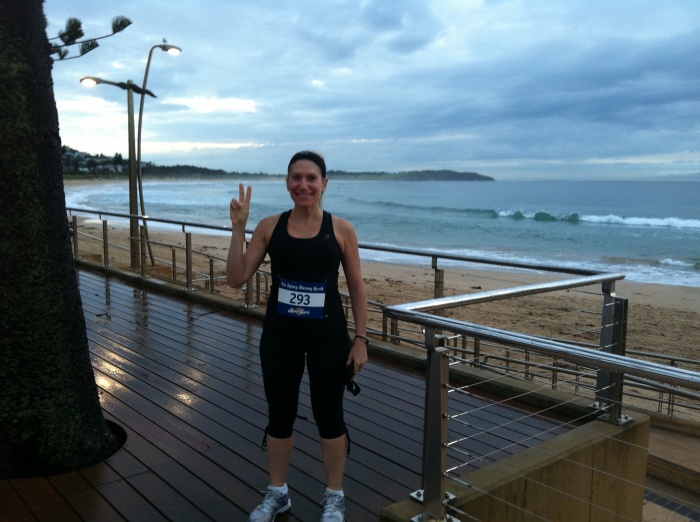 It's an early morning call! 5 AM! I feel like I've been awake all night anyways. I didn't sleep so well mainly because a) I was so excited about the Sun Run today and b) I was really upset after reading the penultimate chapters of Marley and Me.
I never sleep well the night before a run. The story is always the same. The adrenaline is flowing and I'm totally pumped. It feels like the night before Christmas. I'm literally ready and raring to go. Different run, same story!
As for Marley and Me, well, I'm totally engrossed. If I wasn't dying to get a dog after my week with Jeff the Labrador, I'm absolutely gagging for one now! This is such a wonderful book, especially because it's a true story, but you don't have to be a rocket scientist to work out how it's going to end. In tears. I was crying like a baby last night just at the thought of what is going to happen next. I'm such a sap!
Anyway, Colum picks me up in the chariot at 5.45 and after a  quick drive, a short walk, and a fast photo shoot on the beach, we're at the start line by 6.25. The event is really well organised and everything seems to be taken care of, even the weather. It's warm and dry; a real Sun Run after all! I'm totally stoked because Hadyn from Masterchef is doing a live interview before the race – if only I had a pen, I'd get his autograph. I'm a little disappointed he hasn't offered to cook us all breakfast but not surprised, there are over 4000 entrants in total!
I did the inaugural SunRun  last year and it was so hot and I was so traumatised by the heat I think I have erased the whole experience from my memory! I certainly don't remember there being this many hills! I love this run because it's not too busy, it's beautiful  and community-orientated.  Along the way, we see some little people having a tea party by the side of the road watching the runners speed by and later, a little boy hands out free home made lemonade to quench our thirst! I plod along thinking slow and steady will take me to the finish.
There's no doubt about it! The best thing about the Sun Run is the stunning scenery. It's just beautiful and quite literally breathtaking. Today, it totally blows me away and I get quite sappy looking out to sea. I can't believe it's four months since my surgery and I feel so happy and thankful for everything I've achieved since. Once again I realise how lucky I am to be so happy and healthy and able to enjoy the total freedom of  running and today, to take part in the race. I'm overcome with emotion.
I finish the race in just under 38 minutes and even manage to shave 30 seconds off last year's time. I'm thrilled! Check out my stats here. I get my medal and then hang around picking up lots of free stuff and then head off to find Colum. We get some cool snaps with our medals and then make tracks to find the car and head home.
I need a bit of pampering after all my hard yakka so I treat myself to a well earned manicure at the nail bar before I meet David for brunch at our favourite breakfast spot Xeno's. We pop to the shops for some things we need and some things we don't, most notably, a whole box of mangoes (too sweet to resist) and some chocolate covered pretzels (strange but scrumptious.)
Later I finally get to tackle the mountain of ironing that has reached Everest proportions. I also throw together some of Donna Hay's Melt-and-Mix Brownies. I'm so random these days. Today, I misread the flour quantity and add 1 1/2 cups of flour instead of 1 1/3! The moral of this tale is to wear my reading glasses when I read! Admittedly, they're not the best brownies I've ever made but they still taste good.
I get to finish Marley and Me but not without working my way through a box of Kleenex. I knew it was going to be sad but not this  sad! John Grogan is such a wonderful writer and Marley was such a wonderful dog. He  thinks canines can teach us humans a thing or two about what really matters in life and I'm inclined to agree.  He writes that we as humans "take it (life)  for granted, but it is fragile, precarious, uncertain, able to cease at any instant without notice. I was reminded of what should be obvious and too often is not, that each day, each hour and each minute, is worth cherishing." Here, here Mr Grogan I couldn't have said it better myself!
In other news, the neighbours next door are moving out. We've been a right pair of curtain twitchers spying on them all afternoon. They never mentioned they were on the move which isn't so surprising as they don't really say much to us at all. We're waiting with bated breath for the newbies. I hope they're nice and quiet. And have a dog!
Whilst surfing the net, David stumbles upon an article about hypothyroidism which occurs when there is not enough thyroid hormones, causing the thyroid to become underactive. He reads out the symptoms and we have a little laugh. It's me to a Tee! The list of possibilities is endless… weight gain, tiredness, increased sleepiness, hair loss including loss of eyebrows, joint pain, constipation, forgetfulness, decreased ability to pay attention and focus, cold intolerant, depression, dry skin, etc. I can tick almost all of the boxes although thankfully I still have eyebrows! I thought I was getting Alzheimers and really I'm just lacking hormones! If my bloods don't say my thyroxin levels are too low, I'll eat my hat!
In the evening, we enjoy a Japanese feast; it's time to celebrate Tracey's 50th Birthday Part 2. We eat a myriad of delicious dishes but my favourite is definitely the tempura ice cream with chocolate sauce! Yum-oh! It's a fun night with good company, good food and good wine. We have to make a hasty exit because the Eagle has landed. David's folks have come over from the UK and it's time to meet and greet our visitors. There's never a dull moment!