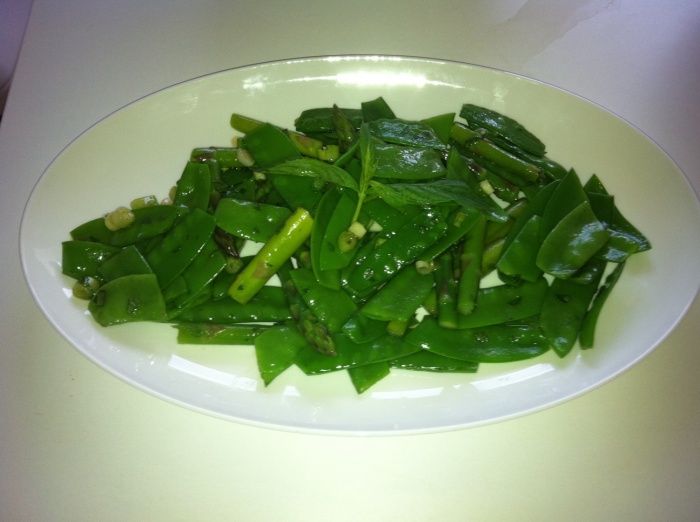 (iodine free)  Serves 8
I love this Curtis Stone recipe which he says is, "light, refreshing and will pair well with any meal, and I wholeheartedly agree! 
Ingredients
700g snow peas, ends trimmed
700g asparagus, woody ends trimmed, cut into 3 ½ cm pieces
1 shallot, cut into thin rings
1 tablespoon honey
1 tablespoon olive oil
1 tablespoon red wine vinegar
2 tablespoons roughly chopped fresh mint
Mint sprigs for garnish
How to
Bring a large pot of salted water to the boil.
Working in batches, cook the snow peas in the boiling water for 1 to 2 minutes or until tender but still crisp. Remove immediately and submerge in ice water.  Once cooled, drain snow peas and place on tray lined with paper towels.
Repeat the same process with the asparagus.
In large mixing bowl, whisk the vinegar and honey. Slowly drizzle in the oil while whisking. Add the shallots and season to taste with salt and pepper.
Add the snow peas and asparagus and toss to coat, then add chopped mint and mix well.
Place salad onto a platter, garnish with mint sprigs and serve.
Other info
Prep time:  20 minutes
 Reference: Coles Christmas Recipes  Curtis Stone