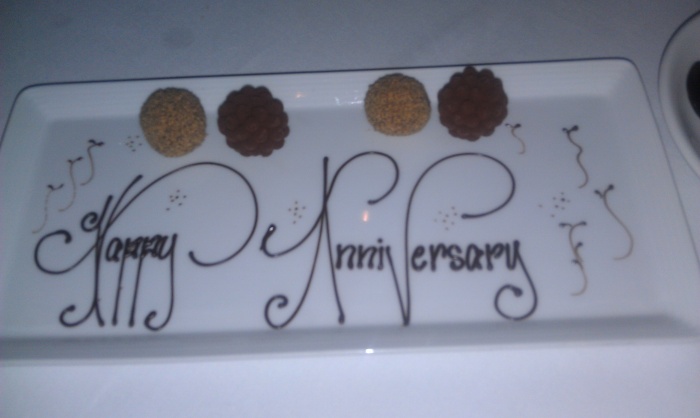 Hip Hip Hooray, it's our anniversary today!  It's feels pretty auspicious, as we celebrate five fabulous years, and one year since I first found the lump that sent us on that rollercoaster ride. Today, we have so many reasons to be happy! Putting my theory of resting more and doing less into practice, I forego the gym for a lazy lie in in bed with David. We celebrate the occasion with a flurry of card opening and a cup of tea like a real old married couple. I can still remember the days when we'd have celebrated a little more energetically, but… let's not go there!
Nothing can dampen my spirits today although the early morning drizzle does a good job of dampening my hair. By the time I get to work I look like I have stuck my wet fingers into a plug socket. I'm so excited about the evening I almost wish (a really wonderful) day away.
It's all a bit bittersweet – I find out that a girl I went to school with passed away after a long battle with cancer. It makes me feel so sad and angry but at the same time, a  bit guilty, and very,very lucky. I feel that for the moment at least, I've really dodged a bullet. I discover that Kirsty was a massive marathon runner and was a fantastic fundraiser. So, she was brave and selfless – what a winning combination! I check out her Just Giving fundraising page and read that she's done a Disneyworld Half Marathon called the Goofy Challenge! Now that's  a place that would put the FUN into run. What's more, it's the only place you can go in the world to get a Disney Medal. That's another one for my Wish List. Bring it on! In other sad news, I find out one of my old students has been diagnosed with Lupus. I know more than I care to about this disease, as my mum has bravely battled it for years. Ironically, this lovely young girl is studying  at our school to go to college down under so she can study natural therapies but, depending on how serious her condition is, she may have to give up on her dream and return home. Life sucks sometimes. It's another reminder to just not sweat the small stuff and appreciate what really matters in life.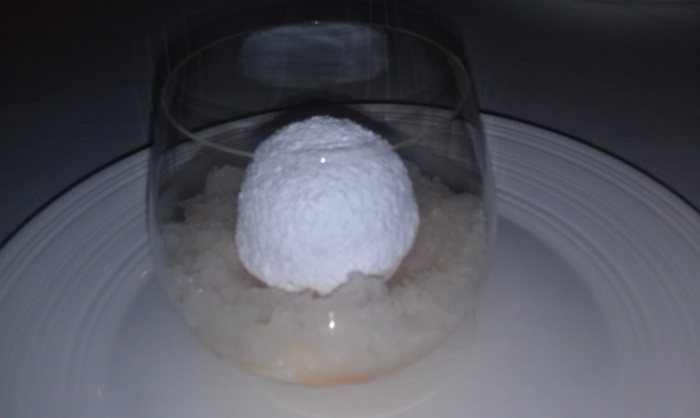 Living life by own mantra, I'm going to put my best foot forward, live for the moment and enjoy it. However, it's actually a bit tricky to put either of my feet forward tonight as I am wobbling about in killer heels. Didn't I say? My other mantra is height above comfort at all times! Tonight we're off to Quay – Australia's most awarded restaurant  and the only one with a 3 Hat rating (hats are Australia's answer to Michelin stars.) We've been dying to go ever since we saw the head chef Peter Gilmore make his mind blowingly brilliant Snow Egg on Masterchef a few years ago. His food is so awe inspiring that you have to book up to six months in advance for a Friday or Saturday night, so to cover our bases and be sure of a spot, we made our reservation last August! That was even before Cancer Part 2! It was well worth the wait and we had an absolutely  magical evening. 
Quay has some of Sydney's most spectacular views, sweeping from the Opera House to the Harbour Bridge and we had the perfect spot upstairs, almost next to the bridge and opposite the Opera House. We felt like we were sitting in a panoramic picture postcard.
We were treated like a King and Queen for the night and everyone and everything was outstanding. The service was impeccable and the 4 course extravaganza was a taste of food heaven. Of course, we both tried the fabulously famous Snow Egg – and it not only lived up to our expectations, it exceeded them! It's a culinary masterpiece – check out the recipe and make it if you dare! The cherry on the cake, was when they brought out some beautiful petit fours with a "Happy Anniversary" message written in chocolate. Ah, the perfect end to a perfect evening.
Our credit card is probably in meltdown now, I am sure we could have bought a small car for the price of the meal but it was worth every last cent. However, elegant and extravagant celebration aside, today I'm just so thankful for another wonderful year together. It hasn't been the easiest of rides but there's no one I'd rather have, than David by my side.