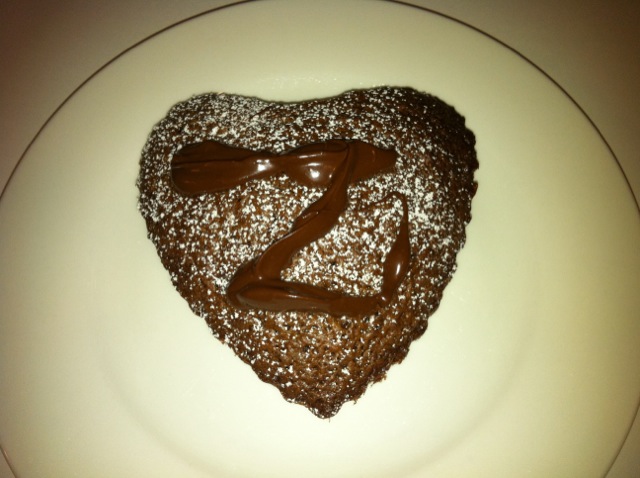 Serves 2
I cut this recipe out from the newspaper ages ago and knew it would come in handy one day! This is the perfect cake to bake for your Valentine. It's dark, dainty and very delicious!
Ingredients
100g  butter, chopped plus 1 teaspoon for pan
100ml boiling water
1 tablespoon instant coffee
100g dark chocolate, chopped
150g caster sugar
2 medium eggs, lightly beaten
1/2 teaspoon vanilla extract
100g self-raising flour
1 tablespoon cocoa
1 tablespoon icing sugar
50g dark chocolate, chopped
How to
Preheat oven to 160ºC (140 C fan forced). Butter two heart-shaped cake tins (12 centimetres diameter at widest point) or a round 20-centimetre diameter cake tin, and line with baking paper.
Pour boiling water over coffee and stir to dissolve. Heat butter, chocolate, sugar and coffee in a heatproof pan set over a pan of simmering water, stirring until smooth. Remove from heat and cool for 15 minutes.
Beat in eggs and vanilla, then fold in sifted flour and cocoa powder until smooth.
Pour into the cake tins and bake for 35 minutes (small) and 45 minutes (large) or until an inserted skewer comes out clean.
Leave for 20 minutes before removing from tin. Dust with icing sugar and put on a serving plate.
Melt chocolate in a heatproof pan over simmering water, stirring until smooth, and use a spoon to drizzle the chocolate over the cake.
Serve one heart-shaped cake or a big slice of the larger cake to share.
Other info
Prep time:   25 minutes   Cooking Time:  35 – 45 minutes    Cooling Time: 20 minutes
Tip!  This mixture makes enough for two small heart-shaped cakes (share one, freeze one)  or one 20-centimetre diameter cake. If you make it ahead, don't put it in the fridge, it doesn't like it.