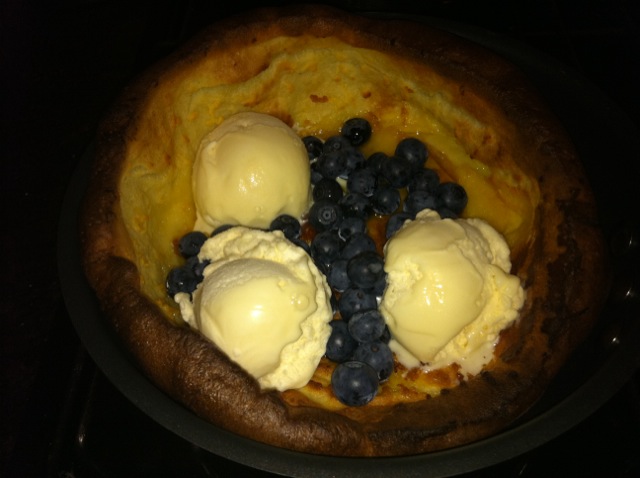 Serves 4
Donna says "this fluffy  puffed cake follows the same concept as a Yorkshire Pudding, only much sweeter."
Ingredients
½ cup (75g) plain (all-purpose) flour, sifted
2 tablespoons caster (superfine) sugar
2 eggs
½ cup (125 ml) milk
1 teaspoon vanilla extract
30g butter
Blueberries and vanilla ice cream to serve
Icing (confectioner's)  sugar, for dusting
How to
Preheat oven to 200C (400F).
Place an 18cm heavy-based frying pan with an ovenproof handle into the oven and heat for 20 minutes.
Place flour and caster sugar in a bowl and make a well in the centre.  Add the eggs, milk and vanilla and whisk until smooth.
Using a pot holder, carefully take the pan out of the oven, add the butter and swirl until melted. Pour in the batter and place the pan back in the oven.
Bake for 25 minutes or until the cake is puffed and golden. Top the cake with the blueberries, dust with icing sugar and serve warm with vanilla ice cream.
Other info
TIP! For this recipe, you need a frying pan that can go into the oven.
Reference:  Simple Dinners, Donna Hay