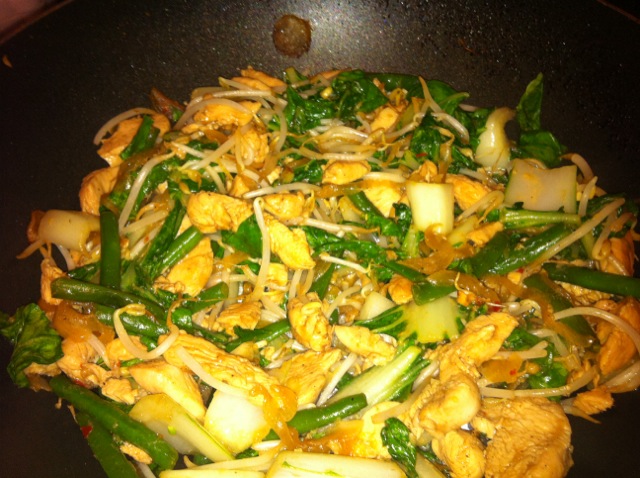 Serves 4
Ingredients
500g chicken breast fillets, sliced thinly
2 tablespoons black bean sauce
1 tablespoon mild sweet chilli sauce
1 tablespoon teriyaki sauce
1 clove garlic, crushed
2 teaspoons grated fresh ginger
1 medium white onion (150g), sliced thinly
1 tablespoon peanut oil
 200g green beans, raw, halved
¼ cup (60ml) water
400g bok choy, sliced thickly
1 ¼ cups (100g) bean sprouts
How to
Combine chicken, sauces, garlic, ginger and onion in medium bowl. Cover; refrigerate for 3 hours or overnight.
Drain chicken; reserve marinade.
Heat oil in wok or large frying pan. Stir-fry chicken mixture, in batches, until browned; return chicken to wok.
Add beans and the water; stir until beans are tender.
Add bok choy and sprouts; stir until hot.
Other info
Prep Time: 20 minutes (plus marinating time)   Cooking time: 15 minutes
Reference:  The Australian Women's Weekly Sensational Stir-Fries