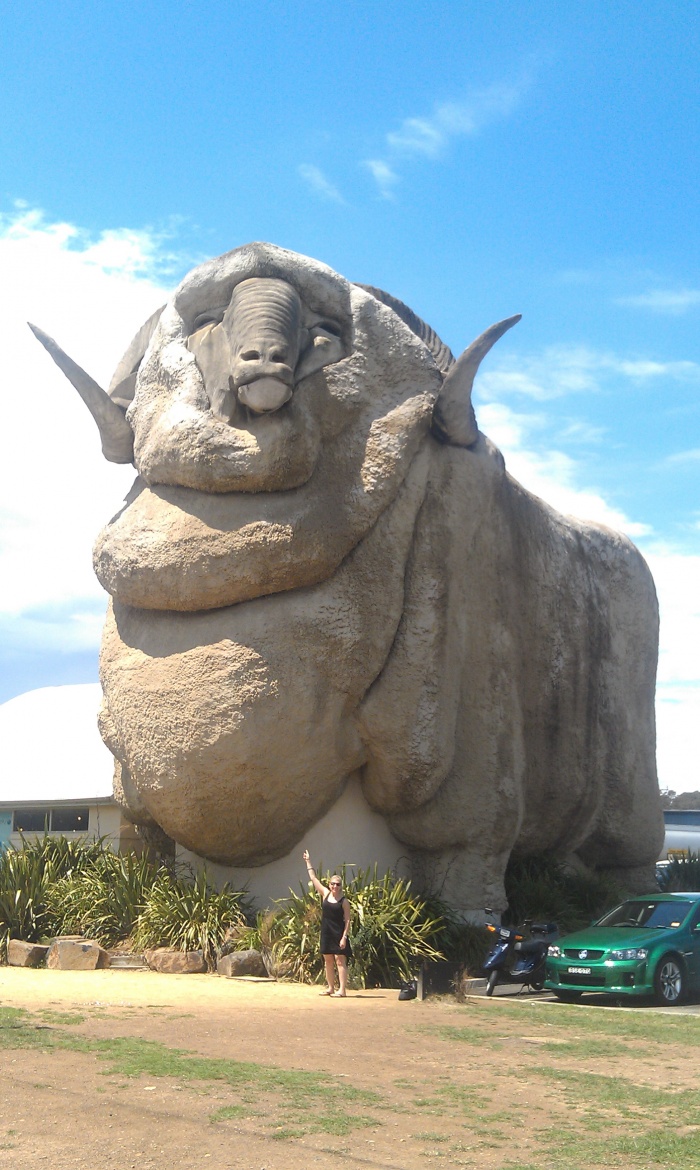 I'm up with the birds and off to the gym for Basic Training. It's all go! I'm a bit naughty and duck out 10 minutes early foregoing some of my least favourite exercises and do a 10 minute interval run instead. I'm finished!
I rush home to get organised for our wild weekend away with the outlaws! We're Canberra bound. The last time I travelled to Canberra eight years ago, I ended up in A and E after a near-fatal traffic accident so today, just reaching my destination will be a bonus!
We drive into the countryside and stop off in the country town of Goulburn. After a morning of brilliant sunshine, there's a sudden storm so we take refuge in the town's little mall. it's all very cosy. Once the sun is back out in full force, we head to the edge of town to check out the Big Merino. I'm quite beside myself with excitement, as I have quite a penchant for these outsize objects, and it's not often I get to see them, what with them usually being so far from civilisation. I've already seent the Big Pineapple (Woombye), Big Shell (Tewantin), Big Rocking Horse (Barossa Valley), Big Prawn  (Ballina), Big Potato (Robertson),  Big Captain Cook (Cairns) and now I can add the Big Merino to my list! Check out the plethora of Big Things down under here – there's still stacks for me to see.
After parking up the sheep's backside, (it looks gross, and bizarrely, smells it too!) we have a bit of a photo shoot in front of the super sized sheep and then climb the three storeys up inside the monster, to get a high up window on the world. The views are awesome. This is what you call a big day out!
One hour later, we're in the capital city, Canberra. This man made city is a capital, but not as you know it. We check in to our apartment, and then head out to explore the city centre. We finally find a pub that brews it's own beer – the perfect place for four weary travellers to rest! After some liquid refreshment we head back to our digs and have a quick change before we go out to forage for food. Tonight we're going to the aptly named Sammy's Kitchen – a restaurant named after me, how could you go wrong? Clearly, we're sooo not wrong as the place is huge, it's packed and there's a massive queue but lucky not for us, we've got a reservation. The Chinese/Malaysian menu is made to make your mouth water and we have a feast fit for an Emperor. The food is fantastic and we all try things that we haven't had before, and Bryan goes one step further and tries eating implements he's never used before. He might have been a Chopstick Virgin before, but he's not anymore! Turns out he's quite a champ with chopsticks!