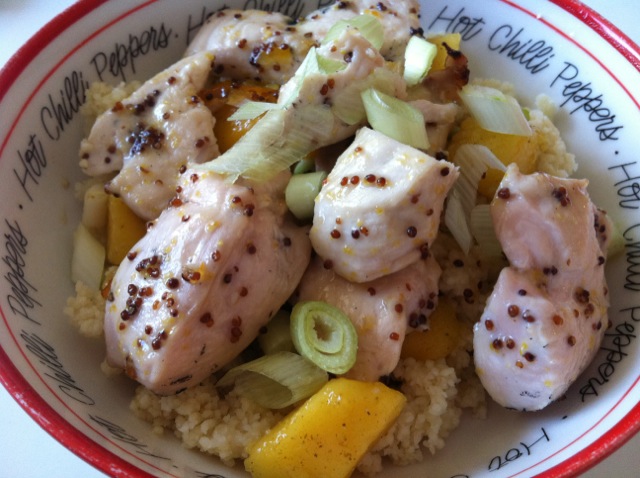 Serves 4
Ingredients
1 ½ cups (250g) instant couscous
1 ½ cups (310ml) boiling water
¼ cup (85g) marmalade
1 tablespoon wholegrain mustard
4 x 170g chicken breast fillets, thickly sliced
1 large mango, peeled, flesh chopped
4 green onions (shallots), thinly sliced
¼ cup (60ml) white wine vinegar
1  teaspoon ground cumin
4 cups salad greens, to serve
How to
Heat the grill to high. Put the couscous in a large heatproof bowl, pour over  boiling water and stir to combine. Cover and set aside for 10 minutes, until water is absorbed. Fluff up with a fork.
Meanwhile, preheat grill on high. Line a baking tray with baking paper. Mix together marmalade and mustard in a small bowl. Arrange chicken in a single layer on prepared tray. Brush with half of glaze. Grill for 5 minutes, until chicken is cooked through and sticky. Remove from heat.
Combine mango, half of onion, vinegar and cumin in a large bowl. Spoon cous cous into serving bowls. Top with mango mixture and chicken. Sprinkle over remaining onion. Serve with salad.
Other info
Prep time: 10 minutes  Cooking time: 10 minutes
TIP! This is a great way to use up the last of the marmalade in a jar. Add a tablespoon of  hot water and shake to get every last sweet and juicy drop!
Reference: BBC Australian Good Food Magazine February 2012