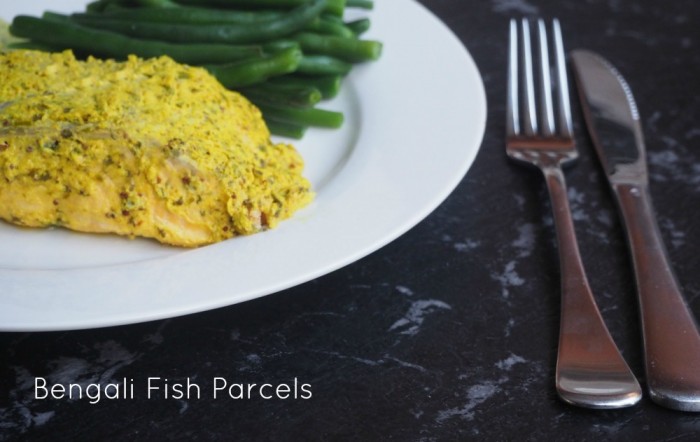 Serves 4
This fish dish is healthy, quick and easy but it looks and tastes super fancy! It's simple enough for a midweek meal but special enough for when you're entertaining and as it's all cooked in a parcel, there's zero mess! Win, win!
Ingredients
1 teaspoon ground cumin
1 teaspoon ground turmeric
1 tablespoon wholegrain mustard
1 garlic clove, peeled
1 thumb size piece of ginger, cut into slices
1 cup coriander
2 long green chillies, seeded, sliced
¾ cup (225g) Greek-style natural yoghurt
4 x 125g skinless salmon fillets, bones removed
300g cooked green beans, to serve
lemon wedges, to serve
How to
Preheat oven to 220 C or 200 C fan-forced.
Place cumin, turmeric, mustard, ginger, garlic, coriander and three-quarters of chilli in a food processor. Process to form a paste OR in a Thermomix, place into TM bowl and chop for 5 seconds  on speed 7. Scrape down sides.
Add yoghurt and process until smooth OR in a Thermomix, mix 10 seconds  on speed 4.
Reserve 1/3 cup of yoghurt mixture and refrigerate until ready to use. Spread remaining yoghurt mixture over both sides of each salmon fillet.
Place each fillet in middle of a piece of foil big enough to make a spacious but well-sealed parcel, and enclose. Place parcels on a baking tray. Bake for 8-10 minutes for medium, or until cooked to your liking.
Transfer salmon to serving plates, sprinkle with remaining chillies and serve with green beans,  reserved yoghurt and lemon wedges.
Other info
Prep time and Cooking time: 35 minutes