I wake up much earlier than necessary and decide to put the time to good use and go out for a run. It's a 4km piddler but just enough to stretch my legs, break a sweat and kill a few calories!
David's off to work today – in the London office – and I'm off for a long-awaited rendezvous with my old mate Sam. We hook up at the new Westfield shopping centre at Stratford City which is super snazzy. This part of town has had a major Olympic facelife and it's looking absolutely fabulous! Security is super tight, even our bus has to undergo a security check before it can enter the bus station!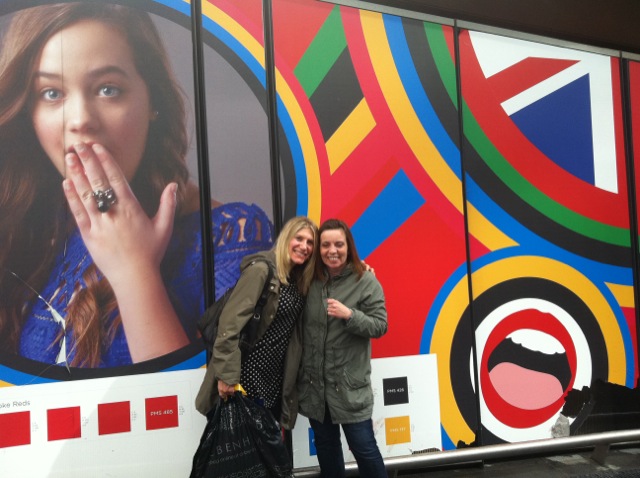 The mall itself is a mirror image of an Australian Westfield, with different shops! Sam and I have a whole lot of fun exploring and enjoy being ladies that lunch in the snazzy food court. Our credit cards have a bit of respite, I only buy some cute cup cake cases with British flags and some Aussie licorice! Last of the big spenders!
The day passes too quickly and after getting a random passer by to oblige with a mini photo shoot,  we have to say goodbye. But the fun doesn't stop there, I go back to Hotel Heather and rest and recharge before my evening engagement chez Beverley.
Beverley, Joan and I have a red letter rendezvous to plan their big trip down under later this year. I'm so excited about their forthcoming trip I could jump off a doll's house! The evening is a magical mixture of secret tricks, cunning plans, a chinese take away and a bottle of bubbly. It's a great girls night in!