I kick start my Sunday with a 5km run in my feeble attempt to battle the bulge! I undo all my good work when I tuck into Rich's big breakfast – as good as any five star hotel – I especially love his perfect poached eggs!
After a bit of down time, I pop out for a bit of window shopping with Hev before we head into the West End to meet our mates. We've had to have a change of venue for our rendezvous with Dee and Will so that David can watch the football. It's getting to the pointy end of  the Premiership season and David just can't miss a match!
We have a very jolly afternoon keeping cosy and catching up in the pub. Friends and football turn out to be a winning combination because Man U thrash the pants off Aston Villa 4-0! Happy days!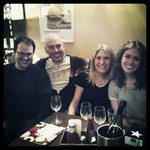 No sooner have we said goodbye to Dee and Will, than we say hello to Jazz and Luke. Jasmine and I have been friends since we were three years old, a real old friend! We have a delicious dinner in Soho and then retire to the pub for more fun, frolics and photos!
What a super sunday – full of food, fun, friends, football and even a little bit of fitness!