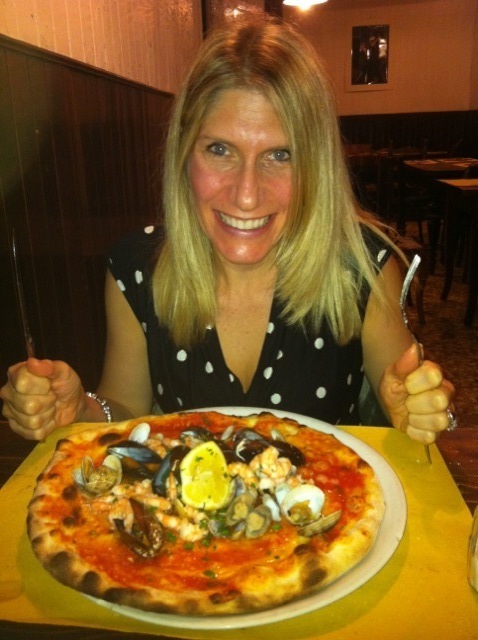 Everyone has an early start at Hotel Mills. Heather has her second day at thenew job, Ria is off to work, Rich is our chauffeur extraordinaire, and David and I are off to Venice. Yay!
I plan to go for a last-chance run around the block this morning but it's really raining and the streets are a no-go zone! I hope the weather is better in Venice. Rich drops us at the tube and off we trot to the airport.
Our flight is on time and a bit bumpy but we leave Britain and bad weather behind. When we land in Venice, the city is basked in glorious sunshine! My pigeon Italian comes in handy when we buy our vaporetto tickets from the machine, and I check our destination and boat time with the man at the ticket office. I'm pretty chuffed… even though I talk to him in Sam-Italian and he replies in English. Pronounciation has never been my strong point!
The vaporetto ride is a revelation. I always knew I'd love Venice and the boat ride from Marco Polo to the city confirms this. It's love at first sight. This city is picture book perfect. It's a teeny tiny magical mystery tour to find our  hotel Al Ponte Moncenigo and our boudoir is spectacular, decorated circa 1700 Venice, with a huge bed, varnished furniture and a stunning  murano glass  chandelier. It's like something out of  a fairytale.
We have a little rest before we hit the cobbled streets for a night on the canal. We stop at a local square at one of the trendy bars Al Merca  where we enjoy some fine Italian wine and the local tipple Spritz  (a  prosecco and bitters cocktail) before we head off to the local eatery Al Nono Risorto. There's prosecco, pizza and stacks of seafood and it's all totally yummy! I could get fat and happy staying in Venice!