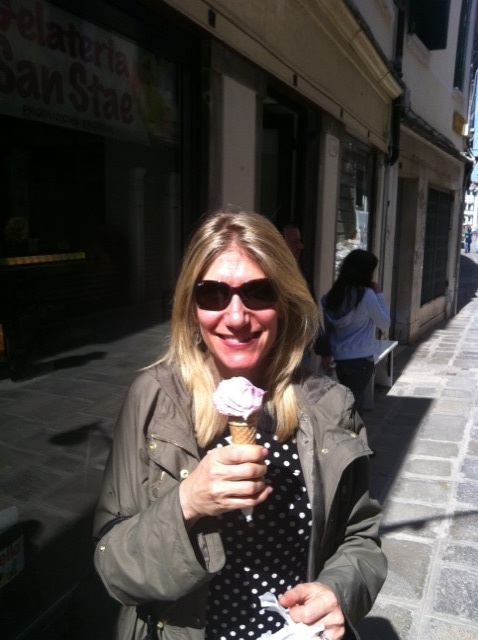 The day gets off to a sense-a-tional start with a cracking continental breakfast. The croissant aroma wafts up the stairs, under the door and into our room and makes my mouth water! I coerce David into trying one at breakfast, and then promptly eat a big chunk of it, just to check it's fit for his consumption, you understand! I plump for some light toast biscuits, and then cover them in nutella! There's also fruit, yoghurt, juice and really great coffee! All that sets up nicely for the day.
The weather forecast says rain but it's a glorious day! The sun is shining and the sky is sapphire blue! We take our time meandering through all the cobbled streets and head to the Rialto Bridge which is teeming with tourists and then onto  St Marks Square, which is full of tack, touts and more tourists. The architecture is absolutely beautiful but it's just too crowded  to enjoy. There are queues for everything and people everywhere. We beat a hasty retreat and go on a toilet hunt instead!
Finding a public convenience in Venice is almost like finding a needle in  a haystack! Not all bars/restaurants have loos, and even if  they do, they're for patrons only, most hotels lock their doors which rules out the  lobby loos, so that  just leaves the trusty public conveniences. As it goes, they're clean as a whistle and quite a money maker (1.5 euros a pop!) the trick is locating the loo and being in the right place at the right time! After asking one waiter, one policeman and some expert navigation, our mission is accomplished!
I am gagging to go on  a gondola. It's my number one thing to do in Venice. Admittedly, David and I had a gondola ride at the Venetian Hotel in Vegas on honeymoon, but it's not quite the same! We wheel and deal  with various gondaliers around town until we work out they're all charging the same! We settle on some old dude and although he's not the best looking gondalier in Venice, he's got to  be one of the most experienced! We agree a fee and that the ride will be singing free a) because singing costs extra and b) because it's bum clenchingly embarrassing! We coast along the canals and we're amazed at the tranquility and beauty of it all. It's just like  travelling back in time. We cruise past Marco Polo's  and Mozart's house, under the Rialto Bridge and are photographed by random tourists. It's a bit wobbly and I must look as nervous as I feel because old mate gondelier reassures me "Don't worry lady! You safe with me!"
After all that excitement, we decide a little liquid refreshment is in order so we head to I Rusteghi for some fine wine and some chicheti (venetian tapas.) We try some of the mini paninis and give them the thumbs up before going for another wander.  All this walking is hard work so we take a rest at Caffe Del Doge and enjoy their speciality a la maison, a cappuccino venetian, which is basically a cappuccino with white chocolate shavings! Delicious.  We pass a cool little shop that does personalised embroidery. I feel compelled to purchase an apron with my name on – it's black with pink writing and says cucina con amore (cooked with love)- and the lady sews it all in nano seconds! Heaven knows I make enough mess in the kitchen. The least I can do is keep myself clean! We stumble upon another bar Da Moro down some dark alley. It's a bit of a find, dating back to 1462, but luckily it's famous chicheti are not quite as old. We push the boat out and try one of their spicy meatballs and some tasty bruchetta. It's a bit like being in a cave full of tasty treats, although I'm not sure about the big copper pots hanging ominously from the ceiling! We're the only punters and the barman is not Venice's friendliest fellow. When he starts having a complete conversation with himself, we decide it's time to make a fast exit!
We take a magical mystery tour back to our neck of the woods, along back alleys, pretty squares and a few dead ends! Ooopsie!  We check out our local neighbourhood full of cute little shops. I have to try some gelato from our local gelateria but there's so many flavours, which one to choose? After much deliberation, I settle for black cherry. Yum-oh! On the way back to the hotel I pass a cooking shop full of every gadget and gizmo for the kitchen lover. It's so my kind of shop. I feel my credit card burning a hole in my handbag but my head wins over my heart and I'm very restrained. I splurge 3 euros on 2 new, cool cookie cutters for my collection (Batman and a dove)
We have time for a little siesta before we hit happy hour for more sips and Spritz. Tonight we deviate and pop into Muro Vino e Cucina for a glass of wine before we head across the square to Al Merca. Two nights on the trot – we're almost regulars.
It starts to rain as we walk across town to  L'Osteria di Santa Marina for dinner. Precision timing! The restaurant is highly recommended by our hosts at the hotel, the guide book and Trip Advisor so we're hoping for good things! Lucky for us, we booked ages ago but when we arrive, we're the only patrons! Not for long though, soon the place is packed and they are turning people away! We both agree that this is probably the best meal we've ever eaten! The flavours are fantastic, the food is so fresh, the wine is sublime and the service is first class.
It's an amazing evening and by the time we leave, with big bellies and high spirits, the rain has stopped. Venice by night is just a little spooky, it's easy to see why they make so many scary movies here.  It's rained so hard, the water is flowing into the streets in some places! We're worried that we might have to wade, instead of walk back to the hotel! Navigating Venice in daylight is tricky enough but finding your way in the dark is nigh impossible. Lucky for us, David is like a human sat-nav and takes us wee, wee, wee all the way home!