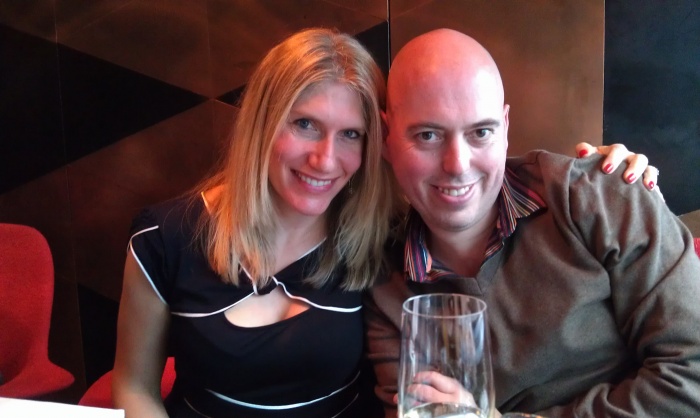 Saturday starts with a run. The marathon mob are out for last chance training. I don't envy them, but I do admire them. Running a marathon is the stuff dreams are made of but I know my limits!
We spend the rest of the morning wedding planning. Dharish and Mark are getting married this time next year in South Africa and there's dates to decide, planes to plan and dresses to desire! It's all very exciting!
After that whole lot of jolliness, we leave the boys to have a footie fest on the sofa and us girls go out for a little pampering at the nail bar. I splash out with a bright red colour "The Thrill of Brazil," which is blindingly bright.  Usually, I stick to uber pale, less conspicuous colours so the new-look nails are taking a bit of getting used to!
We hurry home to get ready for our big night out. This afternoon we get glammed up and go west to a the swanky Paramount Bar. We live it large and take a cab to the West End which is just as well, because my heels are so high, I'm sure to feel head over them! The six of us are joined by my, Heather and Dharish's old boss, Jackie and together we have a whole year of fun stuff to celebrate. Jackie's 60th, Hev, Rich and Mark's 50th and my, David's and Dharish's 40ths plus a most exciting engagement! Yeeha! There's stunning scenery, creative cocktails and cool company. It's an amazing afternoon.
All those cocktails work up quite an appetite and we're feeling rather peckish. We're thinking about fine dining at the sky high restaurant Paramount  but it's unsuprisingly fully booked. We figure there's enough restaurants in the area for us not to go hungry but none of  us really wants to leave such a top (literally) spot. Finally Jackie comes up trumps and after sweet talking the manager, we get into the private dining room with floor to ceiling views of West London. It doesn't get much better than this.
The food is sublime – more about that in the Fine Dining section. Jackie shouts us a bottle of bubbly and gets everyone in the party of mood. The views are stunning, the conversation is flowing, as is the wine, and the atmosphere is all warm and fuzzy. What an excellent evening!
After dinner, we have to leave the private dining room, for the people who had really reserved it, and we spend our exile in the pub round the corner with one last drink for the road!