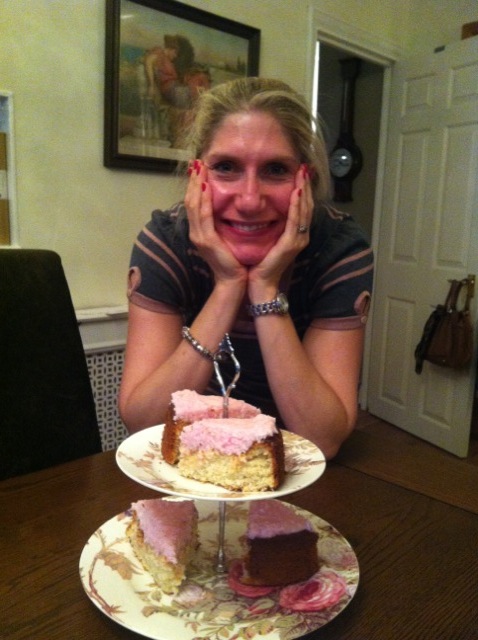 Richard says Sunday is Church Day which means there's a football ban. All day. But he's only joking. A day doesn't go by when Richard isn't glued to Sky Sports.
We're all up and about early and I have a busy morning in the kitchen as I have a Baked Cherry Cheesecake  to make. Richard is going to make one of his legendary Sunday roasts and I'm contributing this delicious dessert. It's super easy to make and I love that it uses light cream cheese which makes it almost healthy!
I also throw together the coconut frosting for the Moist Coconut Cake that I made on Friday. It's seriously simple to prepare but and the cake looks as pretty as a picture!
After creating considerable chaos in the kitchen, I make a feeble attempt to clear up before heading out to run off last night's excesses. It's pretty hard running around with all the holiday weight I have acquired but I won't give up! Dharish and Heather are going for a morning stroll and the weather is so glorious and their company so fine, that I can't resist joining them!
David sticks to the sofa and stays glued to the TV for a nail biting ninety minutes watching Man U draw with Everton 4-4. His nerves look like they're getting rather frayed so it's time for us girls to make a sharp exit. We start our walk in glorious sunshine and then half way round when we're in the woods, it starts raining, and then, hailing! Talk about four seasons in one walk! Our arrival home is precision timed, the football has just finished, David's put a brave face on and we're just in time for Richard's roast which is very yummy for our tummies. There's  chicken, beef, yorkshire puds, mashed potatoes, a whole pile of fresh veg and buckets of gravy. It's a lovely lunch! Everyone saves a bit of space in their stomach for the Baked Cherry Cheesecake, and it's terribly tasty! It's hard to believe that something this simple could be so scrumptious, but it is!
Then it's time to bid bye bye to Dharish as she's homeward bound. It's sad to say goodbye but it won't be too long before we're reunited next year… at her weddingin sunny South Africa! Happy days!
Hev and Rich pop to the gym while David and I tackle the gargantuan task of packing the cases. Today it's suprisingly painless and we finish in record time. When Rich and Hev come back, it's time for tea. We try out Hev's new V & A tea set and taste test the Moist Coconut Cake which is totally delicious. I don't usually eat what I make but this looks too good to resist! Yum-oh! Rich in his role as coconut conoisseur gives it a big thumbs up! Fan-tea-stic!
It's our last night of holidays. It's been an absolutely fabulous month and good to catch up with friends and family. However, we've been far, far away from home for quite some time, and we're both feeling a tad homesick! We'll be sad to say so long, but happy to be heading home.