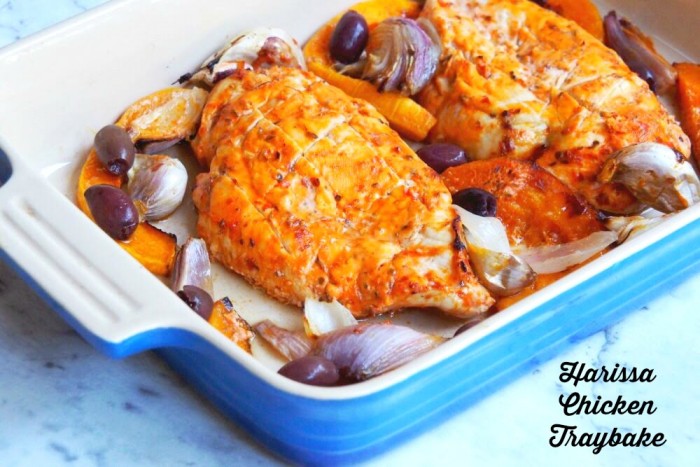 Serves 4 (easily halved)
This is delicious tray bake is low in fat, low in calories and high in flavour!  One tray and you're away! You can bulk this out with some rice or cous cous but we love it served with salad greens and the good news is, this chicken is as delicious cold as it is hot. However, you serve this, I'm sure you'll agree, it's a winner, winner chicken dinner!
Harissa is a Tunisian hot chilli pepper paste and we can't get enough of it. You can make your own (it's on my list of things to do) or you can find it in good delicatessens. Bear in mind though that harissa paste varies in strength so make sure you know how strong your paste is before you start and don't be too heavy handed! And if you like this tray bake, you might like this one too! I'm not enabling, just sayin'!
Ingredients
2 red onions, cut into wedges
1 garlic bulb, unpeeled, broken into cloves
1 small butternut squash, peeled, deseeded and cut into long wedges
1  tablespoon harissa paste
4 tablespoons Greek style yoghurt, plus extra to serve
4  chicken breast fillets, slashed
80g pitted black olives
How to
Preheat oven to 200 C / 180C fan-forced. Mix the harissa with the yoghurt. Rub all over the chicken breasts and set aside to marinate while you start the veg.
Toss the pumpkin, onions and the garlic with the oil, add some seasoning and cook in a large roasting dish lined with baking paper for 25 minutes.
Remove the veg from the oven, add the chicken and olives to the dish, then roast for a further 20-25 minutes until the chicken and veg are cooked through.
Serve with a big bowl of couscous or rice and/or a big bowl of salad leaves with some yoghurt on the side.
 Other info
Prep time: 15 minutes   Cooking time: 45-55 minutes