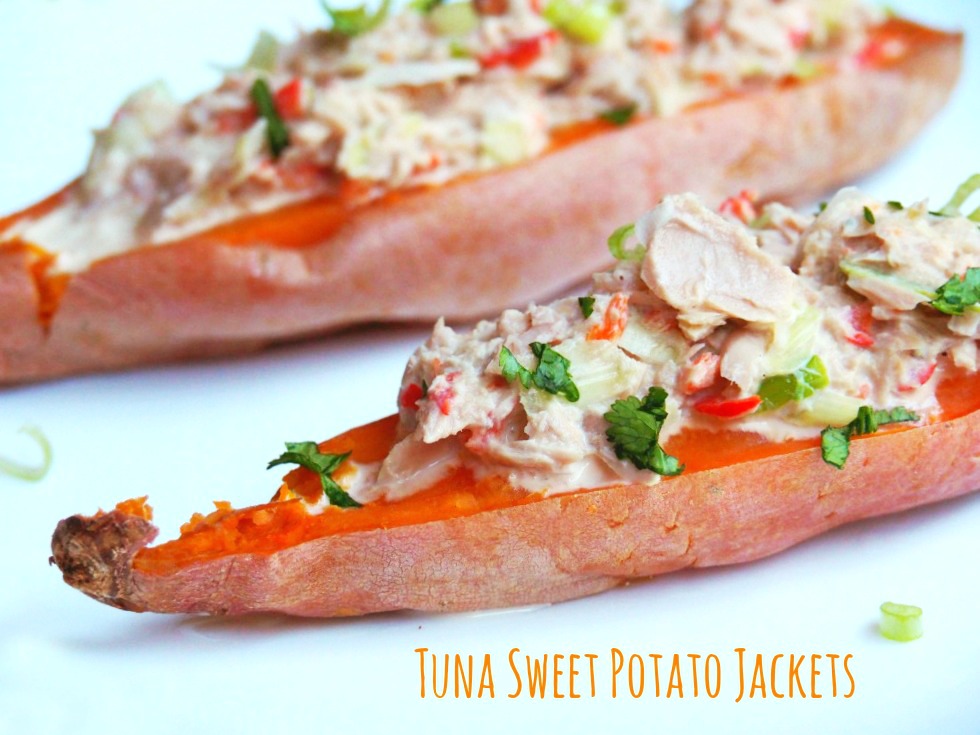 Serves 4
These baked sweet potatoes tick all the boxes – they're low fat, low calorie, low GI and low budget! And if that's not enough, they're super quick and easy too!
I've updated this recipe with some new pics and some top tweaks – it's one of my go-to recipes for a quick lunch or dinner. It's super colourful, super quick and tasty too. I mix the tuna with whatever I have to hand, sour cream gives a much richer flavour but if you're watching your weight or looking for a low fat option, Greek yoghurt is a great alternative.
When we lived in the UK, you could buy big baking potatoes in the supermarket and jacket potatoes would regularly feature on our dinner menu. When I was recently back in the UK, every time we went out for lunch, you can bet your bottom dollar that I'd be ordering a baked potato. It's hard to find those special baking potatoes down under so sweet potatoes make a great (and healthy) alternative.
As a result of my eating all the things in the motherland, including ridiculous amounts of jacket potatoes, my weight has blossomed (and that's a very polite way of putting it!) Since I've been back,  I've been trying to battle the bulge and to prepare healthy but hearty meals that don't take long to cook. And this one is a real box ticker!
Are you a fan of baked potatoes too? Do you have any bulge battling tips for me?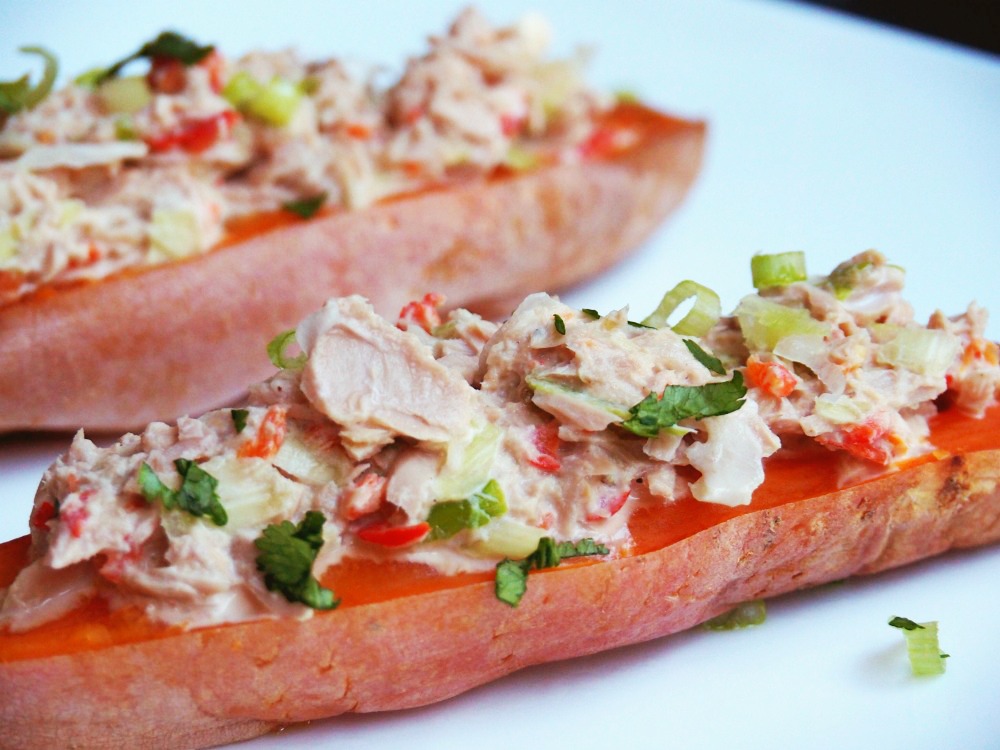 Ingredients
2 small sweet potatoes (about 200g each)
185g can tuna in spring water, drained
4 spring onions, finely sliced
1/2 red chilli , deseeded and chopped (optional)
generous squeeze of lime juice
4-6 tablespoons sour cream or Greek Yoghurt
1 tablespoon chopped coriander, to garnish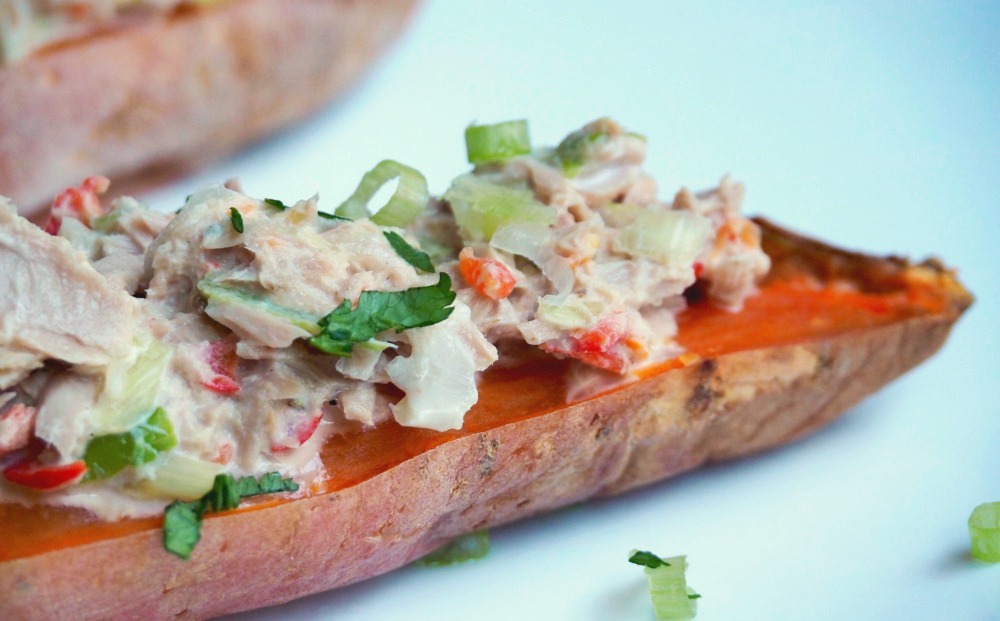 How to
Scrub the sweet potatoes and prick all over with a fork. Place on a microwaveable plate and cook on High for about 6 minutes on each side, or until tender. Split in half and place each one, cut-side up, on a serving plate.
Meanwhile, in a small bowl flake the drained tuna with a fork and mix with half the spring onion, chilli, lime juice and sour cream. Season well.
Divide the tuna mix between the sweet potatoes. Top with the other half of the spring onion and sprinkle with some chopped coriander to serve.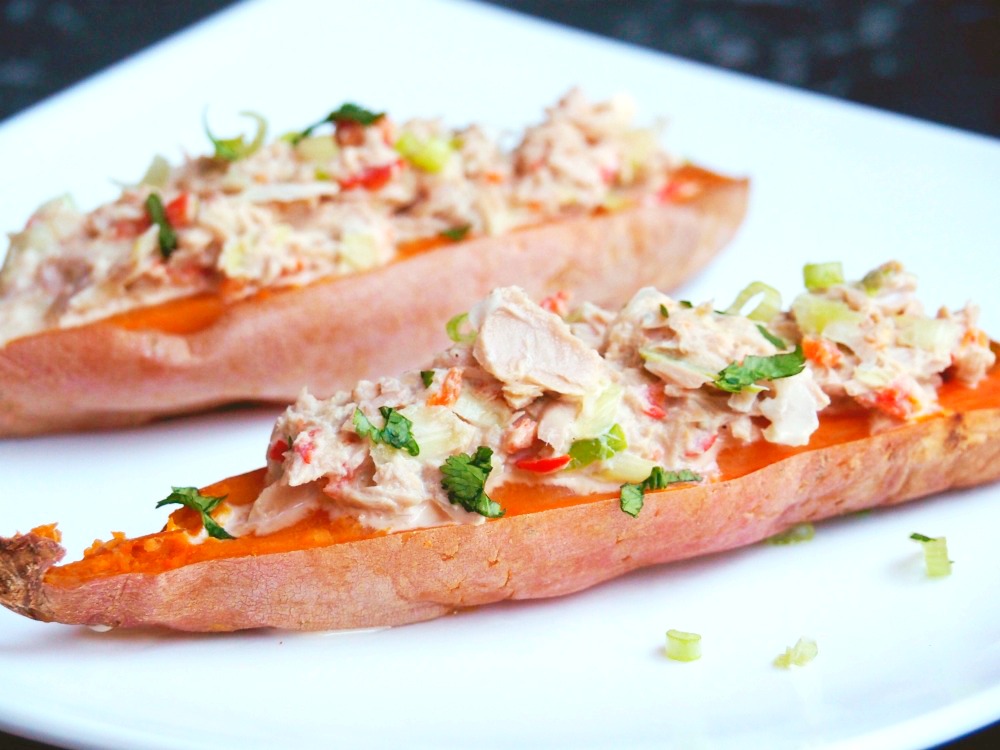 Other info
Prep time: 10 minutes   Cooking time: 10-15 minutes