I am so pumped! Tonight,  I'm going to run the night! However, I won't be going it alone! There'll be 3000 women running rings round Centennial Park – in the first women's only night run in Australia! How's that for a bit of girl power?
This fantastic first has been awesomely organised by Nike. I've been waiting for this moment since I first saw an ad on a bus shelter… so many months ago. That was then and this is now. Inbetween, there's been the joy of discovering the Nike Running Club, the thrill of getting my new Nikes and the excitement of receiving my special singlet.
The event has been arranged with military precision and when I arrive at the Royal Hall of Industries at Moore Park; I drop my bag off and have a loo stop in record time and then take some time to meet up with my mates and gather free stuff. I get to hang out with Tracey and her posse for a bit,  before going off hunting and gathering for a vivid selection of glo sticks which I use to decorate my wrists!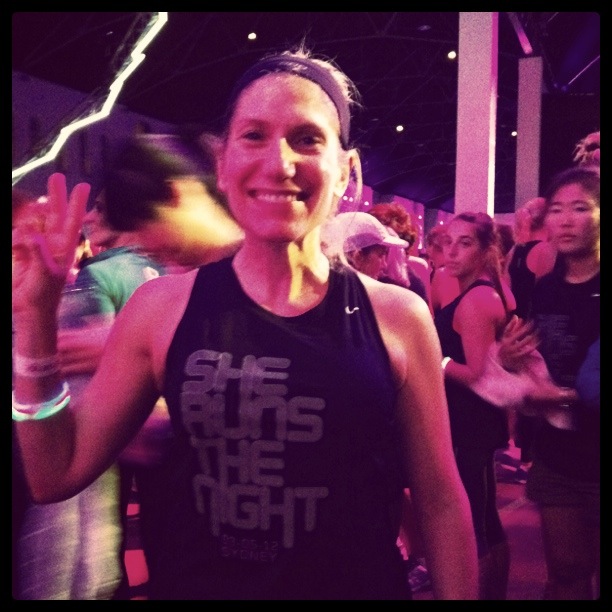 Soon, Kitty arrives and after a quick bag drop, and a number of photo stops we head off to the start line. The atmosphere is electric and the conditions are perfect. We make an executive decision and decide to run in the slowest group of runners running 6km an hour or slower. It's all go at the start line – there's a DJ, disco lights and big chat, courtesy of our MC for the evening, Darren McMullen (host of The Voice: Australia.) We just can't wait to get started!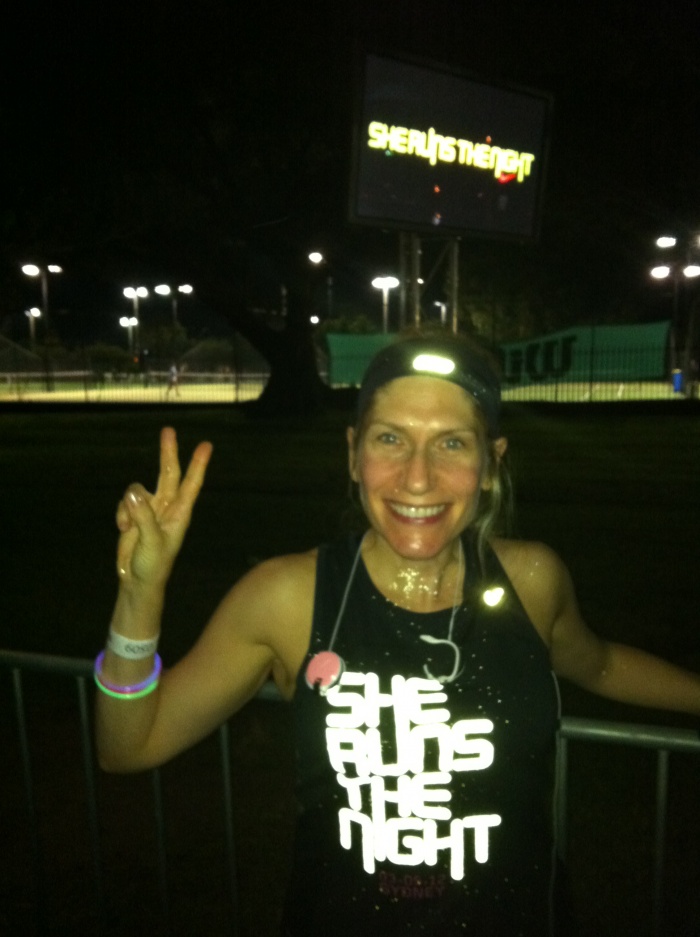 Once we cross the start line, Kitty and I say a fond farewell, we are lone lady runners! I run best with just me and my trusty ipod for company! Nike have pulled out all the stops with a bedazzling course. Every kilometre is marked with what looks a huge illuminated gym ball, and the picturesque course is lined with cheering volunteers, water stations, artistic light shows, DJs and their decks, inspirational signs and even, pyrotechnics! It's like one long running party!
Fuelled by Katie's Chocolate Apricots, I am running for my life and  having the best time. I just feel so alive! I also feel incredibly lucky that I am fit, healthy and strong enough to take part, let alone, complete the race. That's not something I want to take for granted! I run past a sign that says Running is cheaper than therapy.  Yeah! Running makes me happy!
Apart from two near misses with  bollards and almost running someone over(some parts of the course are truly dark and I haven't eaten a lot of carrots,) I'm going pretty good until the 11km mark and then I hit a wall. Fortunately, not a physical one, but mentally, I'm overcome by a wave of negativity. I just don't think I can bring this home running so I walk instead. But only for a few seconds, until a random runner runs past with words of encouragement, and runs alongside me until I run too! There's an overwhelming feeling of solidarity and support in the air tonight – sisterhood.
So I use up what little is left in the tank to get me over the line and finally I finish! I feel an overwhelming sense of relief and an enormous sense of achievement all at the same time! It's such a rush! My official time is 1:24 but this is the time the race started, not the time I started, so I'm hoping my final time will be closer to my target of 1:18. It feels like 1:18! I come in almost half an hour after the winner, Hannah Flannery who finishes in just over 49 minutes. Wow!  That's what you call turbo power! She's won herself  a well deserved trip to San Francisco to take part in the Half Marathon!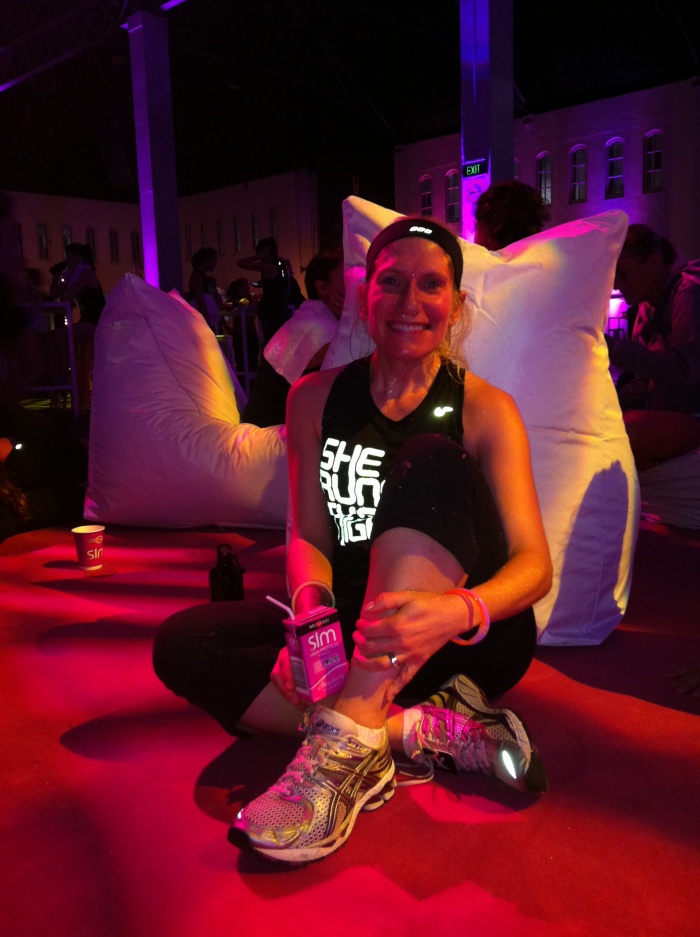 Nike do us ladies proud with the mother of all after parties. The Hall of Industries has been turned into a champion chill out zone with easy chairs, pink neon, DJ Ruby Rose on the decks, a fab photo booth and a full on massage area! This is too good to miss so Kitty and I hang out and stretch out and reward ourselves with a protein shake! There's fun, frolics and photos in the photo booth, (I love that we get to take our instant souvenir snaps home!) before we cool down with a marvellous massage! We're having the best time!
All good things come to an end and unfortunately tonight's party is no exception. I head home for a snack and a shower. I'm super tired but so wired, I can't  sleep! She who runs the night, doesn't sleep the night!