I have a sneaky lie in before we head out into the sunshine for a quick coffee and a spot of grocery shopping. We're both out and about a fair bit this week so the granny trolley has a light load today!
The weather is so absolutely fabulous, it would just be rude to stay indoors so I put on my trainers, strap on my ipod and head out into the sunshine to pound the pavement! I have the 8km Mother's Day Classic this time next week and I want to be prepared and ready to go, not all out of shape and unprepared like I was when I ran the night! Last year I ran the 8km with a personal best of just over 44 minutes which is going to be hard to beat. This morning I rack up almost another 9km in good time but it's not nearly fast enough! At least, I must have run off my thermomix treats!
Tonight, we have our charity fundraiser at Alio.  This restaurant is one of our best. We've had the pleasure of enjoying some delicious dinners there and  especially enjoyed a bit of culinary education in a cooking class led by the trusty teaching head chef, Ashley!
Just after I arrived in the UK, I receieved an email from Ashley and his sister Tracey entitled "Head Chef Ashley is Fighting Cancer."  That certainly got my attention! Thank heavens,  it turns out, Ashley is fighting fit, but sadly two years ago, his and Tracey's dad from a brain tumour.
The statistics say that 1 in 3 Australians will be touched by Cancer. They'll either have the disease, or be a friend, relative or colleague of someone who has. I think Tracey is right when she says the statistics must be wrong. She thinks everyone has been touched by Cancer, in some shape or form. That seems so sad, but terribly true.
Anyway, Ashley and Tracey have a plan. They want us to go to Alio, eat a delicious dinner, enjoy good wine, have a great time and help them find a cure for Cancer. It's that easy. Ashley and Tracey are doing this to honour and respect their dad's life. They want us to do this for our friends and family so they won't have to battle Cancer. No arm twisting necessary! I'm on the old dog and bone saving our spot as soon as time difference allows. This puts the fun in fun-draising!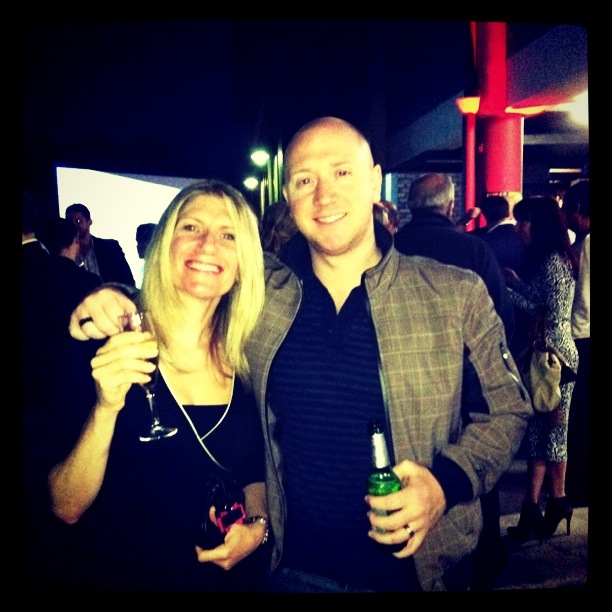 We're joined by our friend Jim, after all, Alio is pretty much his local! The night is young and we start with drinks and small speeches outside. We're introduced to a good friend of Ashley and Tracey's dad, who in the days following his friend's death was diagnosed with terminal cancer. It's a heartbreaking speech and the man must have balls of steel to stand up there with such courage and dignity. His words really hit a nerve because he, like me, is concerned about the people who care for, and are close to, the people with cancer, and the effect that this disease has upon them. That's always been my biggest bug bear about having Cancer, it's too easy to forget the suffering of the patient's friends and family.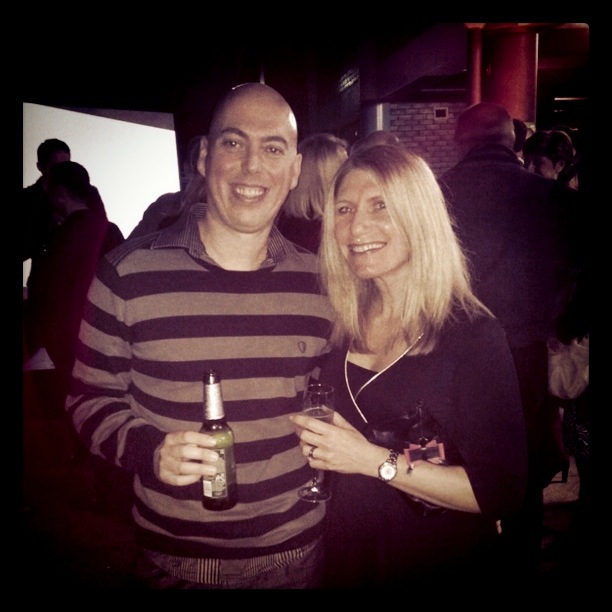 Anyway, I digress, we then go inside for  a fantastic four course feast; you can find out about all the delicious dishes in Fine Dining. It's pretty awesome, every last cent we paid for this incredible evening will go to Chris O'Brien's Lifehouse at RPA. It's the most awesome charity named after a genius of a doctor who tragically lost his own fight to malignant brain cancer. The whole community has come together tonight; all of Ashley's suppliers have donated the food, the staff have donated their time and a whole heap of restaurants and local businesses have given some top raffle and mind boggling auction prizes!
Jim, David and I feel lucky just to be part of all this, but we're not quite lucky enough to win anything in the raffle or rich enough to bid for any of the awesome auction items! I was secretly hankering after the set of 6 signed Jamie Oliver cookbooks (with message of my choice) but the price tag was a little out of my league!
Anyway, the mood is merry, the food is fantastic, the wine is fine and everyone has a good time. All up, we raise well over $20 000 for charity. Not bad for a night's work! Bravo to Alio!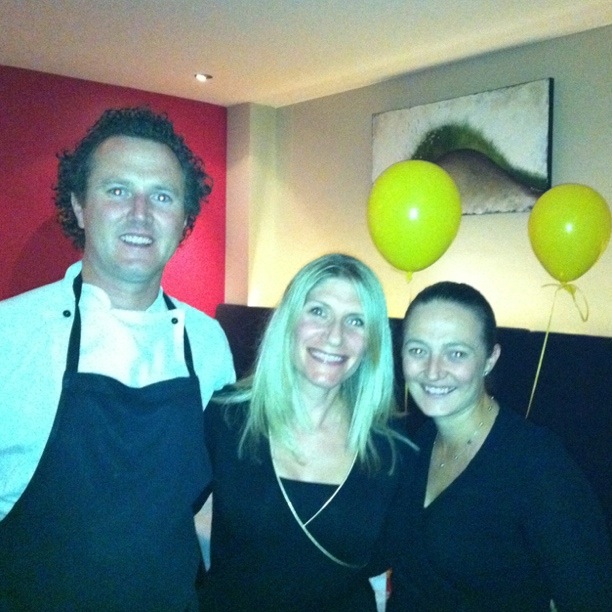 Incidentally, after many months of begging for donations and one huge night of cooking  for over 100 people, Ashley's work is still not done! In October, he's taking part in the Ride to Conquer Cancer, cycling over 200km and hoping to raise  $40 000! The money goes directly to support cancer patients and families throughout New South Wales. Go Ashley!