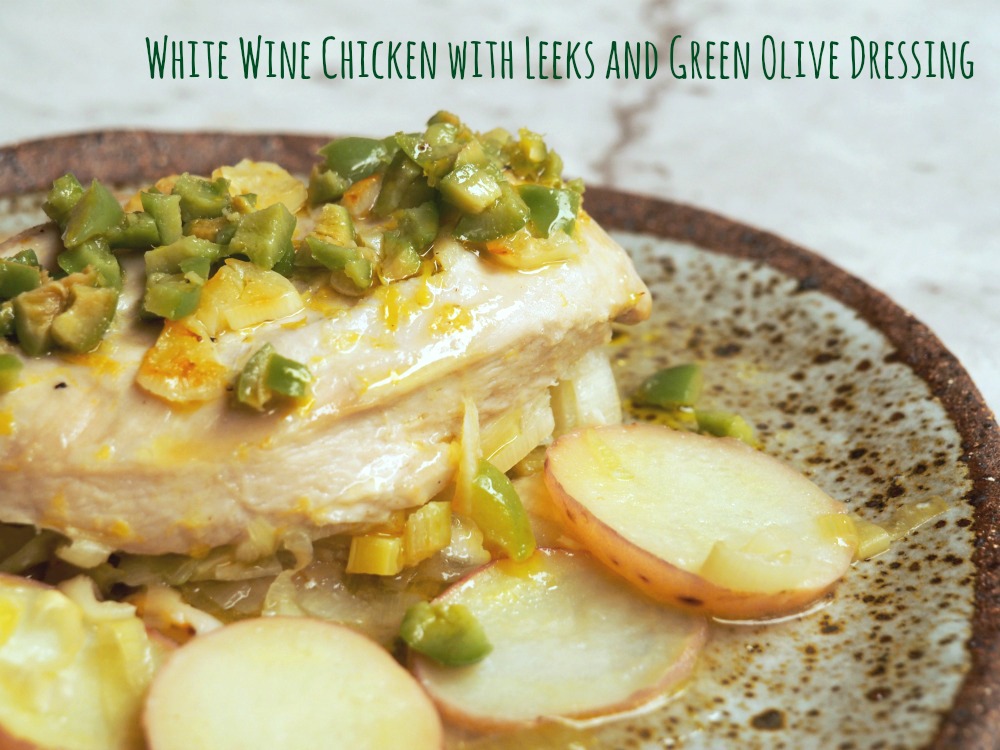 Serves 2 (easily doubled)
In this dish, chicken, leeks and potatoes are cooked in a parcel with white wine and topped off with a delicious olive dressing.
This dish is super delicious and simple enough to make for a midweek meal yet fancy enough to serve when entertaining. I love that everything is cooked in a parcel which means more flavour and less mess because anything that involves less washing up is winning in my book.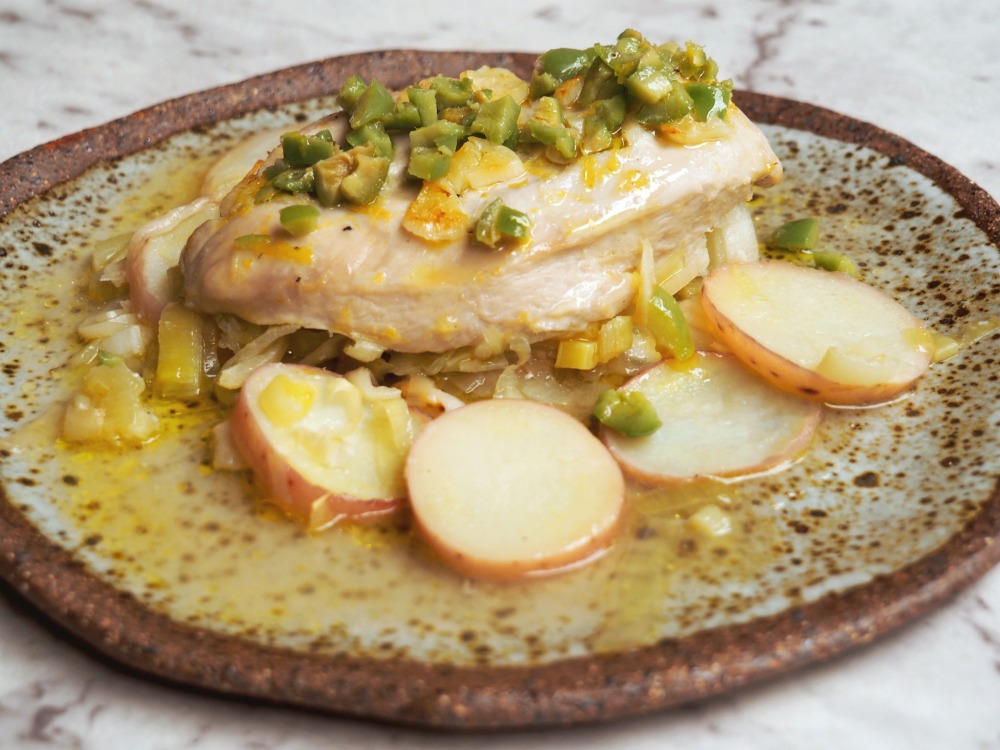 We made this again recently so I could update the recipe with some new pictures and also so I could use my new plate that my friend Nicky made, isn't she clever?! Every time I go to her house, I'm always swooning over her handmade crockery and cookware, seriously she has skills! I wish I was creative but truth be told, I don't have an artistic bone in my body!
Anyhoo, this dish tastes as good as we remember. In fact, scrap that, it tastes even better than we remember.
Do you like cooking in a parcel? Are you artistic?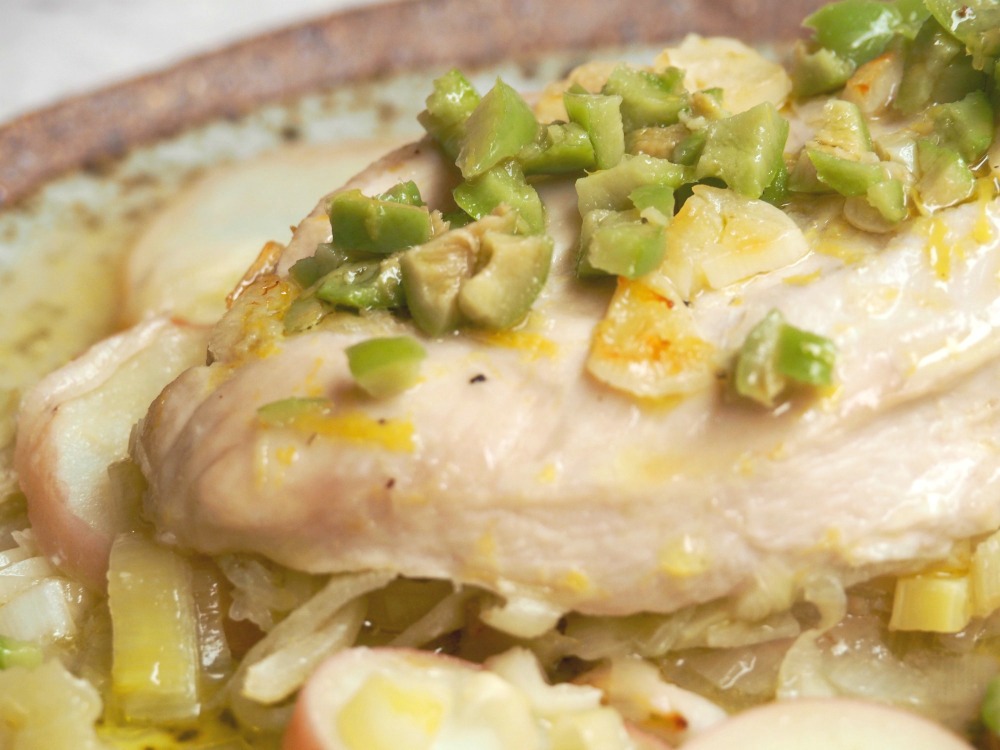 Ingredients
4 cloves garlic, sliced
1 tablespoon lemon zest
3/4 cups (180ml) dry white wine
Sea salt and cracked black pepper, plus extra
2 x 200g chicken breast fillets
1 leek, green parts removed, sliced
200g baby potatoes, washed and thinly sliced
40g butter, chopped
GREEN OLIVE DRESSING
2 tablespoons extra virgin olive oil
1 teaspoon lemon zest
100g green Sicilian olives, finely chopped
1 tablespoon white balsamic vinegar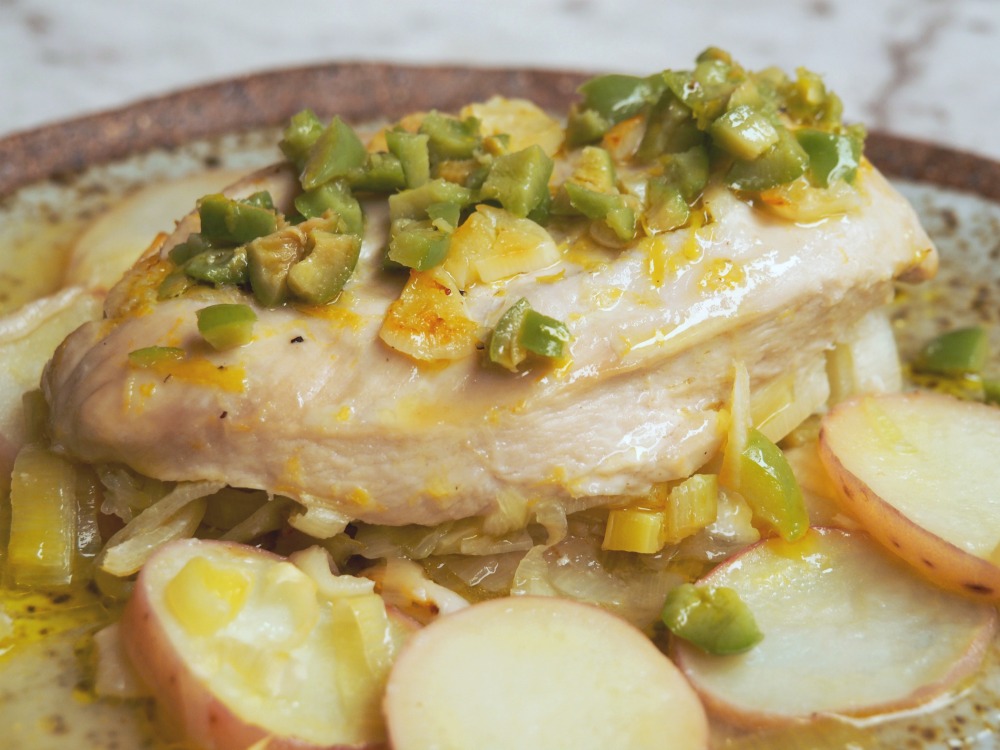 How to
Preheat oven to 200°C. To make the green olive dressing, place the olive oil, lemon zest, olives, vinegar and salt and pepper in a bowl and mix to combine. Set aside.
Place the garlic, lemon zest, wine, salt and pepper and chicken in a bowl and mix to combine. Set aside for 10 minutes.
Layer 2 x 30cm x 40cm pieces of non-stick baking paper on a tray and fold 3 edges in to form an envelope, leaving 1 edge open.
Place the potato in the parcel, placing the leeks, chicken and butter on top. Fold the remaining edge to enclose. Bake for 30-35 minutes or until the chicken is cooked through. Carefully open the parcels and top with the olive dressing to serve.