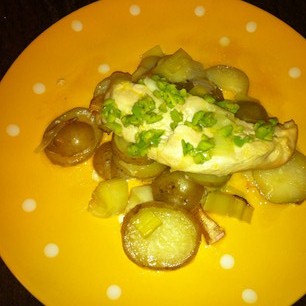 Serves 2
This is a marvellous main;  everything baked to perfection in one pretty parcel! Simple but special!
Ingredients
4 cloves garlic, sliced
1 tablespoon  lemon zest
3/4  cups (180ml) dry white wine
Sea salt and cracked black pepper, plus extra
2 x 200g chicken breast fillets
1 leek, green parts removed, sliced
40g butter, chopped
GREEN OLIVE DRESSING
1 teaspoon  lemon zest
100g green Sicilian olives, finely chopped
1 tablespoon white balsamic vinegar
How to
Preheat oven to 200°C (400°F). To make the green olive dressing, place the olive oil,  lemon zest, olive, vinegar and salt and pepper in a bowl and mix to combine. Set aside.
Place the garlic, lemon zest, wine, salt and pepper and chicken in a bowl and mix to combine. Set aside for 10 minutes.
Layer 2 x 30cm x 40cm pieces of non-stick baking paper on a tray and fold 3 edges in to form an envelope, leaving 1 edge open. Place the potato, leeks, chicken and butter in the parcel and fold the remaining edge to enclose.  Bake for 30-35 minutes or until the chicken is cooked through. Carefully open the parcels and top with the dressing to serve.
Reference:   Donna Hay