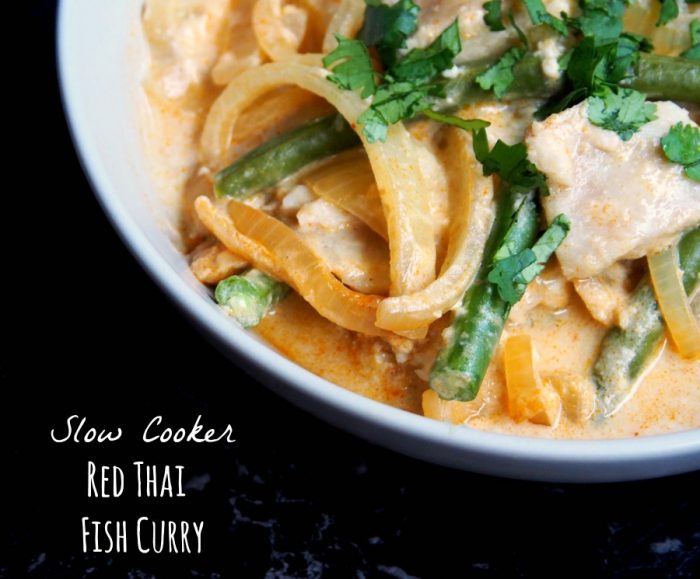 Serves 4
When my oven thermostat gave up the ghost and everything I baked got incinerated, I had to think outside of the box at dinner time. I really believe that even in the most dire of situations, there is always a flip side, and the dying oven was no exception. I might not have been able to use the oven, but I could use the slow cooker and give this old recipe a new lease of life!
While this curry isn't going to win any beauty contests, it could totally win prizes for being  super easy, super delicious and/or super versatile. You can swap white fish for salmon or prawns, and if you don't want to use red curry paste, you can use green or yellow instead. While we're on the subject of curry paste, how much you use will largely depend on how hot the curry paste is that you've got and how much heat you want to eat. I used a generous tablespoon in our curry and I could have easily added more, but then again we think spicy is nicey.
If you are a lazy cook, then this recipe is for you because apart from a little bit of prep at the start, you can just leave this curry to cook and love on it later when it's ready. In fact, while this curry was cooking in the slow cooker, we went to the shops to buy an oven. Isn't that the most delicious irony?
 Could you live without an oven? What's your favourite kitchen appliance?
Ingredients
1 tablespoon vegetable or sunflower oil
1 tablespoon Thai red curry paste (or more to taste)
1 onion,  halved and thinly sliced
2 cloves garlic, crushed
250ml coconut milk
2 x 250g skinless white fish fillets, cut into chunks
200g green beans, trimmed
Steamed rice, to serve
1 tablespoon chopped coriander leaves, to serve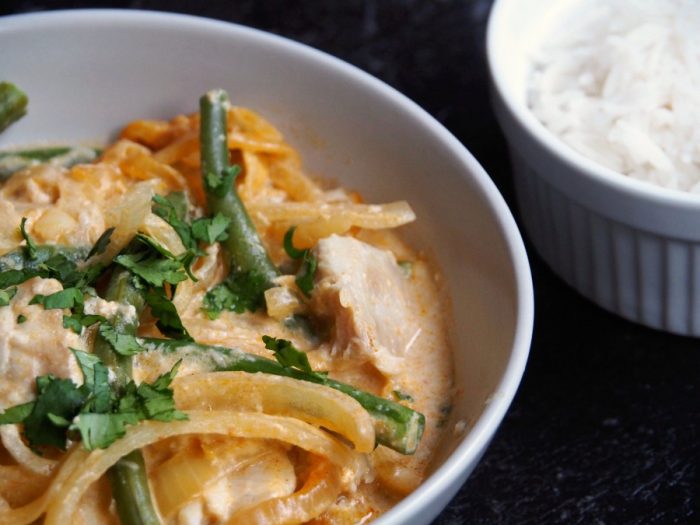 How to.
Heat the slow cooker if necessary. Heat the oil in a large pan, then add the curry paste. Stir in the onion and the garlic, then cook gently for about 5 minutes until softened.
Transfer the onion mixture to the slow cooker pot with the coconut milk, fish chunks and beans. Cook on LOW for 1 ½ – 2 hours until the fish flakes easily and the beans are cooked but have a little crunch. Serve with steamed rice.
.Other info
Takes  2 ½  hours