A big truck with an outsize  engine  revving up outside is my 5am wake up call. I'm not exactly thrilled at this rude awakening. While I try to return to the land of nod, I realise with horror that I haven't made a Hedgehog Slice  for Anton's Ta Ta tea. This is a huge oversight on my part as Hedgehog Slice  is far and away Anton's favourite sweet treat.  I leap out of bed and set about rectifying my mistake. It's quick, it's easy and it's chilling in the fridge in minutes. I get so carried away in the kitchen that when I check the time to get ready for gym, I realise I'm too late for class, so I make a smart move and go straight back to bed instead!
It's a glorious Autumn day in Sydney – perfect for  an Excursion! Today I'm off to the zoo, along with some of my workmates, and 54 students! Ferrying adults around is so much more pleasurable than taking kids on trips and I don't envy all the school teachers with their little terrors in tow. We check out all the animals and of course, the amazing scenery. The views from the zoo are absolutely breathtaking.
After the to-do at the zoo, I have a whistle stop tour of the city's retail outlets to gather Anton's parting gifts. I finally return to the office bearing a bottle  of whiskey and some nice whiskey glasses. This is one gift we know he's going to use and enjoy! There's just time to set the table before everyone comes for tea.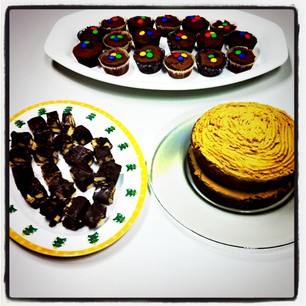 There are speeches, gifts, cakes and a few tiny tears but feeling sad while eating cake is hard to do. I'm pleased I made the Hedgehog Slice  because Anton loves it so. The Chocolate Cupcakes  are a hit too, and the Apple and Walnut Cake with Treacle Icing goes down a treat.
Later, we retire to the pub for beer and cheer. And of course, more cupcakes! (We have a sneaky twilight snack inbetween schooners!) I'm sad to say goodbye, but I'm happy for Anton and his new adventure. I'll miss him,  not only because he is  a good friend but he's also a valuable member of the Feeder Programme. Perhaps I can just post food parcels….